Everyone that knows us, and follows Eddie and I on social media, knows that Steak 48 has been our go to place a few times a month. We stopped going to several other great restaurants to dine there because we love it so much. For as much as we rave about this place, you would think we were paid influencers haha! We have taken several friends there, have referred probably over 3 dozen people to dine there, take our family there on several occasions, started a tradition for Christmas Adam (12/23) with our family, and currently in contact with Robin, the event coordinator, to book our 25th year anniversary party for 40 people.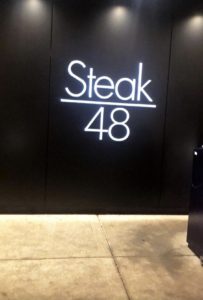 I have blogged raving about how amazing of a place it is to eat and go to, and how amazing the service has been from all employees. People recognize us there from frequent dining, and even if it's their 1st time seeing us, we always get greeted. It's rare someone walks by us and doesn't say hello. We got to know one of the mangers MJ, who always came to our table to shake our hands and give us hugs, and say hi. After he left, we were introduced to Kevin, who has been absoutley amazing to us ever since. He even had rose petals on our table from a joking conversation we had the 1st time we met.
We left the house a few minutes after 5pm on Friday November 30, for our reservations at 815pm. We figure it would take us about 2 hours to get there on Friday downtown traffic, which we were right, and arrived there about 7pm. We figure we would have a few drinks at the bar, and just enjoy each others company for about an hour before our table was ready. I go to the front desk and let the ladies know we are early for our reservations, but we'll be at the bar. While I was doing that, a super tall man taps Eddie and pulls him aside right after he grabbed a few mints. Funny cuz Eddie thought he did something wrong for taking a few mints lol.
Ok, are you ready for this unfortunate twist???? I assumed maybe they knew each other, but Eddie then called me over and said we can't eat here tonight because there is a dress code. WHAT???? On their website states "Proper Attire Required." If they want to implement a dress code, they should be more specific. "Proper Attire Required" is subjective to each individual. I considered myself in "Proper Attire."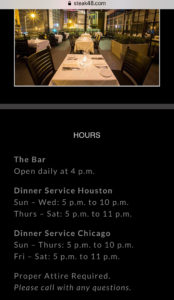 Apparently, my ripped jeans violates their dress code. He was very nice about telling us, and while I wonder why he told Eddie and not me since I was the one "violating," I would guess only it's cuz he didn't want to get yelled at by a 5'1" Asian lol. He asked if we wanted to talk to a manager, and of course said yes. I asked for Kevin, but he was off for the evening so someone else came over. He came by and said the same thing: we couldn't dine there with my ripped jeans. Apparently, several people complain about how others dress, so they had to implement a dress code. Completely understand, we have seen several people come in completely casual, sometimes too casual…One time over the summer while we were at the bar, we saw a couple wearing tank tops and shorts, dried up sweaty hair like they just came from the beach. I ALWAYS go there put together. I get my makeup professionally done for dinner dates, my top was Lululemon, jeans were Jbrand, my belt and purse was Louis Vuitton, my boots were Prada. While I realize designer brands are completely irrelevant and that you can dress up and make an entire outfit of $15 beautifully, my point is I make sure I am dressed for the occasion. I don't come in looking like a slob, I don't come in looking offensive, I don't come in looking like I don't belong.
Of course, now I want to speak with the General Manager. David comes over and says the same thing to Eddie…I know I am only 5'1″, but how about talking to me since I am the "violator." MY jeans violates THEIR dress code. I am more furious than a few minutes ago. I said we drove just about 2 hours of stop and go downtown traffic to get here, we come here 1-2x a month, we are planning a party of 40 for June 2019 for our 25th year wedding anniversary, we have reservations to take our family there for Christmas Adam, clearly we are frequent diners that enjoy coming here.
While I can respect a dress code, I am not sure what part of my outfit would be offensive to other diners. He said I am showing too much skin below the waist. Ok, hang on a minute….If I wore a skirt, or a dress, that would be ok? I am covering more skin with my jeans. I am also wearing a long flowy poncho, and you can BARELY see my rips, especially how dark the restaurant is. He said he's not a fashion consultant, but in their rules is no ripped jeans, and to be "business casual." I point to the man that is wearing a snap back baseball cap, a sweatshirt, and jeans, but he is ok to dine here? THAT is considered "business casual?"
David looked on the computer for a table to sit us where no one could see us…Let me tell you how offensive and embarrassing THAT was to us. Apparently, there was no "hidden" tables where we can't be seen….
I said you are going to tell me I cannot dine here and not just ask me for next time not to wear ripped jeans??? Nope, gotta leave….
I have come in wearing ripped jeans ALL…THE…TIME…, and NOBODY has ever said a word to me. October 20th was our last visit there, and I would have thought someone would tell me since I wore ripped jeans at that time as well. Nope, no "for next time," but we can still have our date tonight…Pretty much sorry, SOL. David said he would email me a gift card for next time, but we'll see if that happens. Our next reservation is 12/23 for party of 8, if he will cover our family holiday dinner for driving over 2 hours, the embarrassment of being told we can't dine there tonight, I may look the other way and chalk it up as a misunderstanding since we really enjoy going there. David did comp our valet…thanks….
During this whole debockle, I was texting Kevin about the situation. I apologized for bugging him on his off night, and he was so nice and apologetic about this whole thing. I know his hands were tied and David, the General Manager, has the final say, but he was unfortunately my ear in this situation.
Guess we are leaving…..
FUMING….But off to Primo in Gurnee, which is a few blocks away from home. We get there hoping to sit and dine at the bar, and Elliot Khayat (owner) greeted us. The first thing he said to Eddie, "No Steak 48 tonight?" Well, we just came from there and told him the story. His mouth dropped and said that was crazy, and there is nothing wrong with my outfit, and that his wife Nikki would be furious. I said you have no idea lol. He bought us a round, and a few minutes later Nikki (wife and owner) walked in. Eddie said Elliot must have just told Nikki because her mouth dropped to the floor. She came over to us to talk about it, and was in complete disbelief. 2 owners of a nice restaurant is telling us that was completely ridiculous. Glad we are not just biased lol.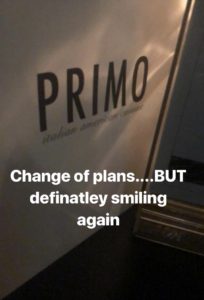 We let the booze settle in and take some effect, and order calamari. Only one spider came out and the rest were tubes. I LOVE fried spiders!! When Elliot walked by to check in on us, I joked about it, and he had a plate of spiders sent over!
Look how cute my darling husband is smelling the pretty flowers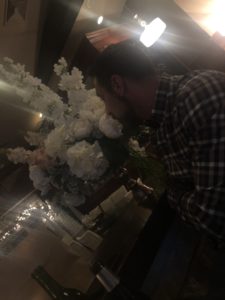 Eddie ordered his usual ribeye, and I order my usual coconut halibut. Delicious as usual! I forgot what the gelato flavors were, but I ate both bowls…I know, I was upset about it as well, but I had no choice….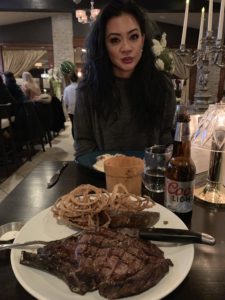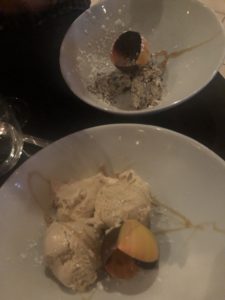 Nikki came over and asked if I ever saber champagne, or something that sounded similar. Ok, I had to google what the word was cuz I've never heard of it before lol. She took me behind the bar, gave me the bottle, a machete, and showed me how to do it. Oh boy, there is an audience…here we go…
That was so much fun! OMG MY FACE hahah…I now need one of those weapons!! Thanks Nikki and Elliot for saving our night!
Oh, and the outfit (minus the boots and purse) that violated the dress code at Steak 48…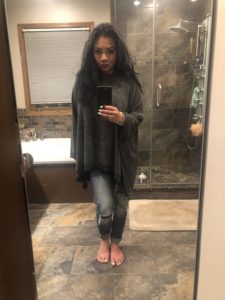 I do not like to blog and bash anything, but I will keep my experiences real, especially since so many people know this is "our" place to go. Was I wrong for dressing like this to fine dining? I would like to say not, but I also may be biased. Was the situation handled incorrectly? I would say yes, but maybe I am wrong. I don't like to consider us anyone special where we should feel entitled to "special" treatment, I would like to consider us (and everyone) to be treated how they would like to be treated themselves, and consider the situation, consider our loyalty, consider telling me not to wear for next time.
I am not sure how or whom to escalate this to at Steak 48 since I cannot seem to locate any of the owners or other executive management on Linkedin or Google. If anyone has ideas, I would LOVE to forward them this blog post.
I sincerely hope to have positive updates later….
xox~j