12.30.18: It has been about 30 days since our unfortunate experience at Steak 48. No call, no follow up, and no gift card from David, the General Manager. Since this happened on Friday, November 30, I would think Monday, December 3 would be the latest when I would hear back, definitely no longer than one week…So far nothing.
In the meantime, I was overwhelmed by all the love and support I had from everyone that heard and read about it. EVERYONE that read my previous blog was in complete shock to say the least and were all in unanimous agreement that management could have handled it with a much more positive outcome.
I was very touched to hear my blog was forwarded by a handful of friends to both Steak 48 in Chicago and Houston and was also direct messaged to them via Instagram. None of those that had reached out regarding their disappointment in how matters were handled has received any response. I would like to say I am surprised since I was used to amazing customer service there, but since it has been 10 days and I haven't heard anything from David, it is clearly brushed under the rug. 
Some friends have also forwarded me some Instagram posts of people showing much more skin than I was and wearing ripped and baggy jeans with the rips much larger than what I was wearing. I decided to look for myself…For the month of November, there were several pictures with women showing much more skin than I did. While their outfits were darling, I was told I was showing too much skin and was violating dress code with my ripped jeans. So why was I singled out? I felt like I was being discriminated against, but for what reason? And why? Was I being used to make an example out of?
There are many ways a new dress code can be put into effect if they are trying to change their image. Put a note up all over the restaurant and website and make it clear stating effective on whatever chosen date what the new dress code will be. Let diners know when they arrive to check in that there will be a new dress code effective, so they are aware for next time. When confirmations are sent via email or telephone to state the new dress code will be effective on whichever date, so they are all informed. Put on the website what will be violating the dress code, and what attire is to be expected.
How is it that all these diners in the month of November and December were allowed to dine showing more skin than I was? How is it that these diners were allowed to dine wearing much more provocative outfits than I had? How is it that all these diners were allowed to dine with ripped jeans that were with more holes than mine? HOW is it that someone who was wearing a poncho that was NOT wearing any pants underneath…? Were any of them told that there is a dress code? Were any of them told that they are showing too much skin? Were any of them denied service? By viewing those pictures, my guess would be nothing was said to any of them. But, why me? Is it clear that I was being discriminated against? Are we not the kind of clientele they are not catering to?
Wonder why I am making this a bigger deal than it probably should be? Well, we are (or were) loyal diners and really enjoyed everything about Steak 48. 
Eddie and I have dined there 21 times with friends and family and made 15 reservations via OpenTable (other 6 reservations were not made by us) in the past 16 months. We live in Gurnee, Illinois and sometimes takes us about 2 hours to drive there. I would like to say, we were huge fans of Steak 48 and had considered ourselves "regulars" and many knew of Steak 48 as "our spot!"!  The food has always been good, the service has always been good, and we had our favorite seating area and certain servers! We really enjoyed the food, we really enjoyed the ambiance, we really enjoyed the experience….
Until now. We felt like we were slapped in the face, stabbed in the back, and for no real apparent reason. Clearly, the dress code is NOT being enforced to everyone. There was one particular picture I came across from December 17th (17 days AFTER we were refused to dine there) where 4 ladies were ALL CLEARLY wearing….ready??? RIPPED JEANS….Well, that lit a fire in my rear to draft a letter and send it letting them know I felt discriminated against, and wanted to make sure the Executive Team was aware. I sent one package to Arizona, and one package to Chicago. Included was this cover letter, copy of my 11.30.18 blog, 2 pages of Instagram pictures of showing too much skin and ripped jeans, and a draft of my 12.31.18 blog (which has been updated 1.3.19, and again 2.2.19).
Here is what I sent to corporate: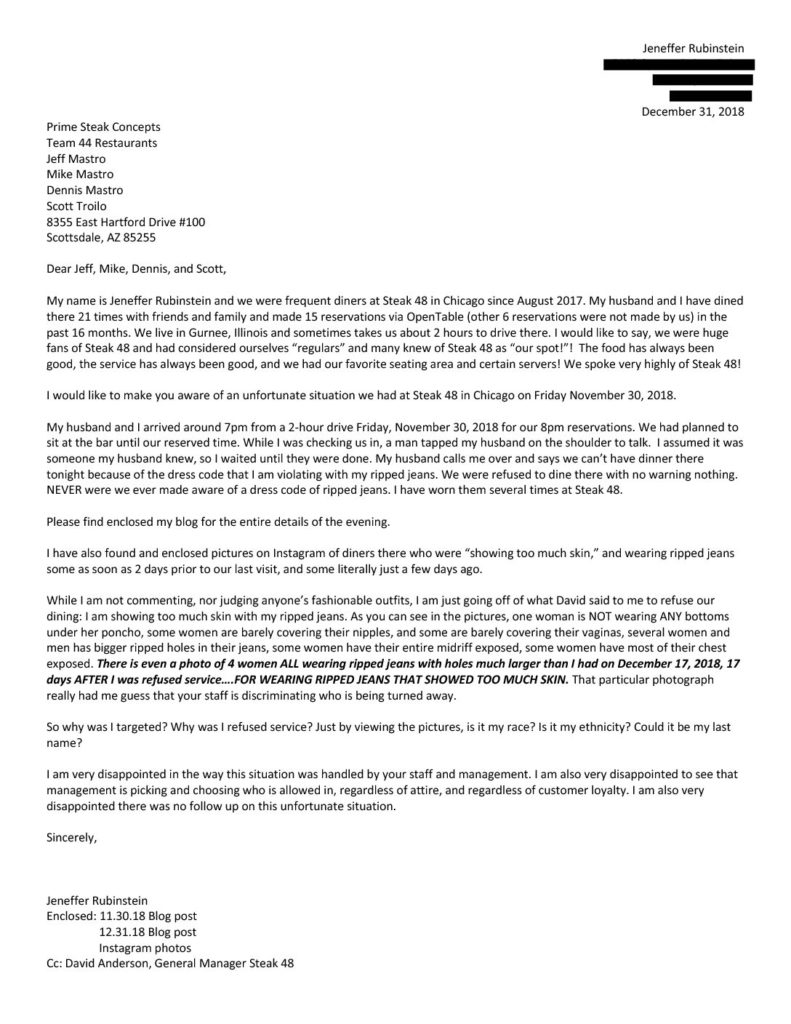 Now you tell me, was my outfit showing too much skin compared to all these other diners?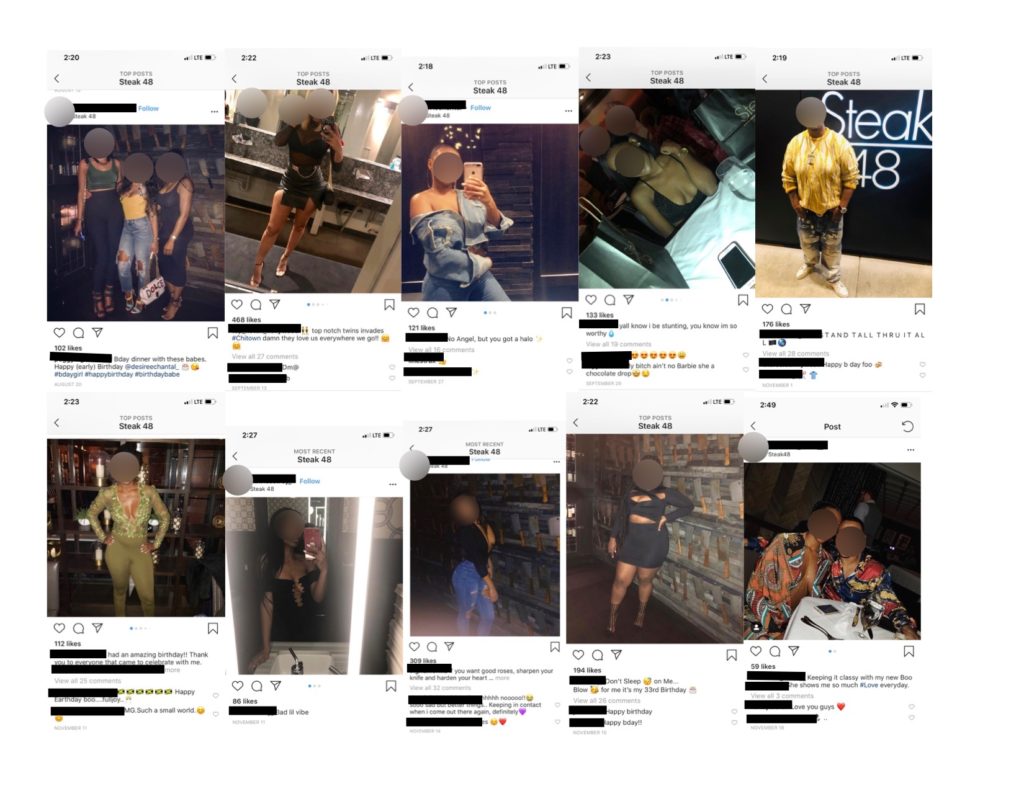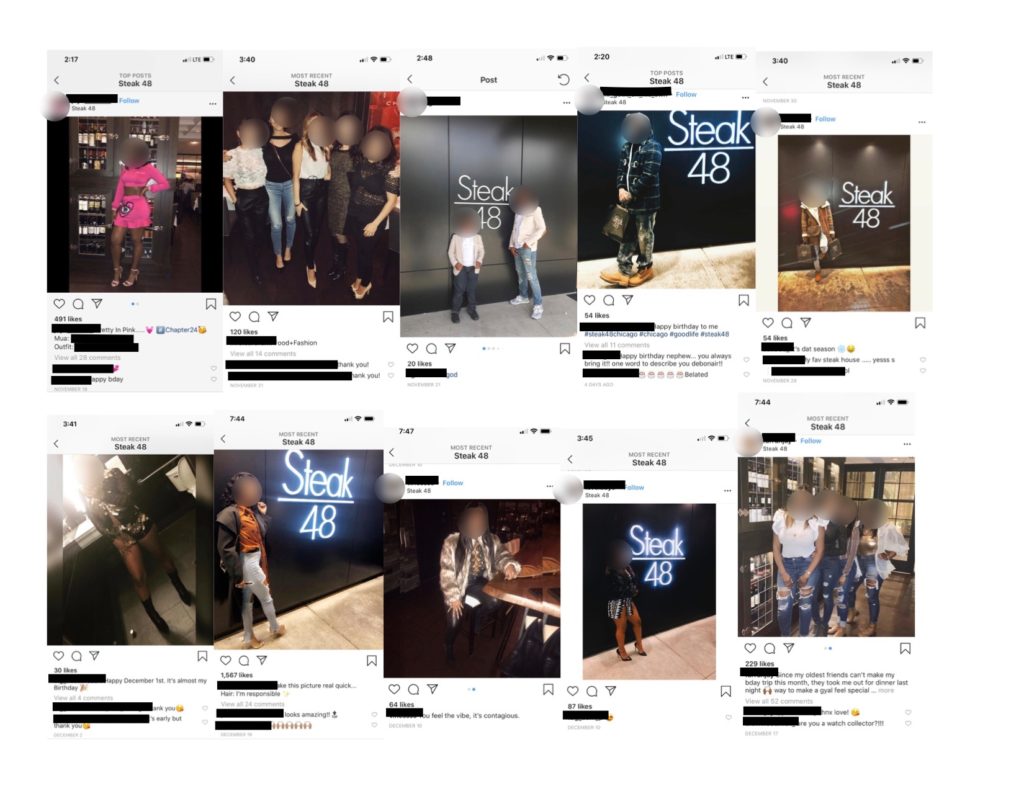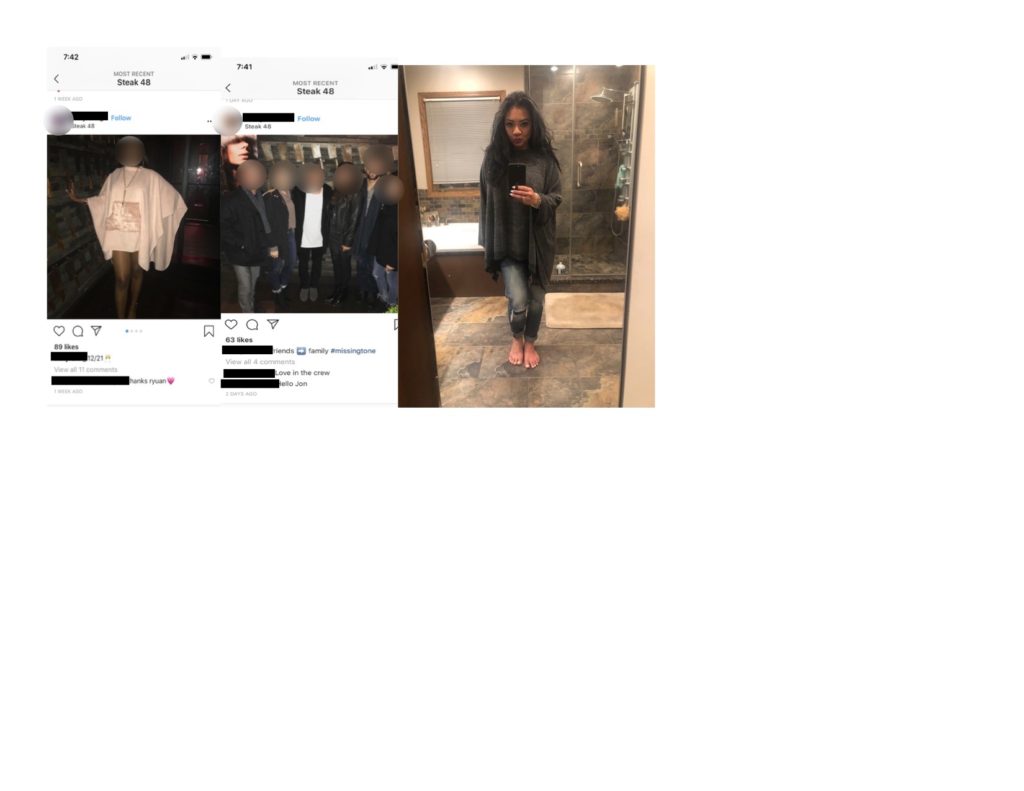 We spoke very highly of Steak 48, we brought our closest friends and family here, we drive 1.5-2 hours (depending on traffic) to come here, we CHOOSE to make this "our" spot and I was discriminated against. Is it my ethnicity? Is it my race? It is obviously, and clearly sure it wasn't my outfit violating the "strict dress code." 
My feelings are hurt there was no follow up. My feelings are hurt we were embarrassed and humiliated. My feelings are hurt that we were so loyal and to have this happen. My feelings are hurt that we were broken up with. It really is unfortunate that a nice place like this discriminates and decides who is in violation of their dress code, and who is showing too much skin. I completely understand adhering to the restaurant's policies, but this dress code they are "strictly enforcing," apparently with ONLY ME, is clearly and completely inconsistent….but I am showing too much skin….Can't help but think it was some sort of discriminating factor.
HERE IS THE GOOD PART!!!!
January 3, 2019…….I receive a voice mail and text from Oliver, CFO of Prime Steaks Concepts. Oh???? They got my letter! I have to say, I was surprisingly surprised to get a follow up this soon, after all, I sent it December 31, 2018! I call him after I was done working and had a surprisingly absolutely wonderful conversation. I wish I recorded our conversation so I can say verbatim, but I didn't….
He began to let me know how impressed he was that I took so much time to write and put all this together and send to them. He could tell I was passionate about our experience, and was very appreciative I did that because if they didn't know, they couldn't fix it. He apologized there was not a follow up, and should have been within 24 hours. He sincerely apologized that happened to us, and does not want anyone to feel discriminated at their restaurants. He said he understood why they were trying to implement a dress code because diners were complaining, which I agree with…There should be one. Diners were complaining about people dressing to risqué and sloppy, and had said I never should have been turned away because there was absolutely nothing wrong with my outfit. Clearly, I AGREE! He said he spoke with the General Manager, the manager, and the 1st guy that approached Eddie for a good portion of the day regarding my situation, and how to handle going forward and that there needs to be consistency.
He also said to me that he wants us to continue coming back, and that next time we go to personally let him know on his personal cell phone when we are going and he will make our reservations and make sure we are taken care of. And, every time after that he wants me to contact him! We made small conversation and asked if we were Bears fans…of course we are! Born and raised north side Cubs fans, Blackhawks fans, and of course Bears fans!
Saturday, January 5 I came home from work to a box….From Oliver….ok, dauymnnnnnn…..
I have to say, I was satisfied on how he made a generous effort to make things right, and how he spoke very well. I'm not sure what I was expecting, but I'm glad he appeared sincere. I am a little surprised I haven't heard from David, but I am surprised I heard from Prime Steak Concepts at all! It was clear to me that Oliver cares for the business and is passionate on their success. He was very appreciative how loyal we were and wants to continue our business. I look forward to our next visit!
2.2.19: Dinner reservations for 3 (me, Kayleen, and Eddie) tonight at 730pm. Not sure why, but feeling a bit nervous coming back. Maybe anxious is a better word? I can't anticipate any issues happening tonight so not sure why, possibly the unknown lol. Kayleen, Eddie, and I are not wearing anything that shows too much skin, none of us is wearing jeans with holes, and none of us is wearing anything that would violate dress code…at least we don't think!
We made a quick stop at Gucci on Michigan Ave before heading over to Steak 48 for our reservations. We finished early and arrived at 7pm, and figure we will sit at the bar until our table is ready. I walk to check in and the lady greeted me, I told her we are early for our 730 reservations and were going to wait the bar. She says "Jeneffer, right?" Oh, uh…yes? Kind of surprised, but then I remember I feel like when ever we come in they know who we are lol…Wonder if they have a profile pic of their diners on check in, or they are just that good and know who we are lol. Our table is ready and she walked us to our usual section, in the kitchen!
We were greeted by Douglas, someone we never had before and a very nice man! Asked if we have dined there before, and of course said yes, but we let him give us his spiel specifically to hear if anything is off menu that sounds enticing. We never said who we were because we didn't want any special attention, or come off entitled with our reservation.

He said something about a 12 oz wagyu ribeye special reserve cut cap of some sort, the outer part that just so happens to be my favorite. Ok, sounds good, I may venture out and try that. We all had our menus in our laps and already knew what we all wanted. He asked if we wanted to order drinks, Eddie got his usual Coors, Kayleen decided on just water, and I ordered my usual glass of Quilt. Douglass said "You didn't even look at the wine list, you must know what you like here!" Why yes I do lol. I don't really venture out too much, when I find something I like, I normally stick to it. Maybe one day I will! We order the large crispy shrimp and the melt-in-your-mouth garlic parmesan bread, which came out in like 4 minutes, and the shrimp 3 minutes later. One of the things we really liked about here is how quick our food has always arrived, but we didn't even have a chance to let the bread go down before the shrimp came! Poor shrimp was completely devoured! Gone, bye bye, all gone, no left overs…Yes, we ordered the large…For 3 people….Oh, and we killed the bread too…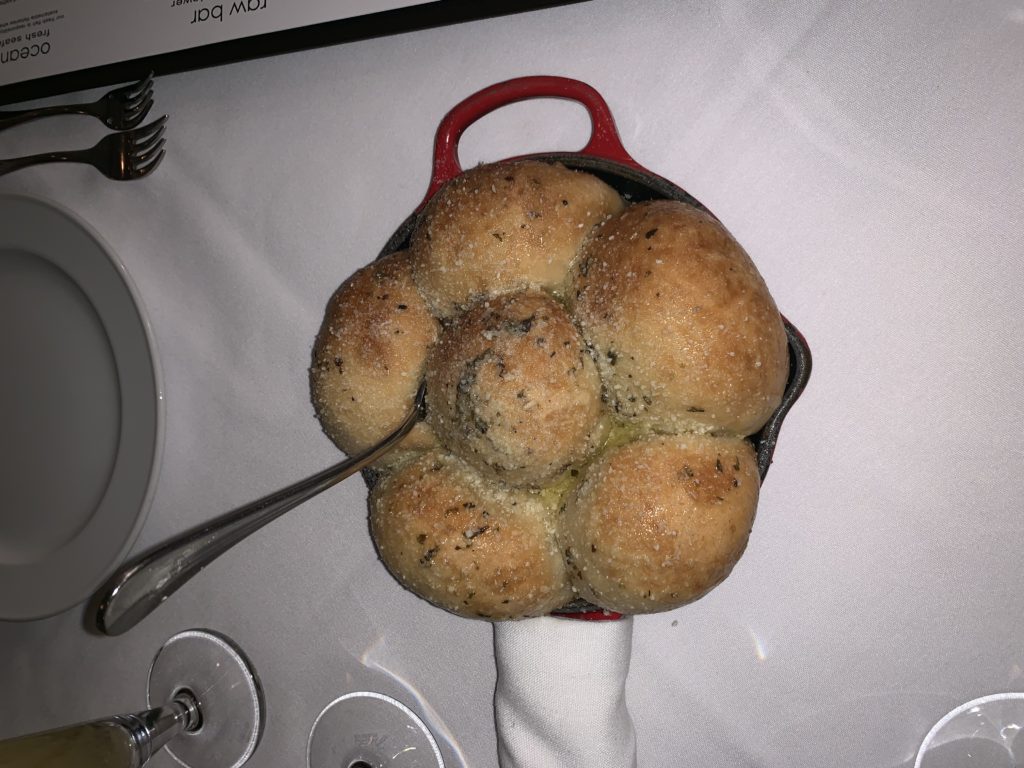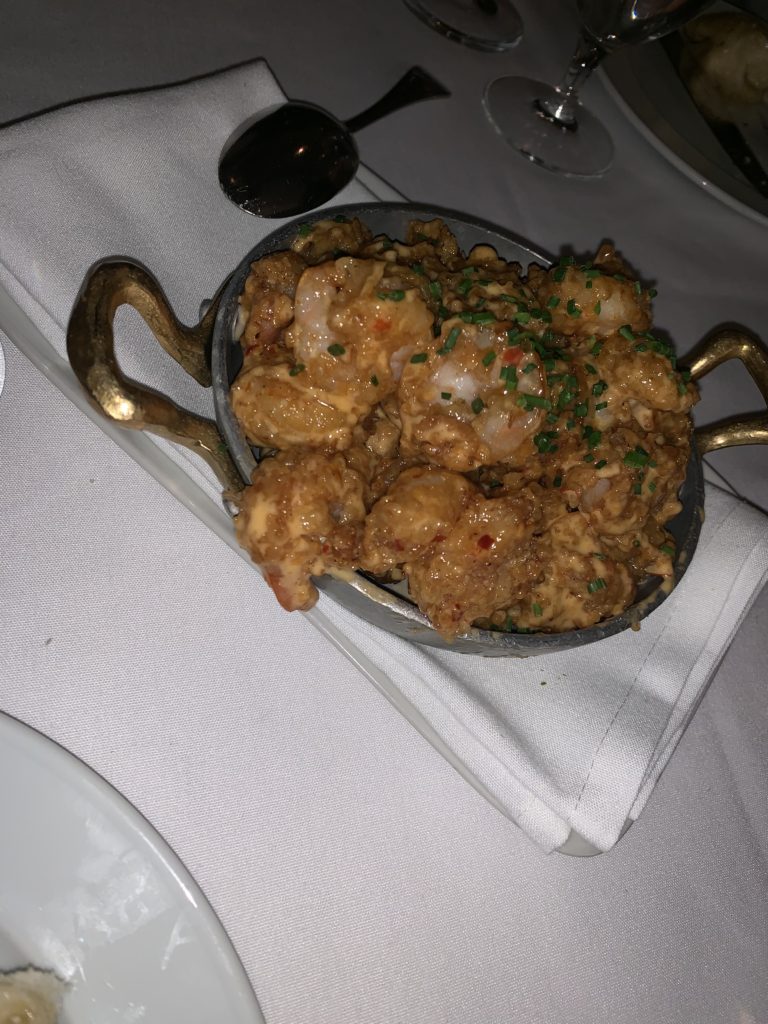 During that moment when we were inhaling the shrimp and the bread, Douglas came over and asked if we wanted to order dinner. We were just going to order two ribeyes for us 3, but he suggested that "tonight would be a great night to try the wagyu ribeyes." Oh, ok wink wink, we got the hint. Order it. Done. Ok, ok, arm twisted. I figured we were going to order 44oz of ribeye, so 36oz should be fine and not have much left over. Eddie never gets sides since he is just a meat with no sides kind of guy, so Kayleen and I order a side of broccoli to share so we would have room for dessert. He asked if we have ever tried the corn creme brûlée, uh yes!!! Amazing!! But I have an intolerance to corn, so I don't really order it. Douglas said "Are you sure you only want broccoli for sides? I'm going to put a few more on there for you to try," and walks away lol…uh..ok, uhm..Thank you? haha. I wanted to catch him to let him know not to put the order in right away since we need to breathe between the food. We aren't in a hurry, and wanted to enjoy Eddie's date night with his two girls. He came back with another glass of Quilt without even asking for one! Smart man, although I would have ordered a glass of Justin just to be price conscious! I was able to tell him incase our steaks came out in 7 minutes or however long it takes to cook our steaks medium well. He came back after a few minutes and brought Eddie another beer. I said I need to drink my glass slower cuz I didn't want the bill to get crazy. It's $23 a glass, and even though I normally order 2 glasses at dinner, I didn't want 3 on the bill. Honestly, even knowing that Oliver said our next reservation will be taken care of, we went here tonight not expecting our entire meal to be comped and expected to pay for something like drinks, or a meal or something. We weren't going to order a bunch of stuff just because we assume it was going to be comped. I may order something I normally don't and wanted to in the past, but we're not like that to take advantage of a nice gesture. We ordered like we were going to pay ourselves. I'm just hoping the sides Douglas added aren't anything too crazy.
The steaks came out looking absolutely delish!! Not used to seeing 12oz of steak since we normally get the 22oz ribeye! Looks like a teeny portion, but I have a feeling I am going to have leftovers.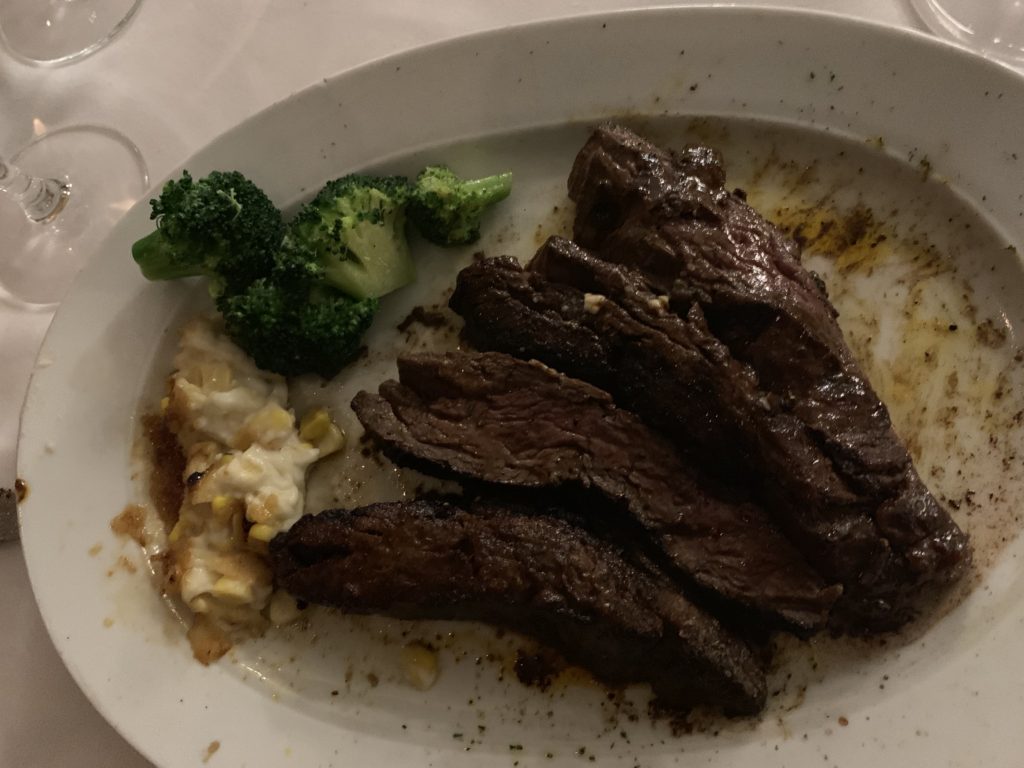 I was worried we would have a bunch of sides, or some we wouldn't eat, but he brought out the corn creme brûlée and french fries.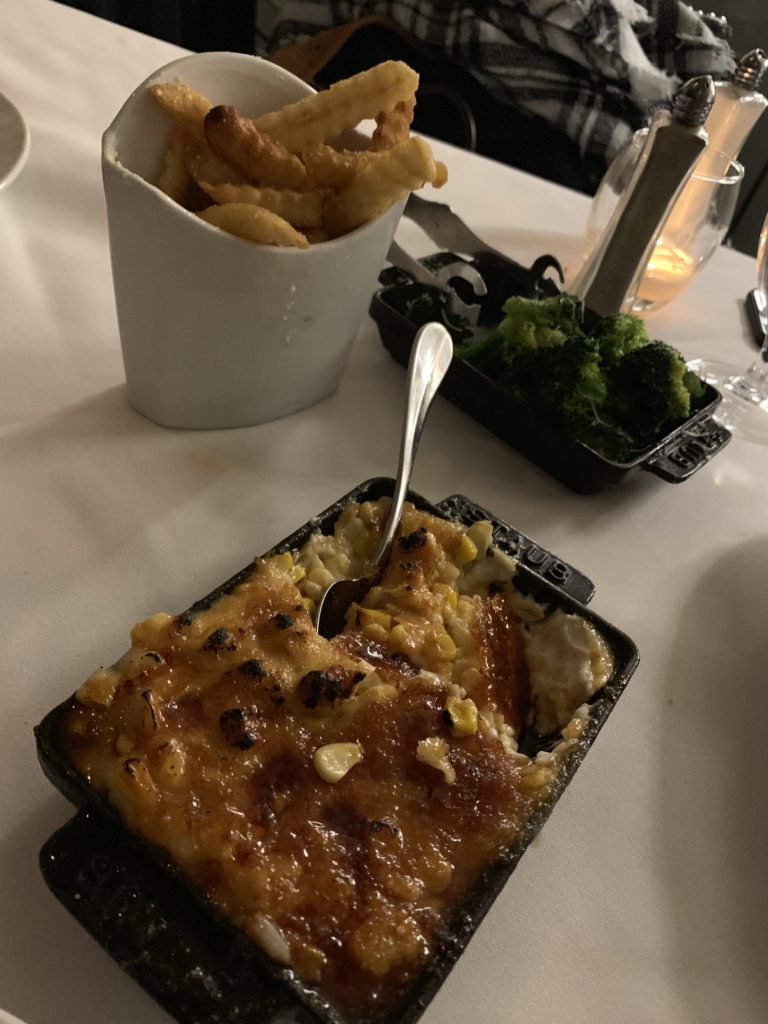 I was right- none of us finished our food so we had dinner for the Super Bowl tomorrow, but Eddie and I ordered our usual gelato-chocolate for him, pistachio for me, Kayleen didn't want anything. Well, this is what came over: chocolate gelato, pistachio gelato, beignet tree, and the warm vanilla butter cake….Shit…how are we going to do this…I'm not sure there will be enough room to eat even half of this even if I do throw up in the bathroom to make more room….clearly kidding about making more room…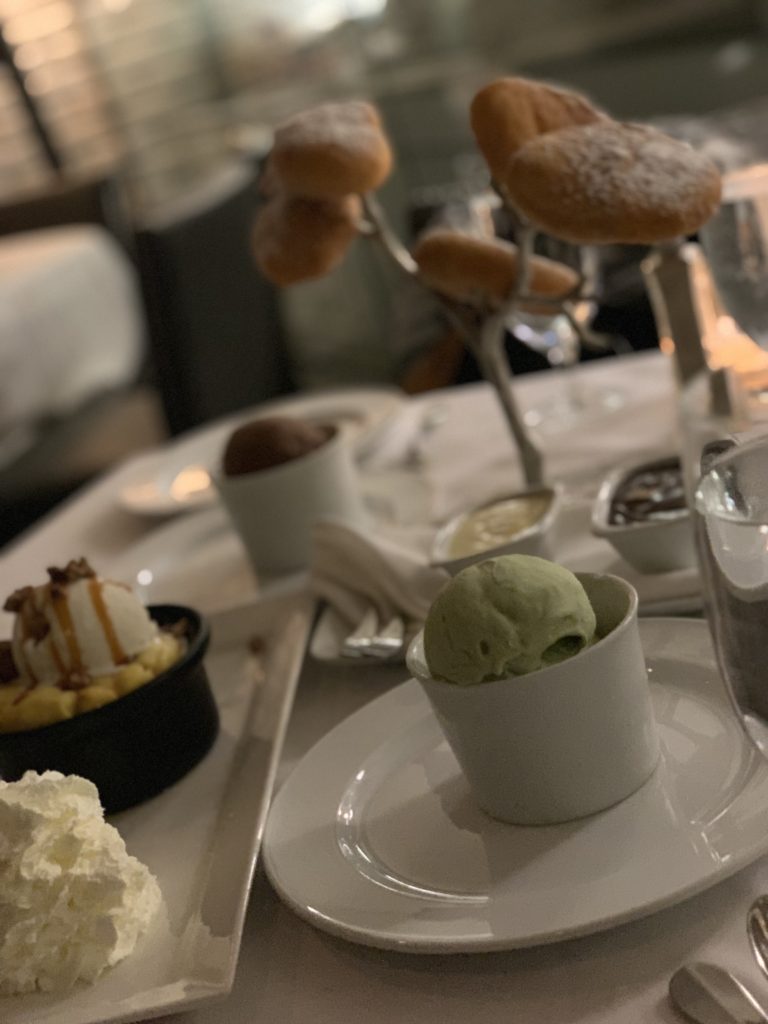 Halfway thru dinner Kevin came over to say hi, and chatted for 5-10 minutes. Had a very nice conversation, and apologized for what happened last time, and said how he felt bad he couldn't do anything. I also apologized that I vented to him on his night off that he was probably spending with his family, but he was my vent contact and we laughed about it. Told him about my conversation with Oliver, and the helmet…He was like the charity something(?) helmet? there was only 3 of those, and it's a nice collectors item, and said he would have loved to snag one of those! He did mention how happy he is that we are back! Me too!
While we were eating dessert (or trying to) David, the General Manager, came over for a few to say hi. It was a nice conversation, and asked if it was ok to talk about what happened. He said a new fashion trend is baggy jeans with a stripe or holes or something on the side that are like $800, and said they are loosening up on that a little, but did say they are tightening up on track pants and shorts or something like that, sounded like overly casual attire? I was trying to figure out what these jeans were he was talking about, so I think I missed some of what he was saying. He said he spoke with Oliver like a week or so ago, and asked if he spoke with us and said we are coming back. David also mentioned he noticed our reservation was originally later, then saw we changed it to earlier…impressive lol, cuz I'm sure they have literally a ton of reservations daily and noticed ours? We may be flagged in our reservations as the crazies lol. We did originally have like 9pm or something, and I kept stalking to see if they had anything earlier like 730 or 8 and when I saw it, I scooped it up! I did text Oliver on Friday to let him know I did that, and he said to not wait and to let him know and will make for any time we want! I told him I won't bug him each time, and will save it for an "emergency" reservation lol.
We are all really glad we came back, and felt right back at home. Last time we ate there was 15 weeks ago on October 20, 2018, literally the longest time period between visits since we've been going. We will be downtown for a weekend wedding in March, and a few couples are going out to dinner. I originally made it for somewhere else, but since we came back and everything was just like it was-service & food, Kevin and David stopped by to chat and apologize, and Oliver's extremely generous gesture of contacting me upon receipt of my letter, the helmet, and making sure we are happy, I cancelled those reservations and made it for Steak 48. Eddie peaked at the bill and was about $550 for the 3 of us (holy shit), definitely not what we would normally spend for 3 of us, but I would also guess it was maybe strategic hoping we would tip accordingly. Now I wonder how much the wagyu steaks were since they weren't listed on the menu, we may have not ordered if we saw how much they were!!! I originally had $110 in cash for tip thinking that would be plenty, but gave $130 since we needed the last $20 cash for valet with tip. Needless to say, we will be returning! I texted Oliver, Kevin, and David to thank them all again, and let them know when our next visit will be!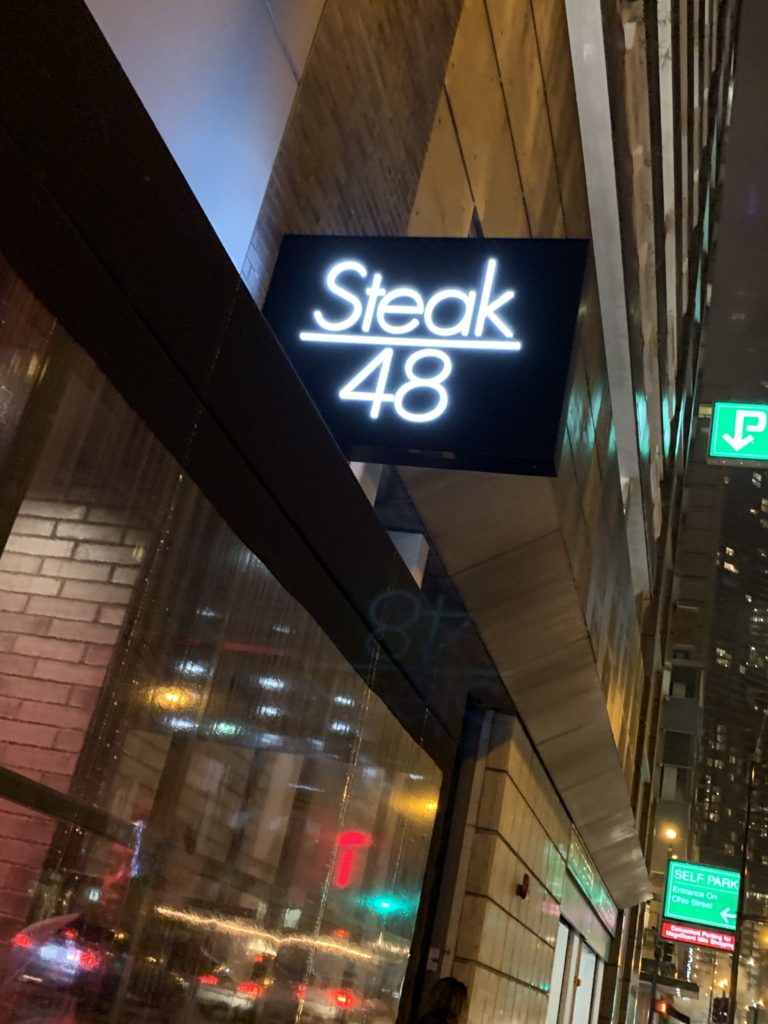 xox~j