Long travel day ahead of us, but it'll be well worth it (I think lol). Eddie and I get our Uber ride at 530am to LAX for our 715am flight to ORD. We literally had 3 hours of sleep from wedding celebrations, had to shower, and finish packing…
We get to O'hare International Airport at 145pm cst head and over to the gate where Kayleen and Kris are.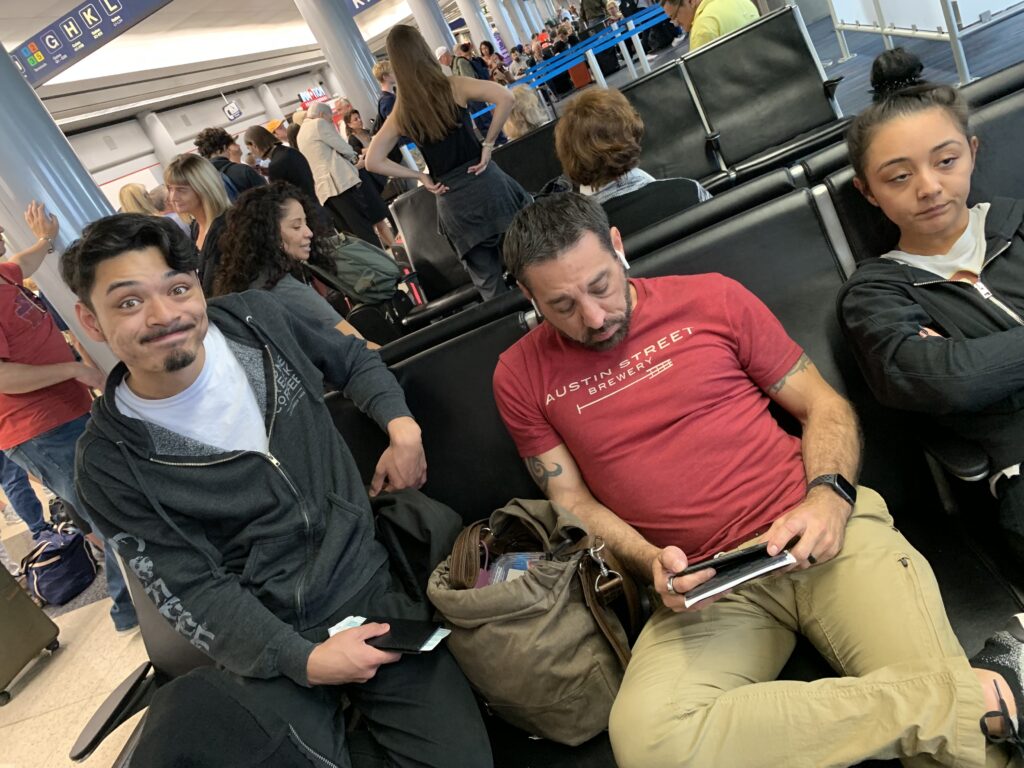 Our flight was scheduled to leave 525pm, and we didnt end up taking off until closer to 7-730pm. I have to say, sitting in Premium Class has got to be the best way to fly overseas. Well, 1st class probably is, but maybe one day we'll either have that kind of status (or money lol), but in the mean time Premium is the way to go! Lots more leg room, lots more reclining space, lots more buttons to press lol. Watching the 3 of them press buttons and open the pillow package with all the goodies was like watching Christmas presents excitement lol. As comfortable as I was in my seat, for some reason I wasn't able to fully sleep on this 10.5 hr flight, and we had nice Casper pillows and blankets to cuddle up with!
We arrive in Athens around 1245pm and look for our private driver holding our name. It was crowded and felt unorganized, but we finally found the driver & off for a 25ish minute drive to Electra Metropolis Athens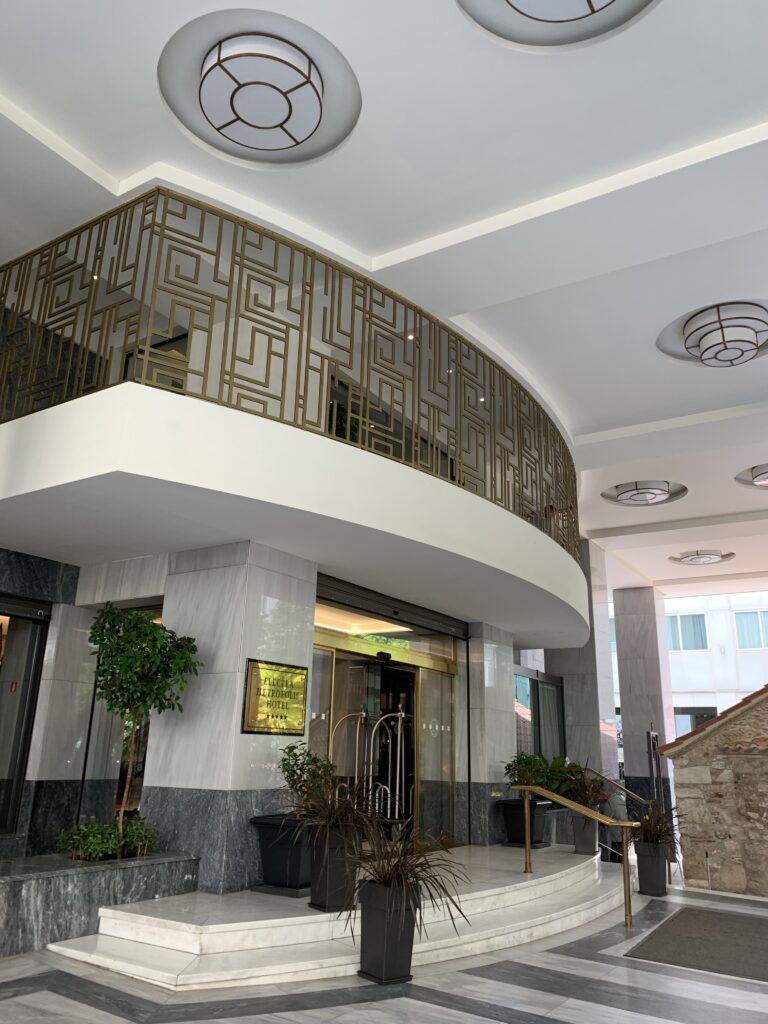 It's nice, sunny, and hot! PERFECT! We arrive at the hotel, and lemme say WOWWWW! I would almost compare the service and rooms comparable to JW Marriott, but nicer! We get in our rooms, shower, and head out to start out adventures since we are behind 2 hours from the flight delay.
We're all hungry so walk towards somewhere down the block and stop at The Greco's Project where they have outdoor seating.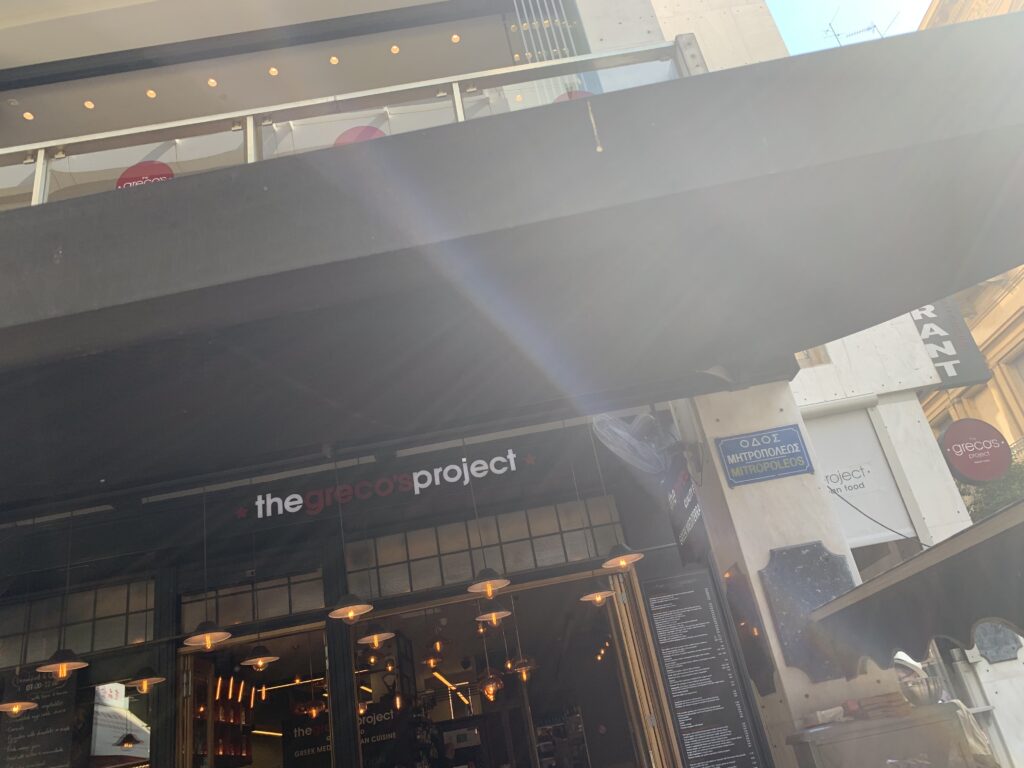 We ordered a non flaming cheese which was came with circle pitas that was so good and nothing like back home! That was gone in 37 seconds. We each ordered our own meals, and none of us finished. It was way too much food!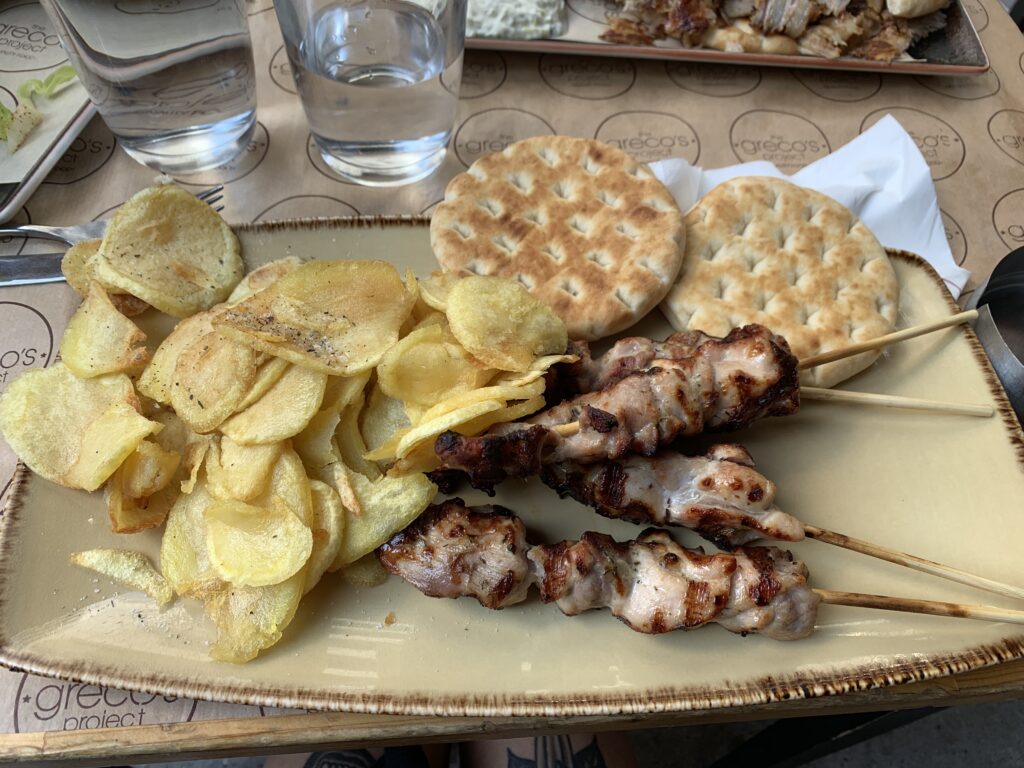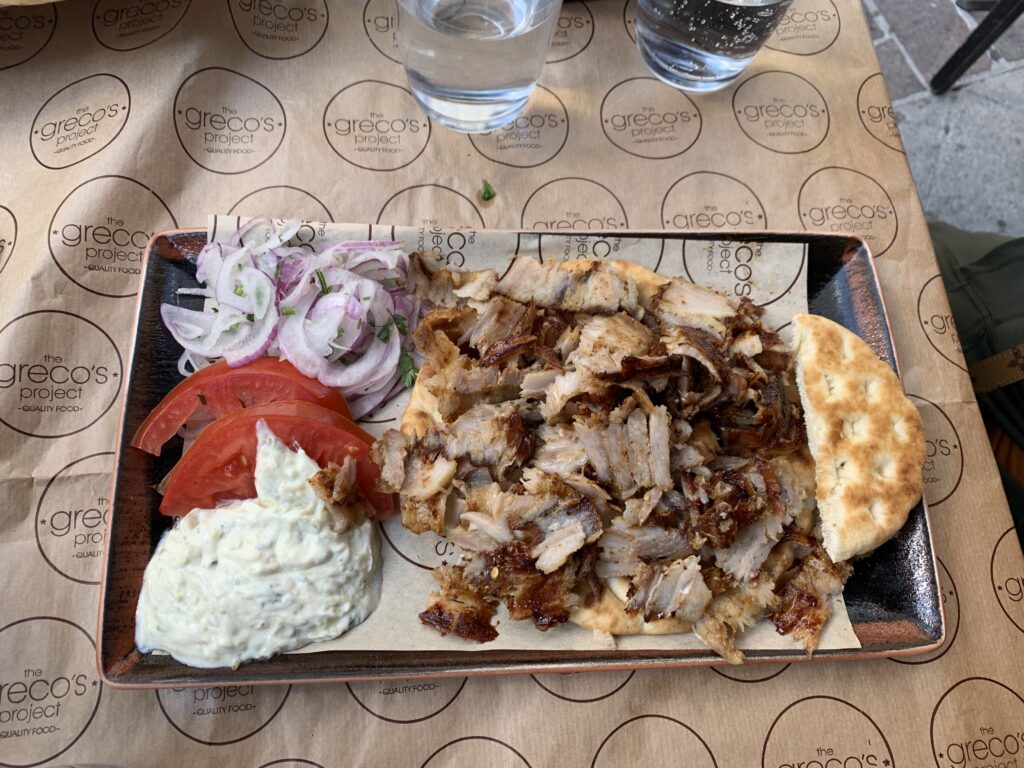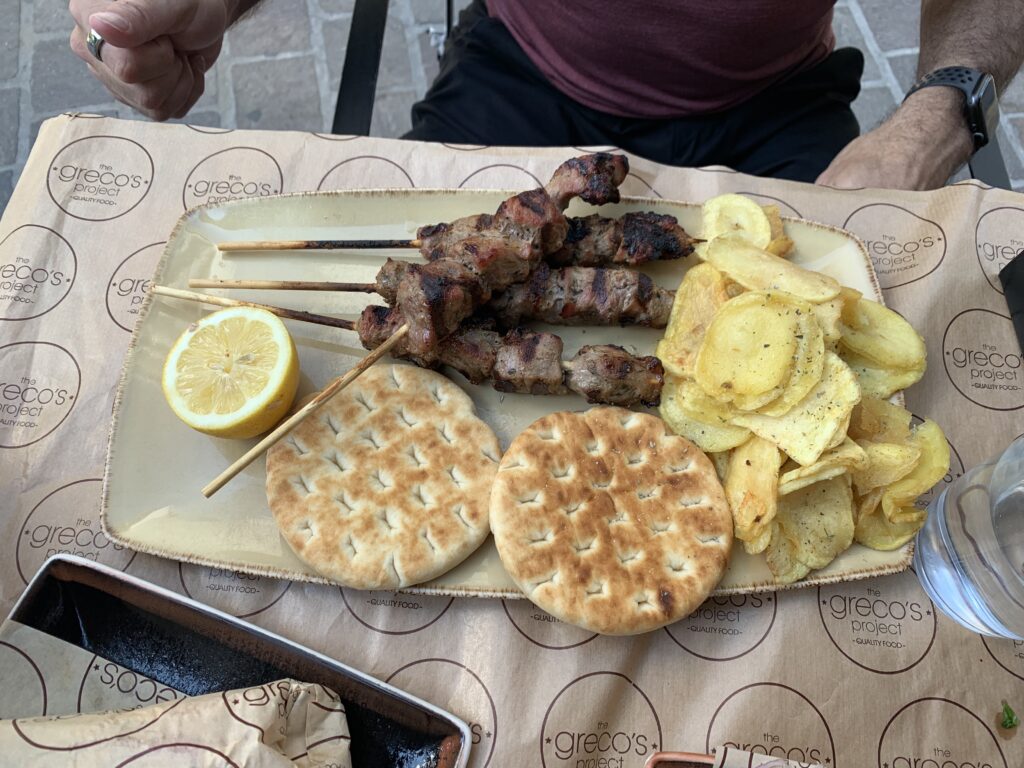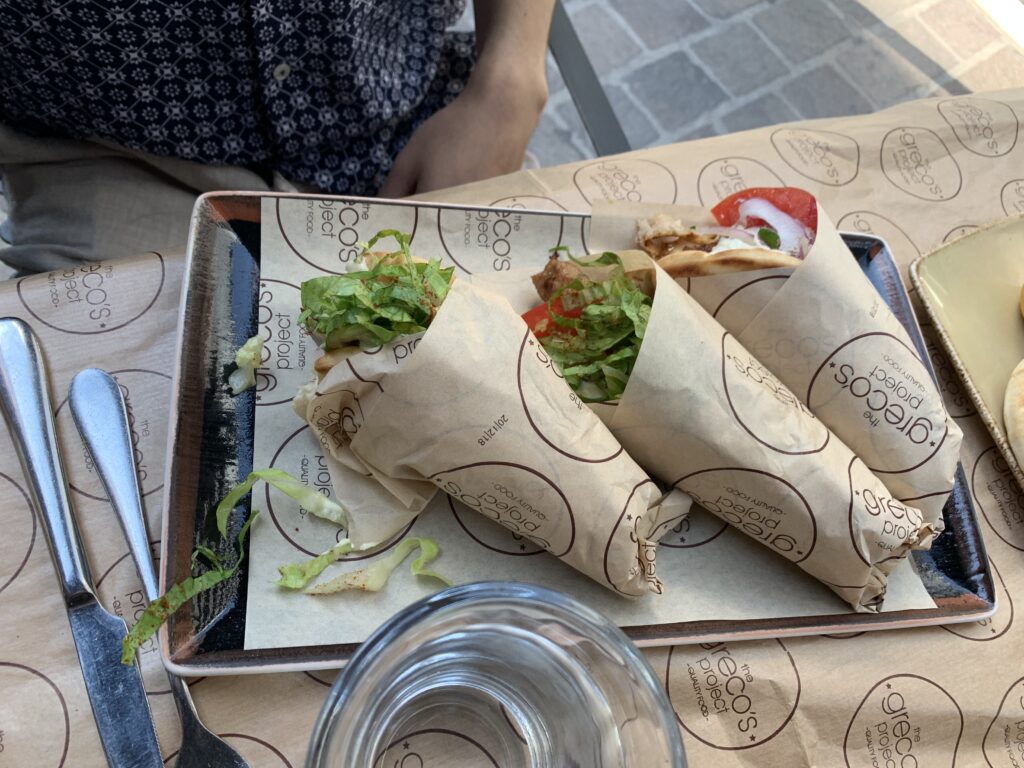 As delicious as all of our meals were, we couldn't stuff ourselves any more. We learned that service isn't like in the States. They are pretty relaxed taking our orders, checking in, refilling beverages, bringing the check..It's a 2-3 hour ordeal.We also learned it is frowned upon when you don't finish your meals, and it is an insult to the staff and chef when you don't. Ugh. Lesson learned…but we did tip the server even though it is not customary to do so apparently. Off we go to move and walk all this food off.
We walked to National Gardens and did a quick self tour.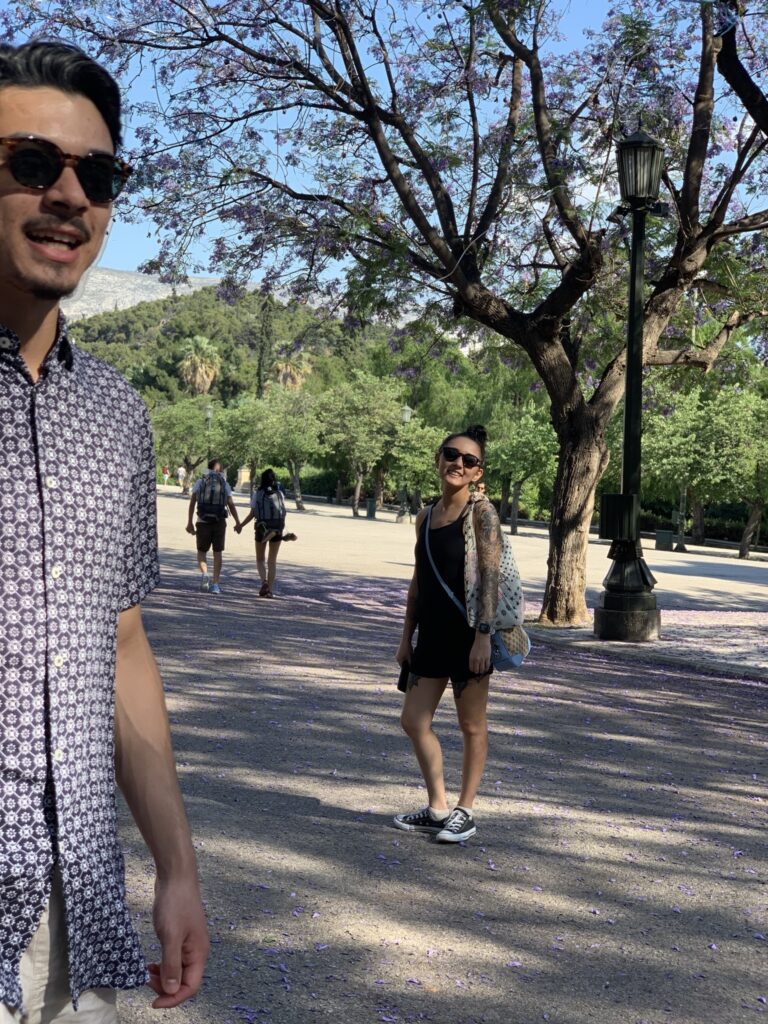 Then we made our way to Panathenaic Stadium

There were electric scooters we all decided to rent. The company we found was Hive and they were offering 20 minutes free. Eddie couldn't het his to download so he used a Lyme scooter.
It was Kayleen & Kristefer's first time on them and off we go to take some pics at Archaeological site of Olympieion or Temple of Olympian Zeus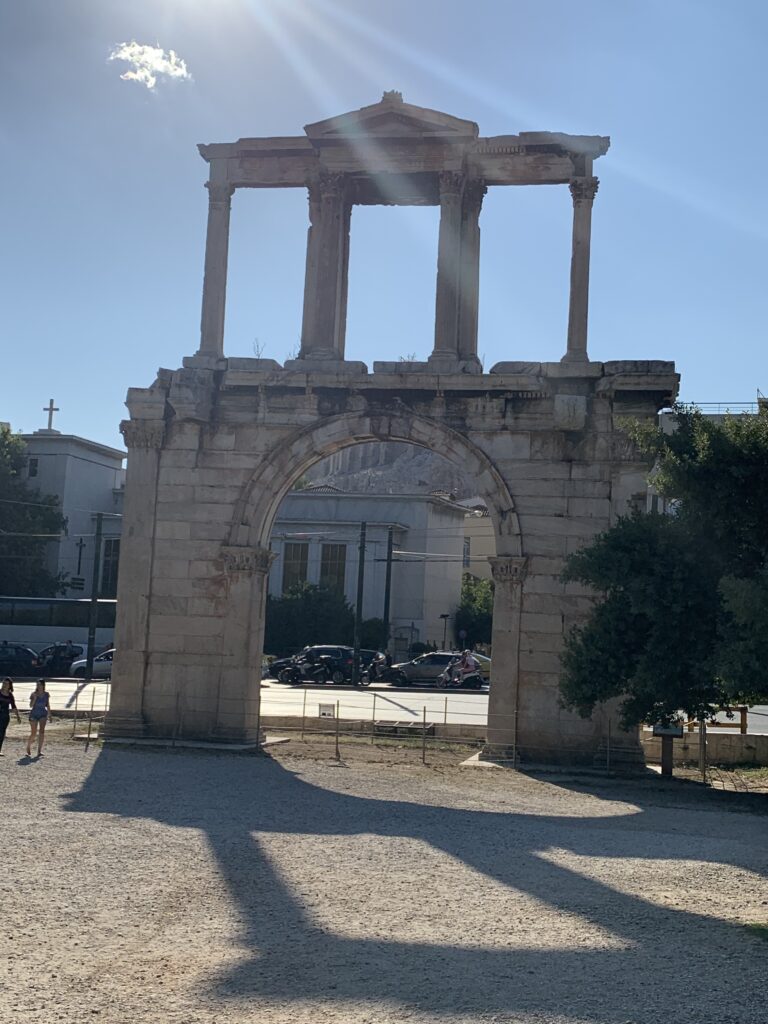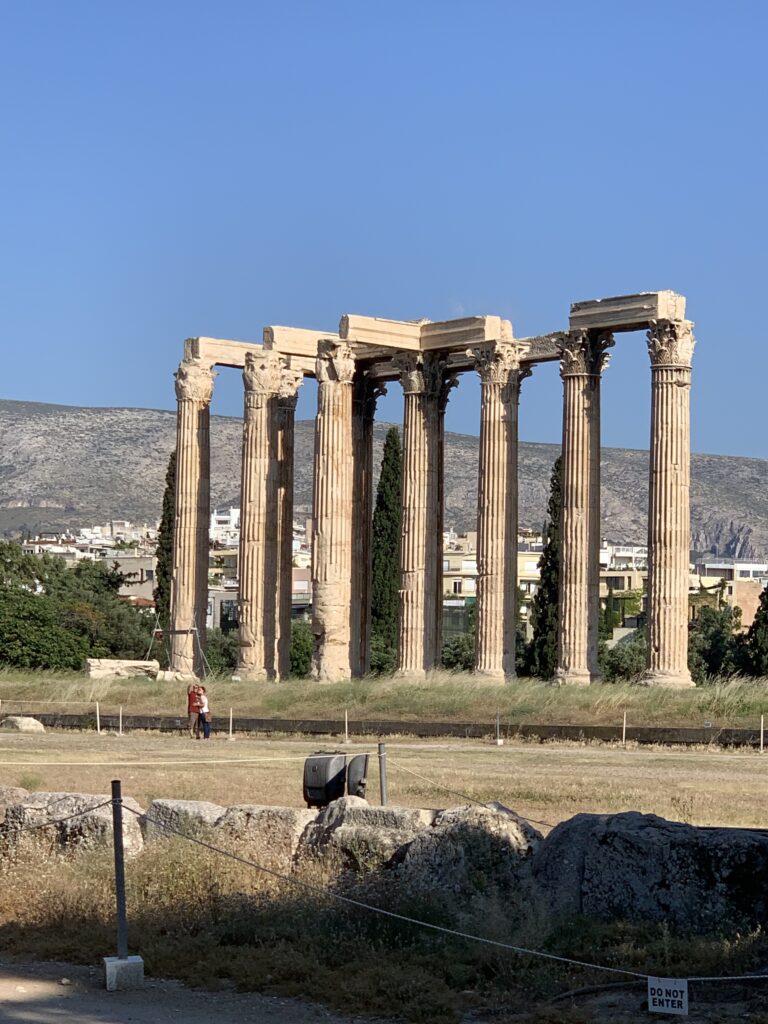 Back to the hotel to meet one of Kristefer's squad members, Mia who's mom I've known for a long time, to hang out with for the night.
Off to Louis Vuitton we go!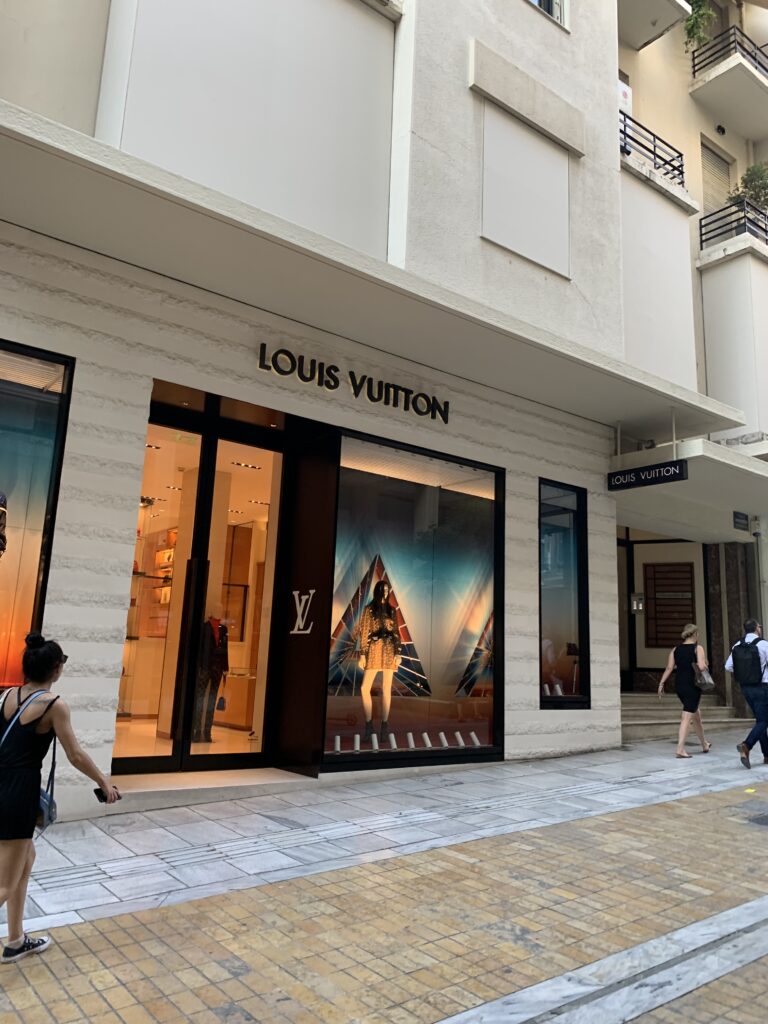 It's so weird not having the "usual" customer service I have back home, i actually have to wait for help (#princessproblems). There's 2 small floors of goods, and I found what I needed….now to find a sales associate. I ask a security man how to get someone to help me since the one SA on the floor was helping someone. He said "no worry we will help." There is no number system, nor have we checked in with anyone so how does anyone know we are "in line?" I go downstairs and ask a SA who is available and she said "no worry, we will find you." OK BUT HOW?? I know what I want, I just need to pay for it…I found a man with a tablet so I asked him and he said he will send the next available to me. THANK YOU! Less than 5 minutes and a man came to help. I wanted to purchase the Pochette Metis in Noir, and they had one in stock on display. I looked it over and looked fine to me, but I asked if they had more in stock so I wouldn't have the display bag. He looked in his tablet and said that this is the only one available in Greece, and that it most likely was just put out today because someone would have bought it already. I suppose that's true, because for some reason I rarely see the bag in store and have only seen it once and I had to ask for it, but it was also a customer hold…I was going to buy it regardless, but was curious if what he said was true or not. In the States, this bag is $2230 usd plus $223 in tax, or $2453usd. When the card was charged, we got a text that I was charged $1872.73usd. PLUS, what it looks like we get $212 back in VAT tax refund at the airport! If that is the case, this $2453 bag actually cost me $1660.73??? I feel like i should buy more!! Stay tuned haha!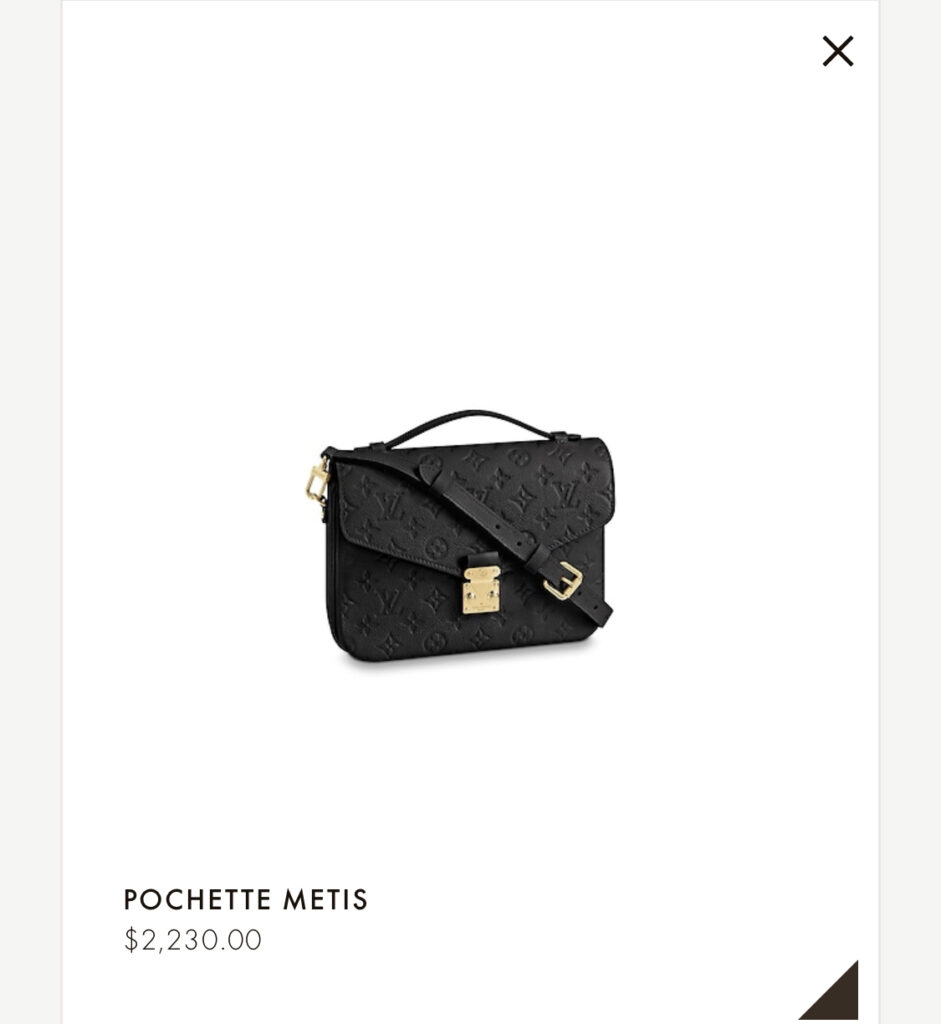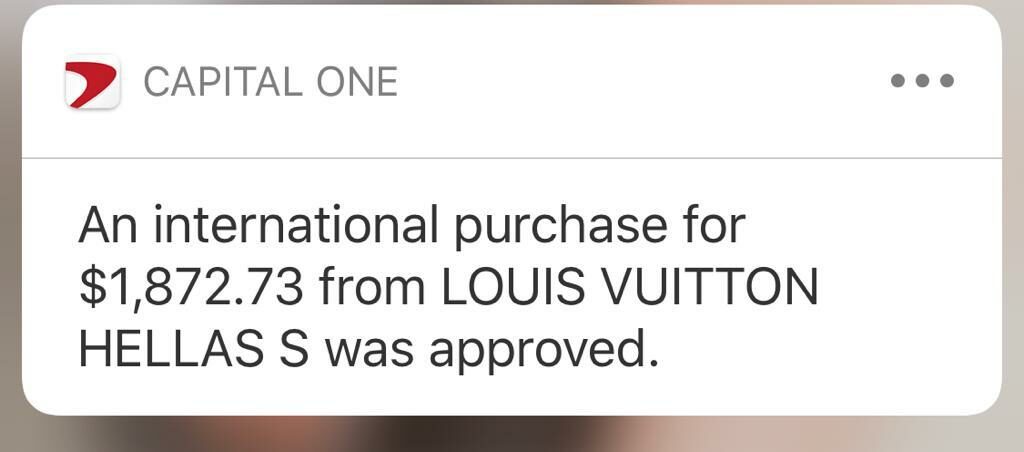 Gucci was closed, so we decided on another outside dinner at InTown Cafe . Super cute!!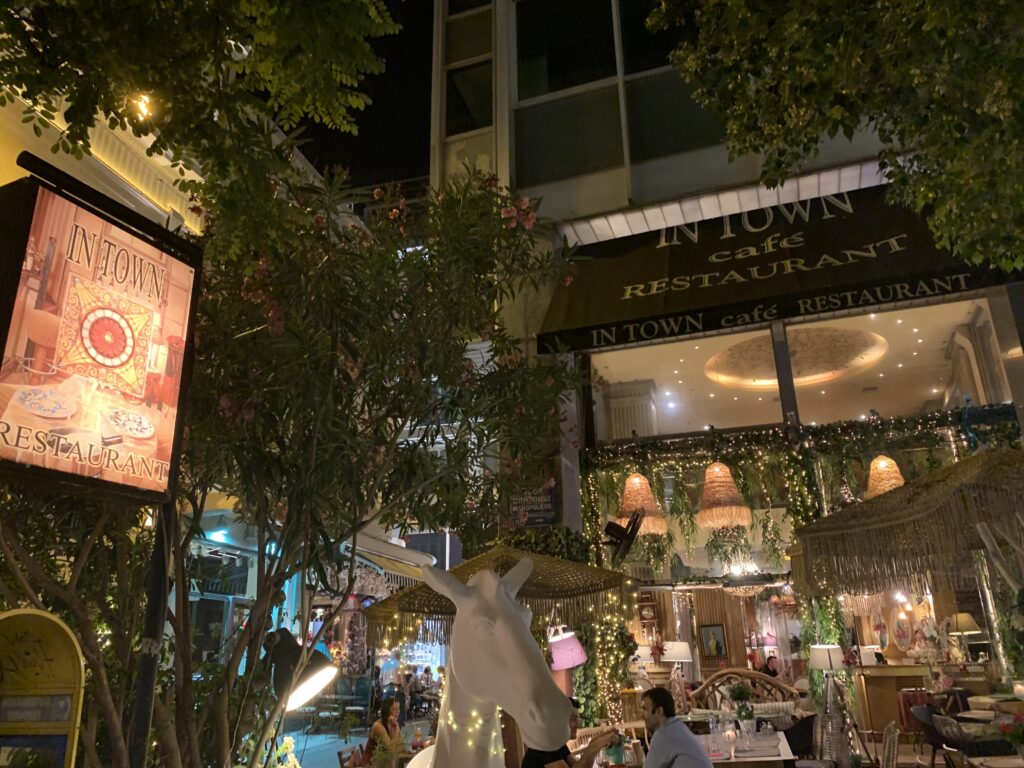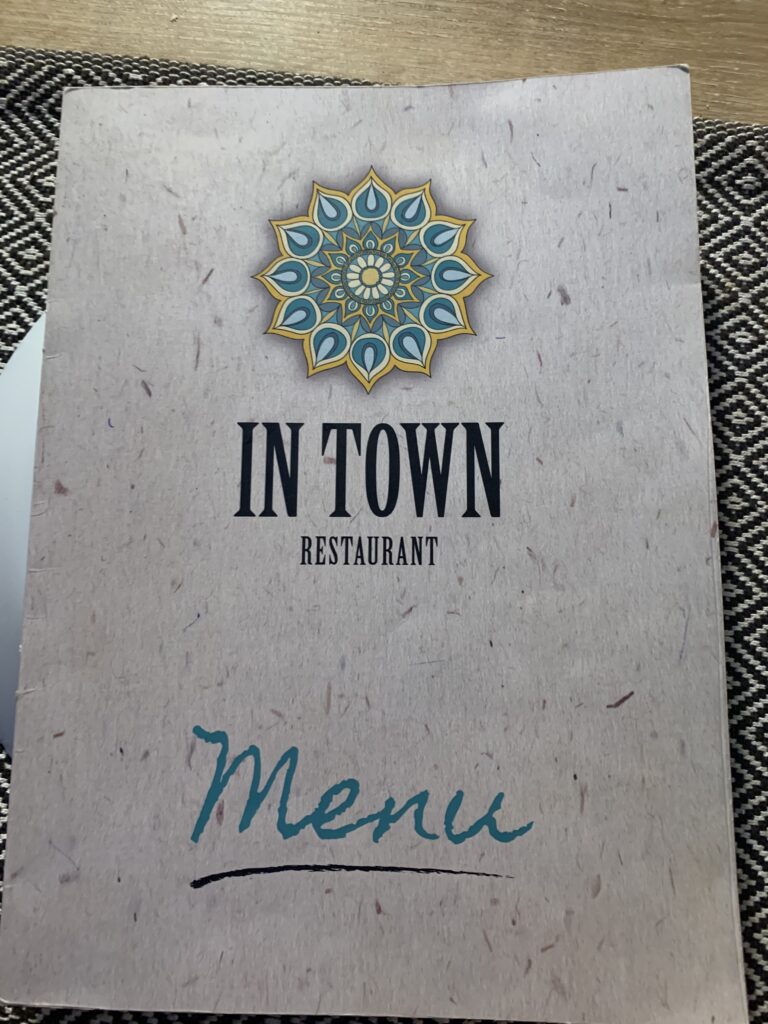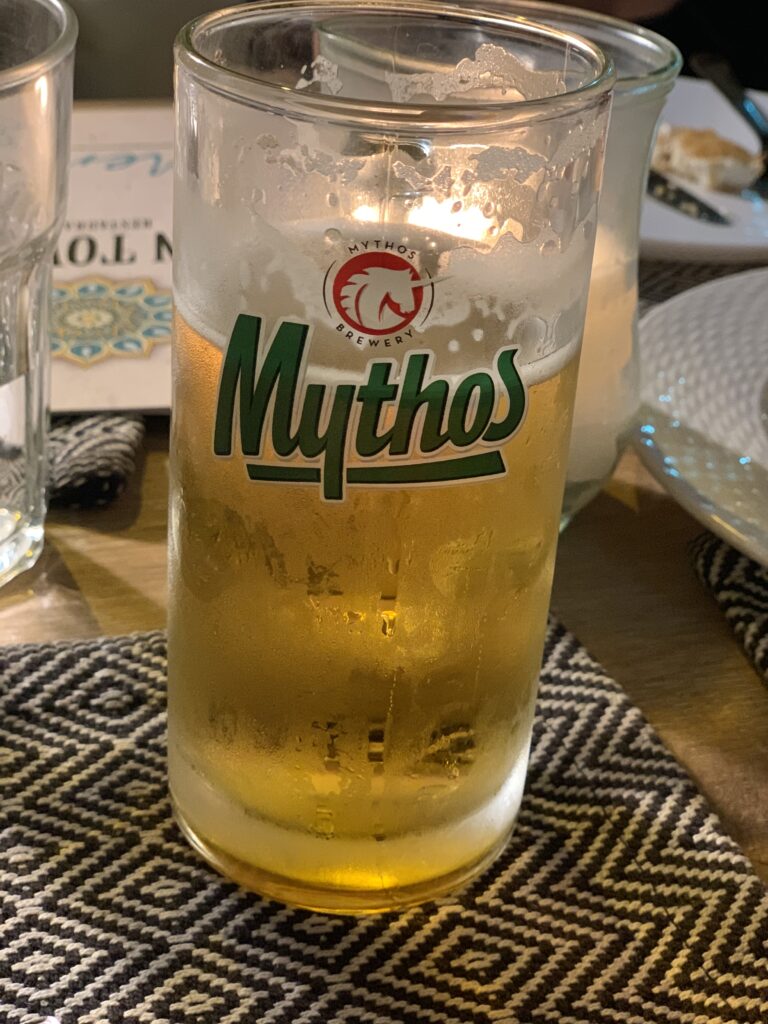 We made sure not to order a lot this time. Mia said one time she didn't finish her food at a restaurant and had to apologize to the chef…WHAT?? Us Americans don't take our food as serious since we have so much food waste. Service was super slow here too…Next stop, gelato!
We walked down a bunch of dark sketchy like streets, but Mia insisted they were safe…Oh boy….
We went thru a few of what looked like "normal" streets with civilians and lights till we got to Da Vinci Gelato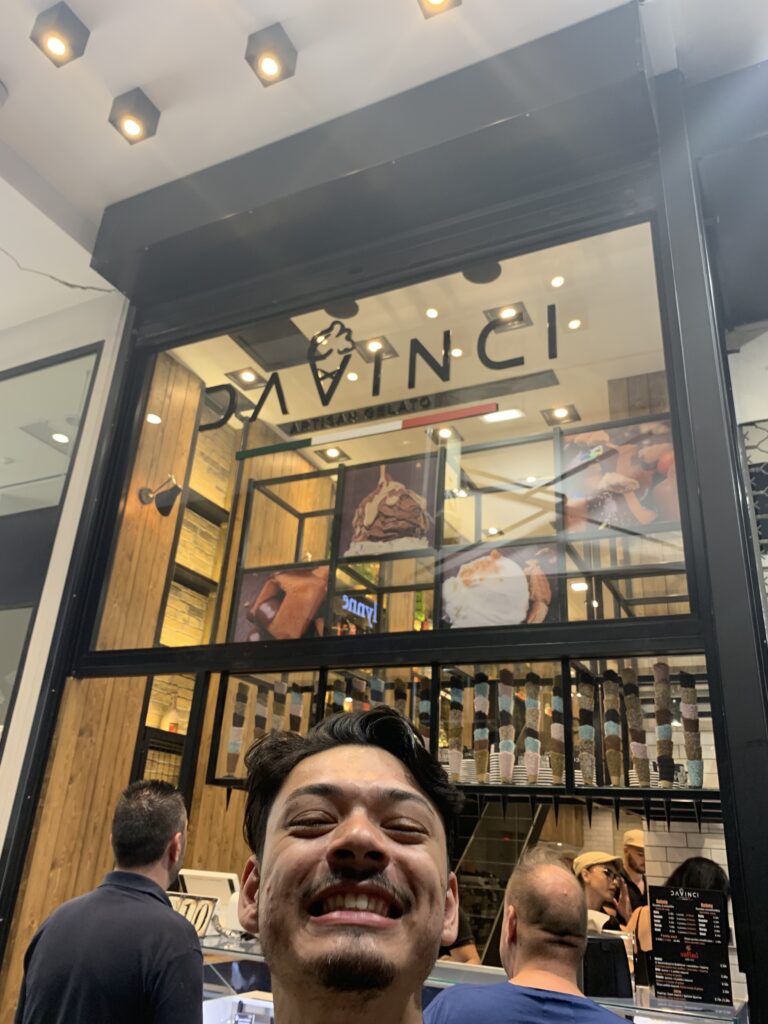 There was some bittersweet super duper chocolate gelato I told Eddie to try, and there were 3 other chocolates. He was pretty hesitant, but he did…yeap, that's what we got lol…HOLY CRAP that was damn good, I didn't want it to end!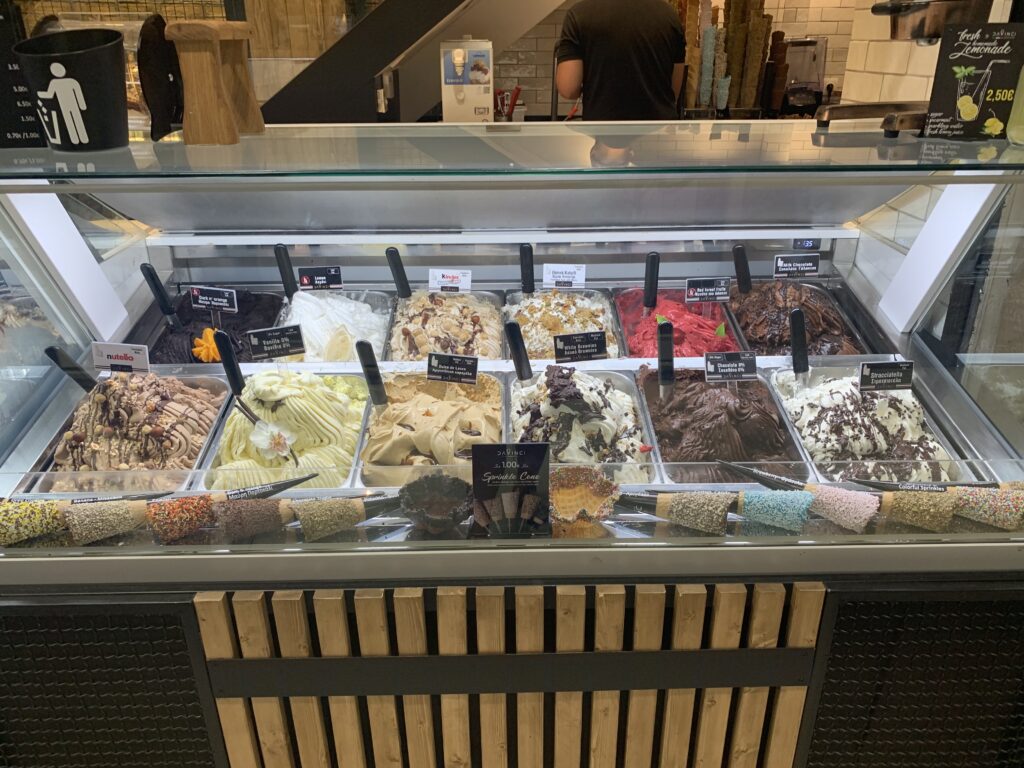 We went thru some cute little area Anafiotika Plaka where the stairs were steep and little restaurants on each side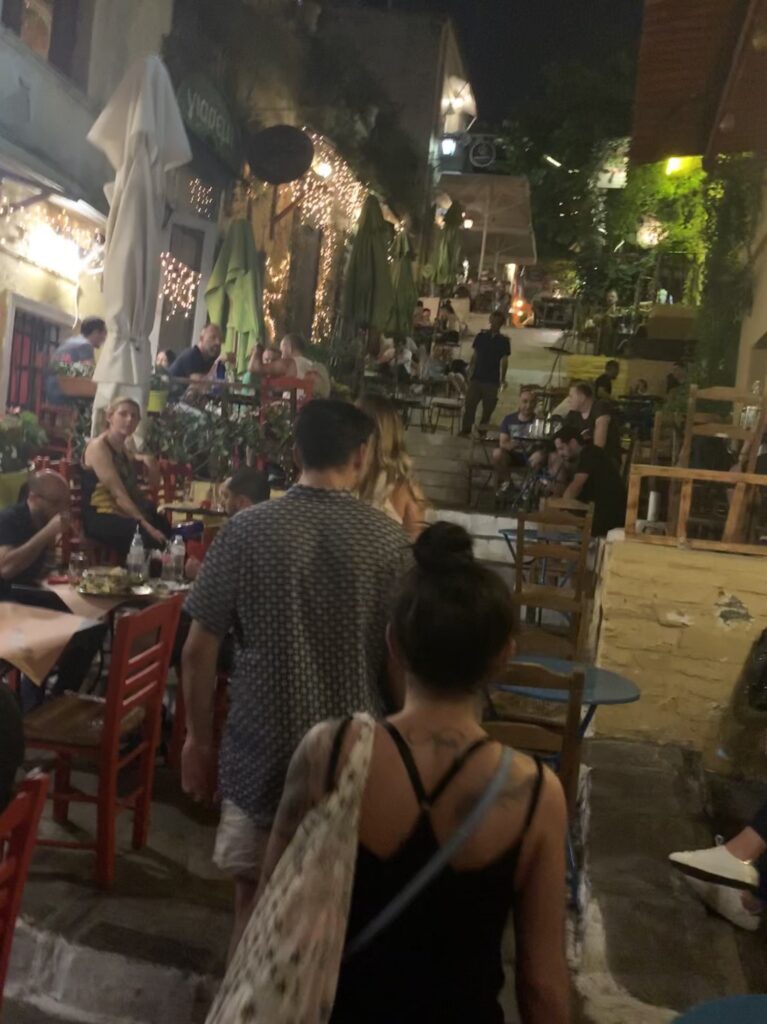 At dinner earlier they decide the 3 of them are going to some rooftop bar that OPENS at midnight. Eddie and I are like NO WAY, that's too late for us. When we got back to the bottom of the restaurant stairs area it was 1150pm lol…Eddie and I still decided to call it a night and head back for a 10ish minute walk back thru some dark sketchy streets back to the hotel, while the 3 go to A for Athens rooftop bar. Time to catch up on some much needed beauty sleep (hopefully) before we are off to Mykonos in the morning….
6.9 steps were 10,996, 6.10 was 14,134
xox~j