I was up at 4am…WIDE AWAKE…Just waiting until 815am to wake everyone up for breakfast so we can eat and soak up more sun at the pool until 11am to pack and head out for Santorini.
Our private fancy van ride took us 10 minutes to the port where the Champion Jet Ferry will take us to Santorini. Last night we got a note to go to the front desk to pick up our tickets for the ferry. There are 3 different seating areas: Silver Economy, Club, Platinum VIP. Round trip tickets were €85.80 per person for VIP Platinum. We get to the ticket booth and apparently our tickets are for 955am…uhm…the ticket lady was pretty much telling us we are SOL, but the man next to her said its fine and happens all the time where Champion Jet 1 and 2 get mixed up. Ok good, cuz we'd have a situation on hand if we can't get to Santorini…WHICH is the EXACT reason I prefer to book this kind of stuff with a travel agent. So we hear it's a cluster fuck getting on the boat, so we'll see how this works.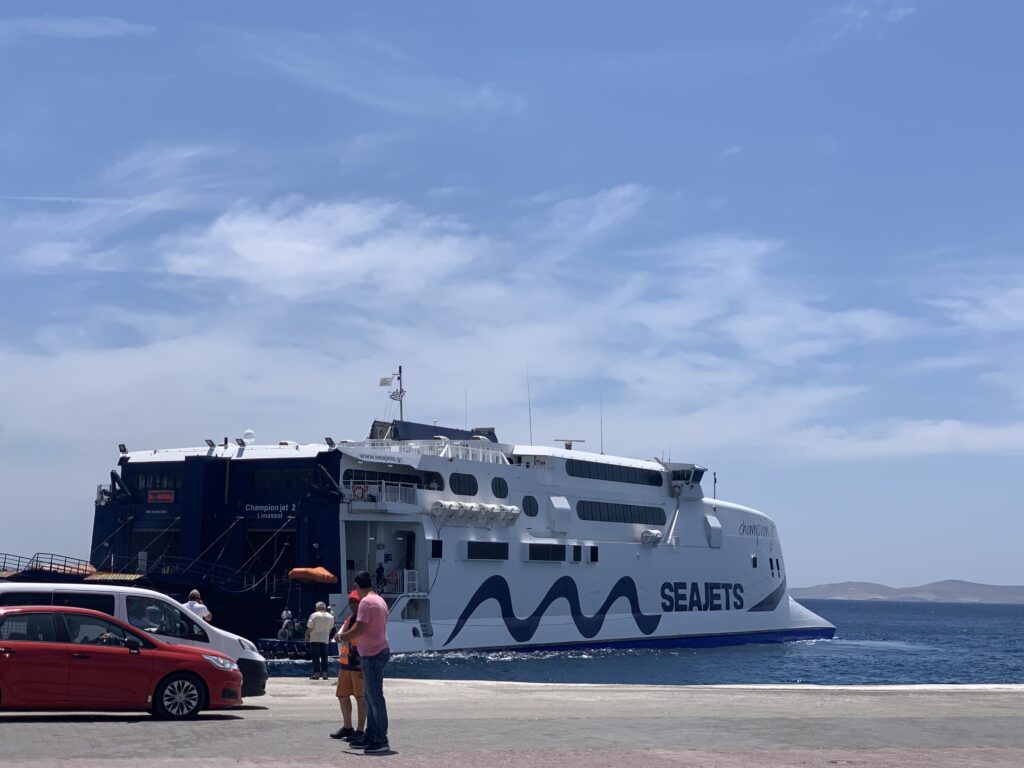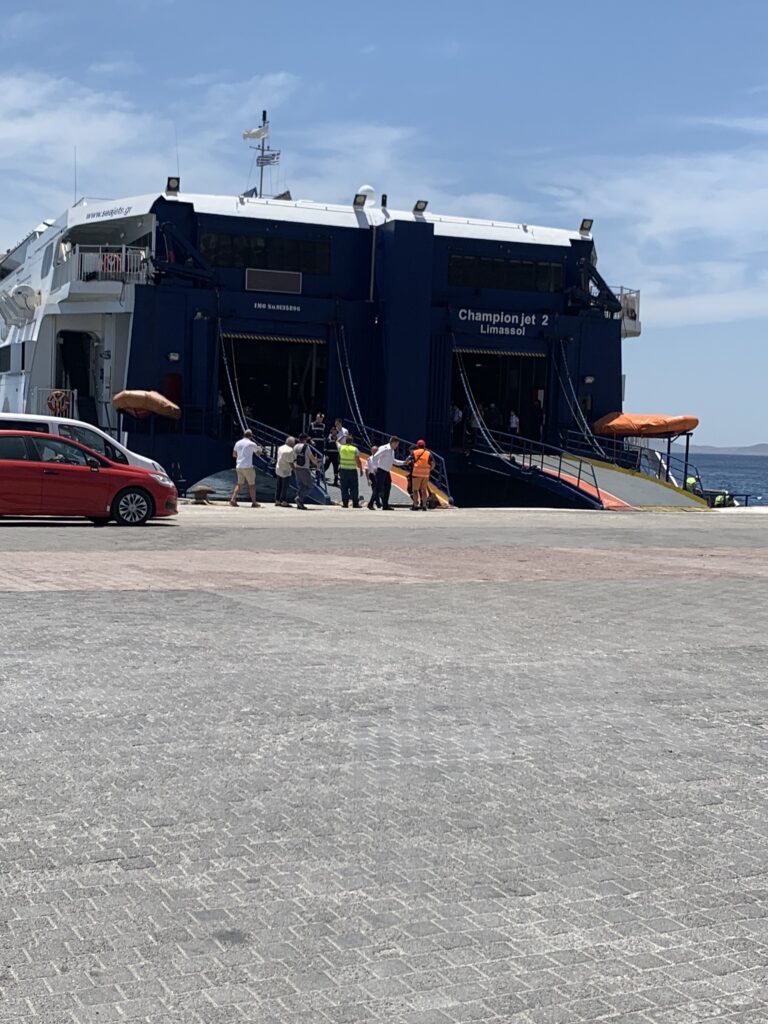 It's an unorganized mad rush to get on the boat and knock people over to make sure your luggage is on the racks.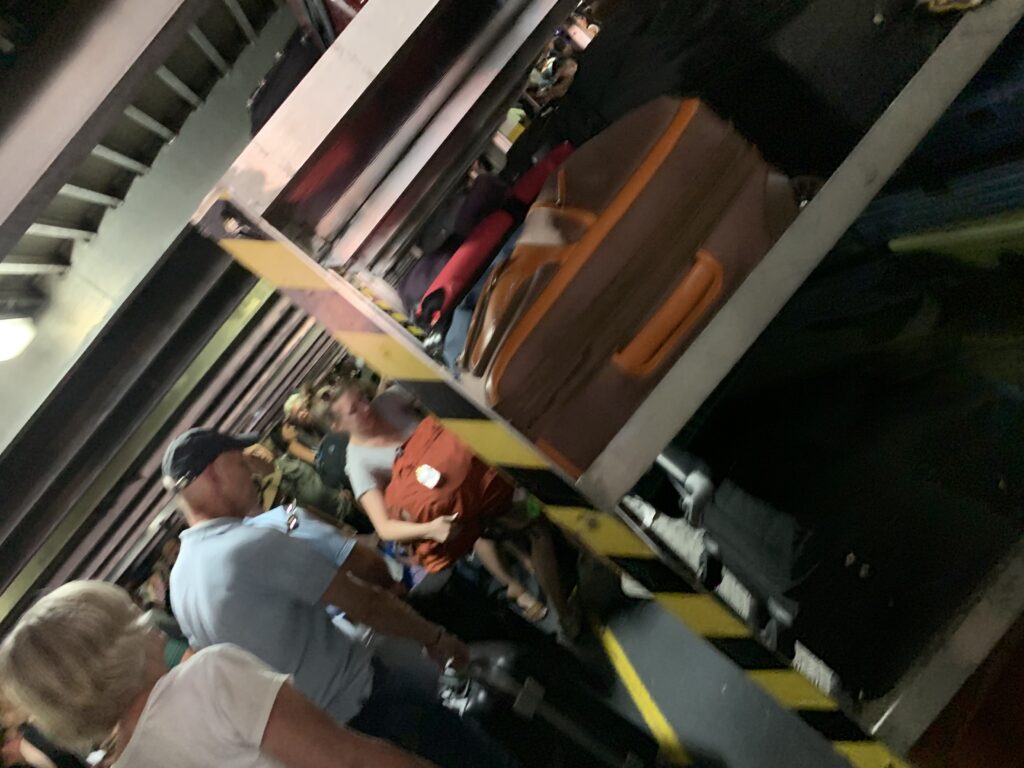 Then you fight your way to the ramp to take you to your seating area. Claustrophobic? Make sure you take a Xanax or something cuz it is what everyone says…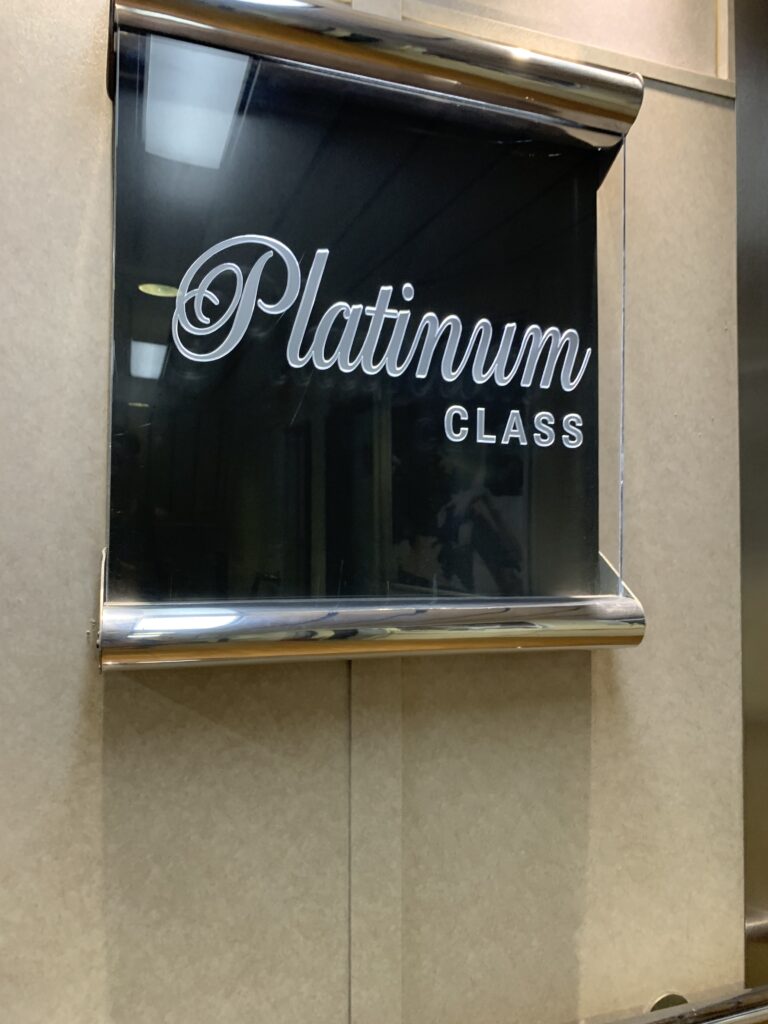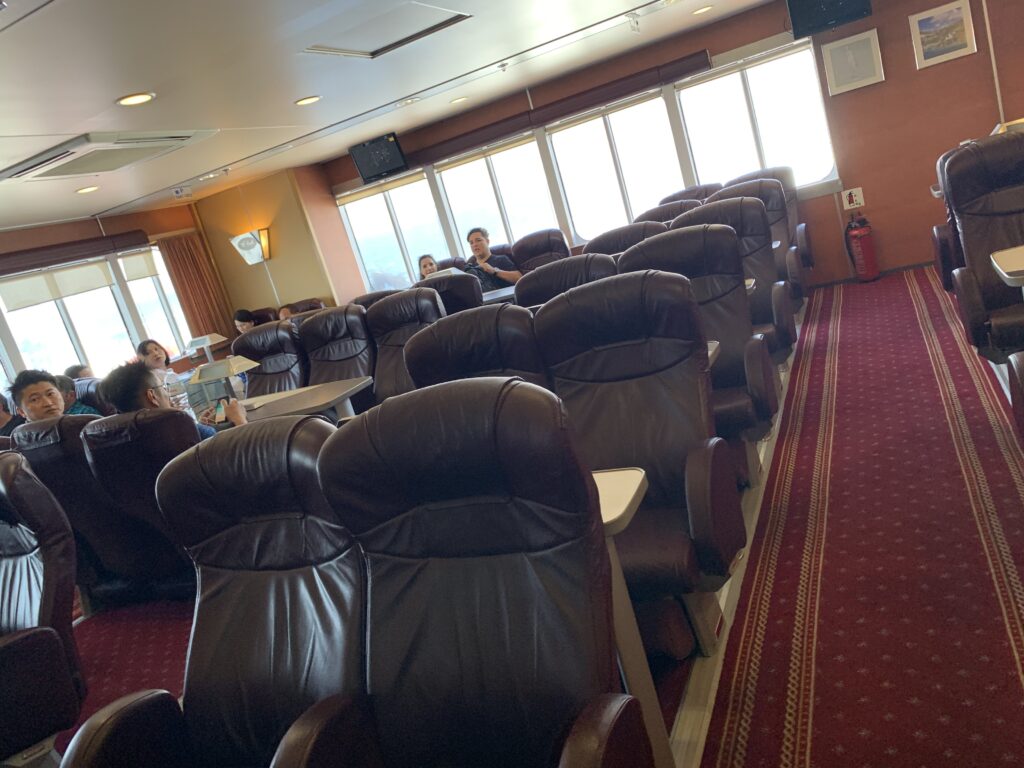 They have food and snacks on board to purchase so you don't have to worry about buying at the little stand outside.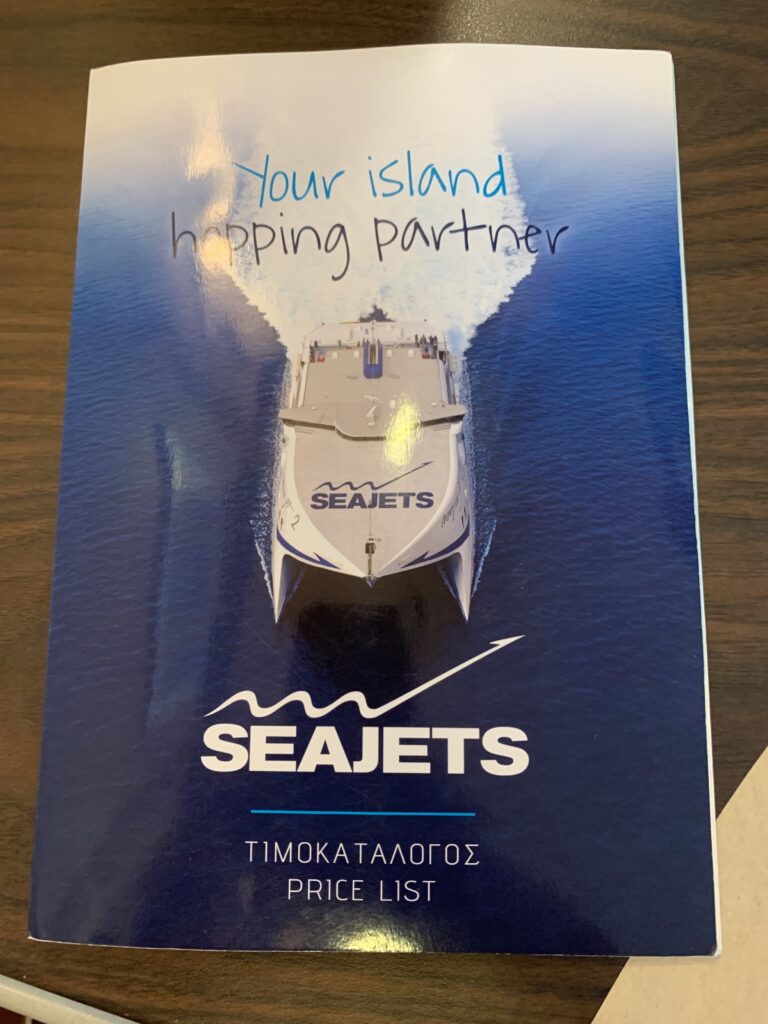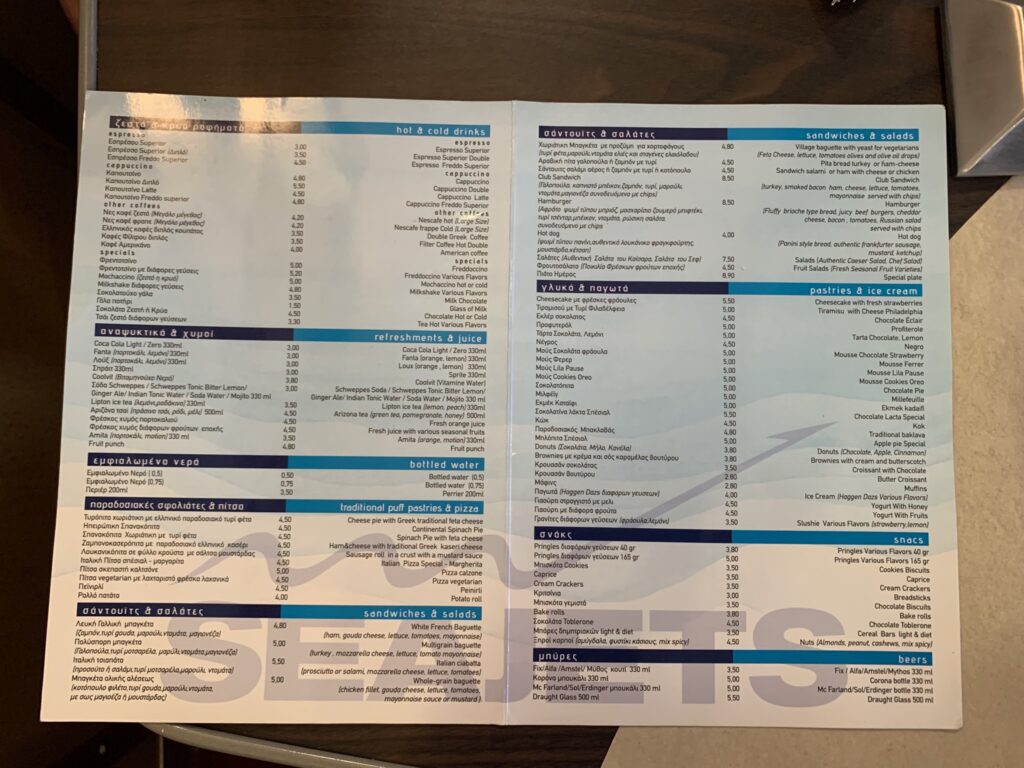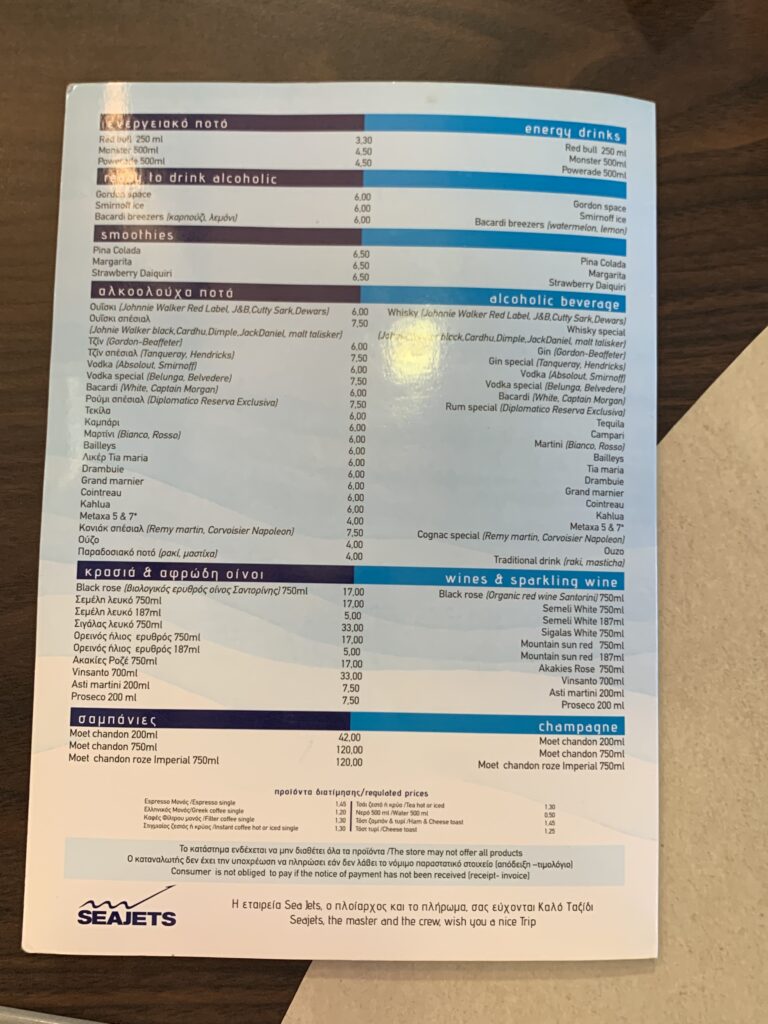 Exiting the boat wasn't as chaotic as entering. We knew we were minutes away from embarking, so we got up and went to grab our luggage and stand in line.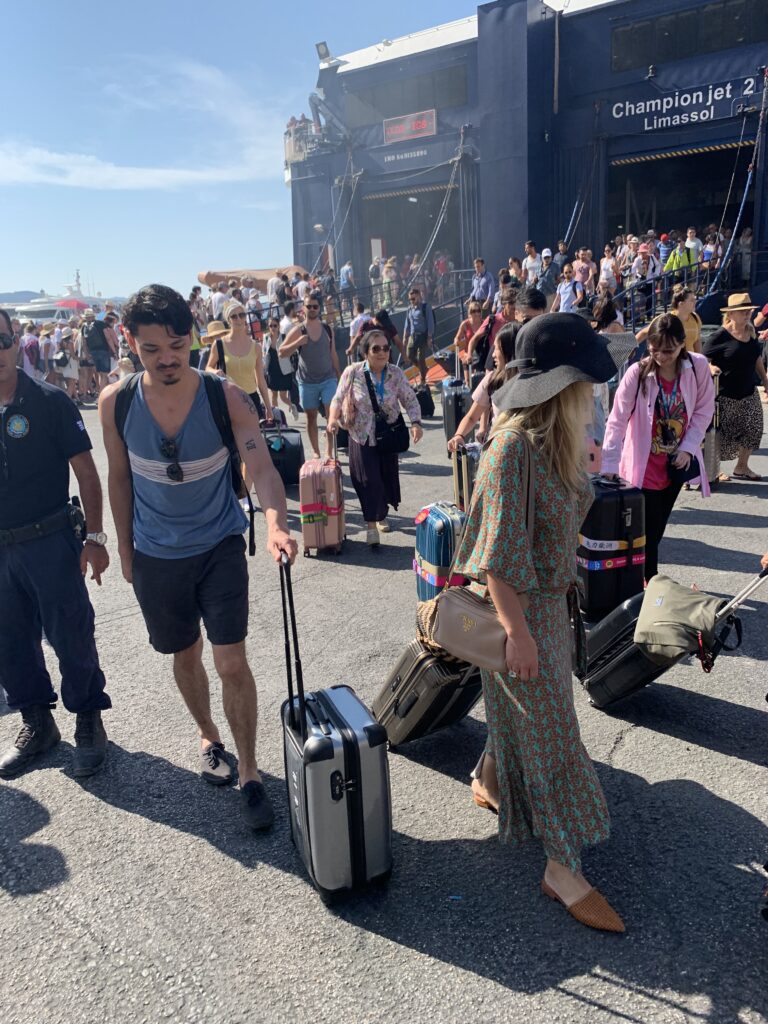 Surprisingly, I didn't have to push any old people to the ground and we all survived the exit process. We look for our driver with our names, and thank goodness he was standing on something cuz Kristefer saw him!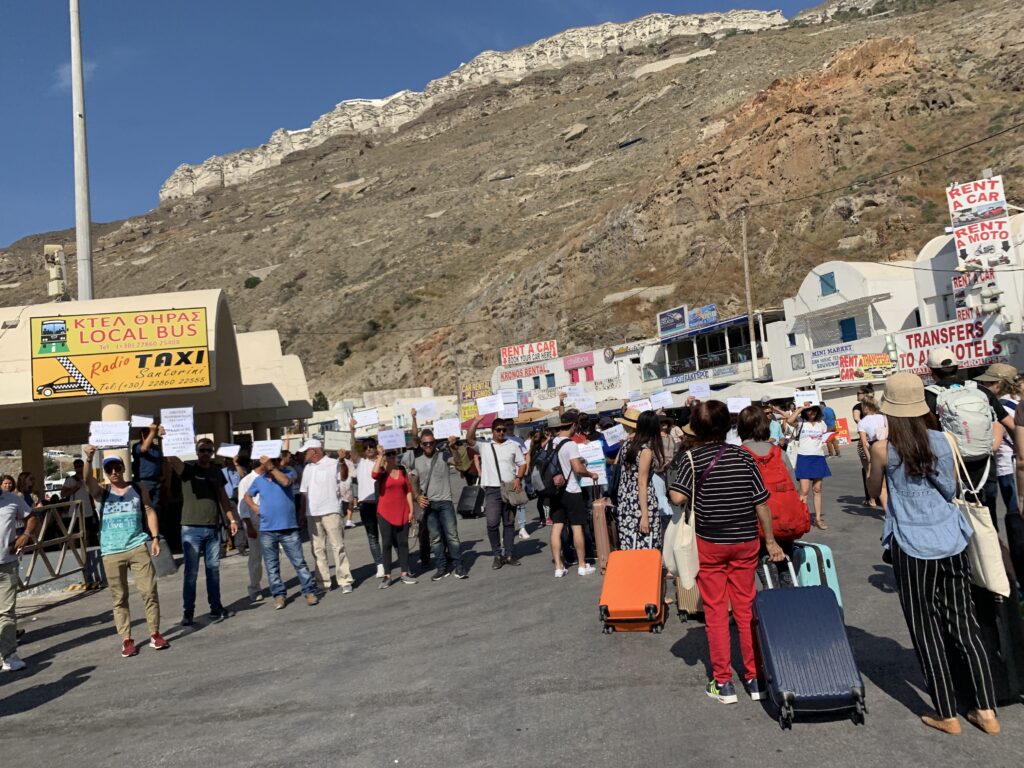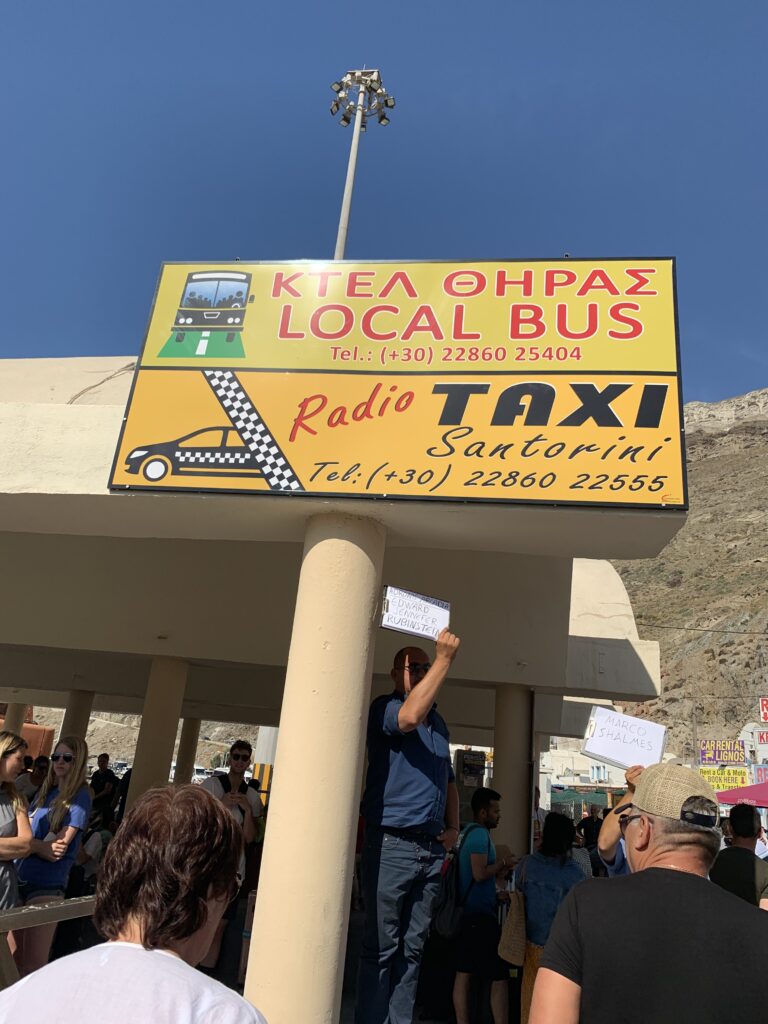 The sun hitting my skin is at a great temperature and the sun is smiling! The van isn't quite as luxurious as we had earlier in the trip, but it's private and just us! The roads are windy, hilly, and on the side of the mountain kind of like the Road to Hana in Hawaii. Took about 38 minutes from the port to Oia, Santorini.
Ok….HOLY…SHIT…THIS…PLACE….Andronis Arcadia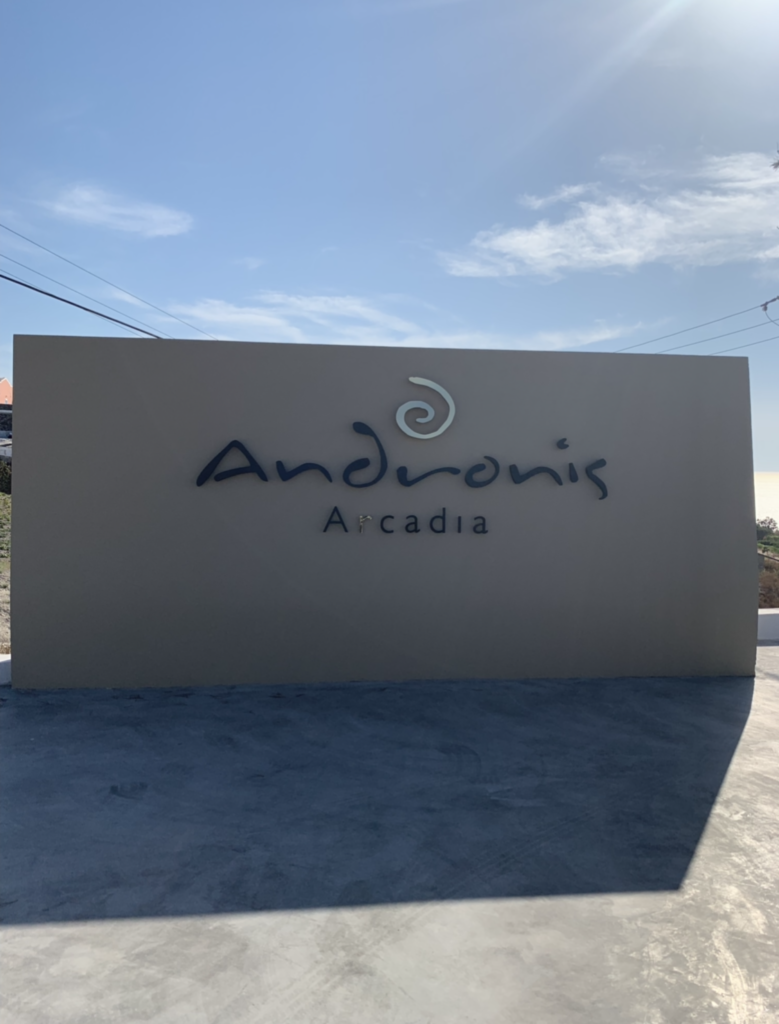 And EVERYONE IS SO NICE!! Each person was so excited to see us, it was almost strange. We haven't gotten to our room, and I am already wanting to stay longer and come back.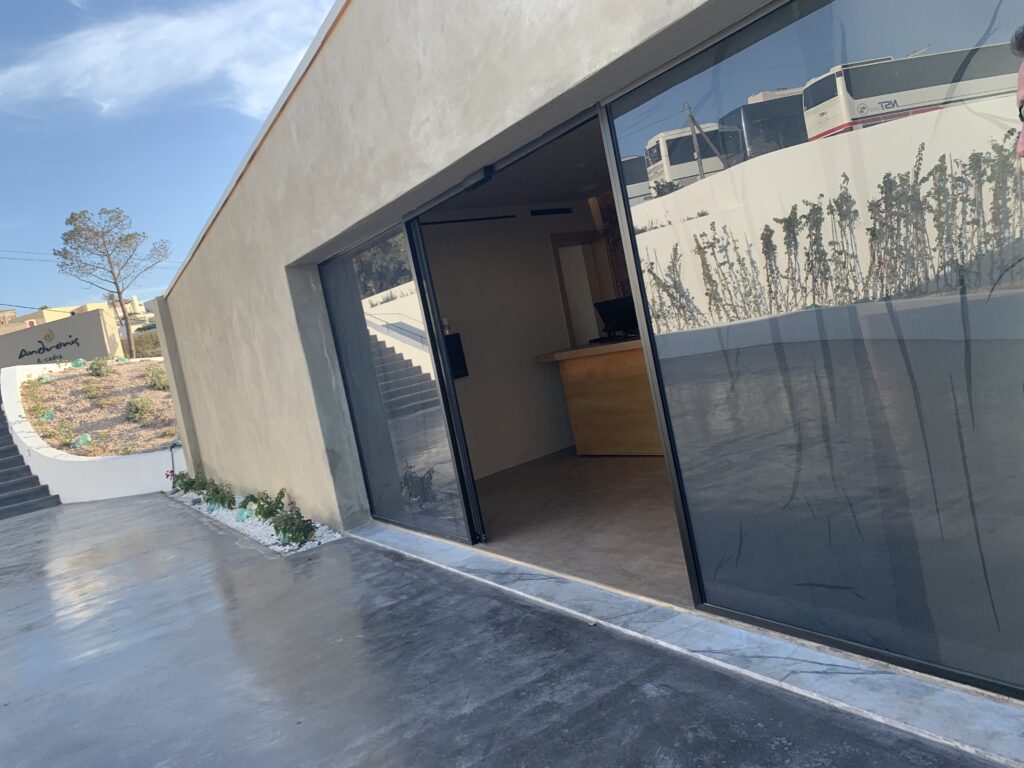 Everyone is very elegant, and nicely spoken. The front lobby is very clean, sleek, modern, and simple.

Dimitra welcomed us with sparkling wine and gave us a bunch of useful information about Santorini. First off this sparkling wine is delicious. We need to know what it is because I need to take home a case of this….She took us to our rooms and said we can pick whoever wants which rooms. She opens the door and apologizes for stepping in first, but said the doors are heavy and wanted to let us in. Amazing and impressive!
Ok…so…the…rooms….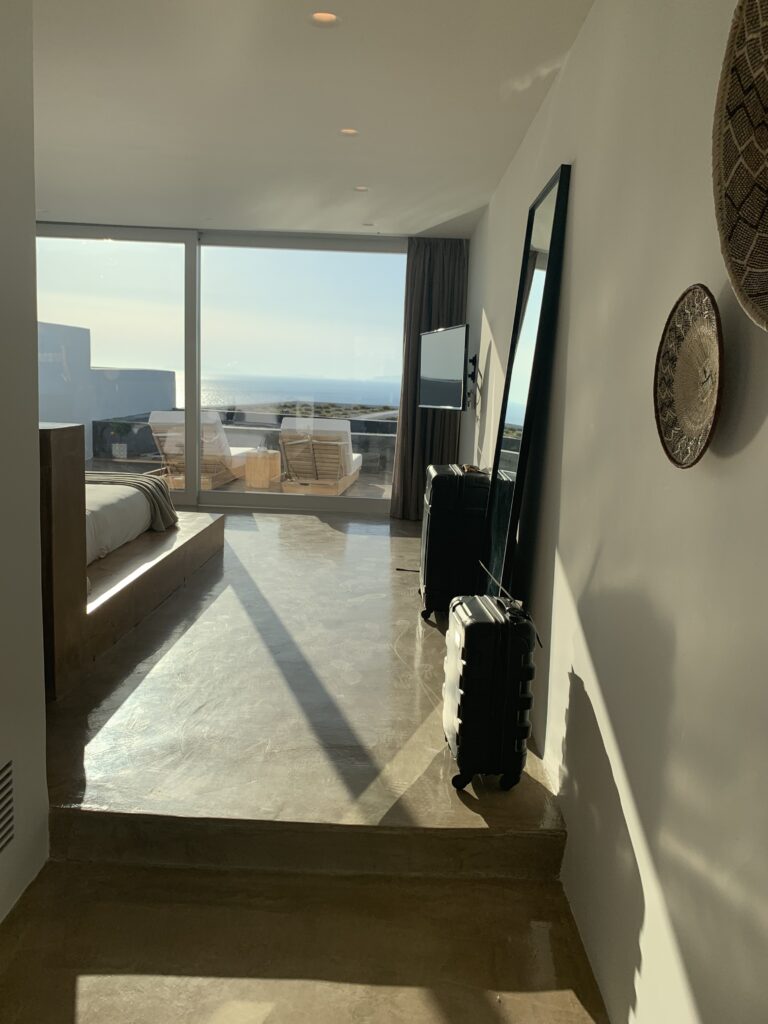 I read the rooms has their own pool, but I assumed it was one big connecting lazy river pool that is with the 1st floor rooms…Nope, EACH SUITE HAS A PRIVATE LITTLE INFINITY POOL!!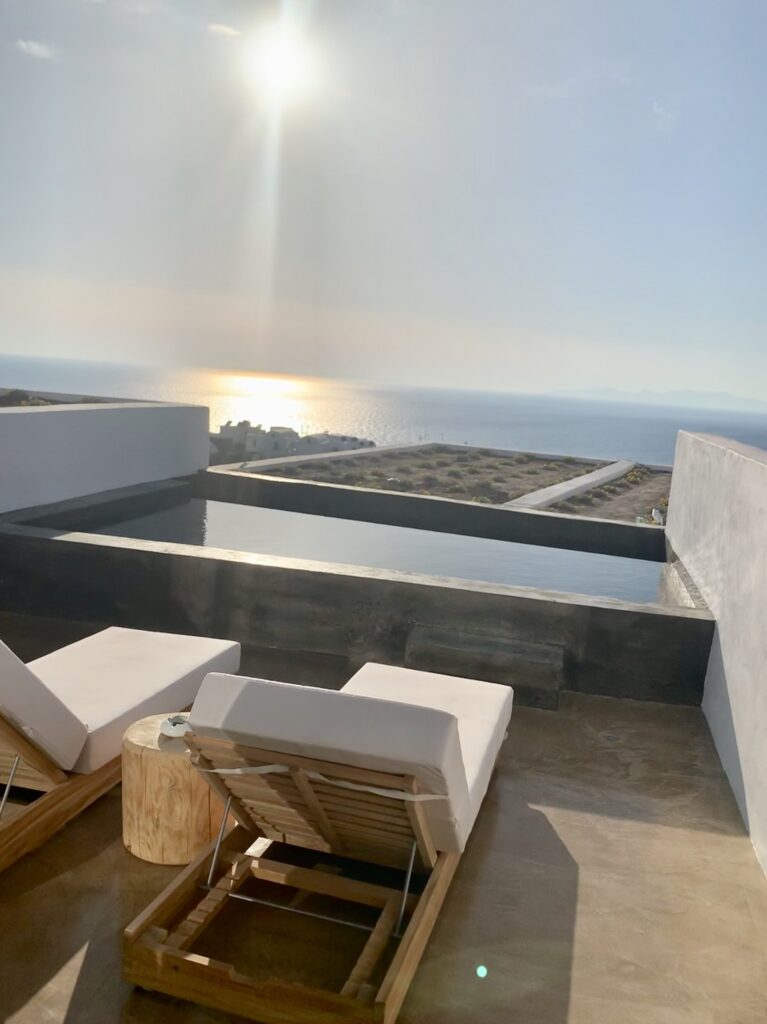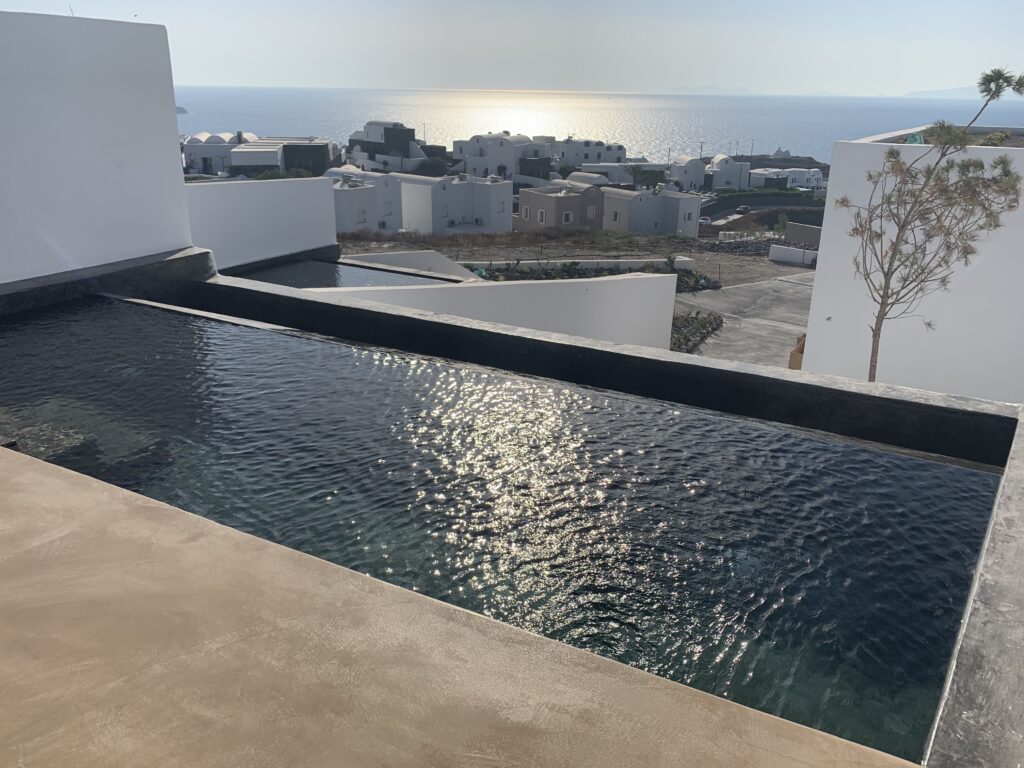 The resort literally opened earlier this week, and we may be the 1st people staying in the suites! Everything smells like new construction!! It looks like there are only 53 suites on the property, and they have the largest infinity pool in Santorini.

Since we were at the restaurant pool in complete amazement, we migrated to the bar and ordered a few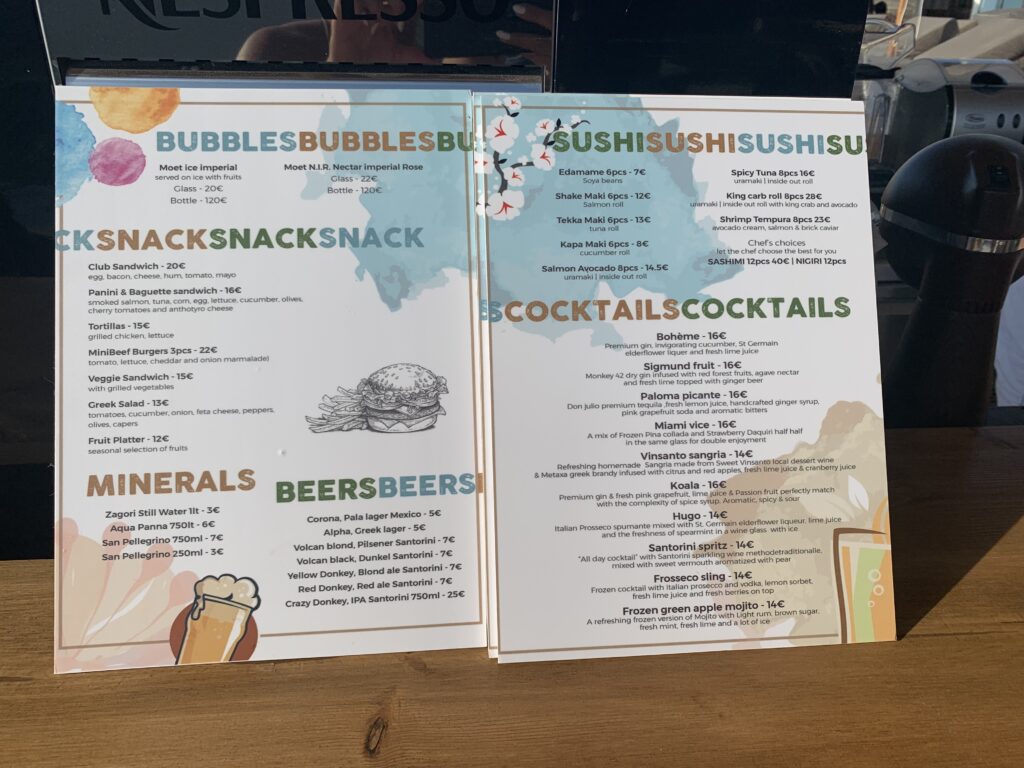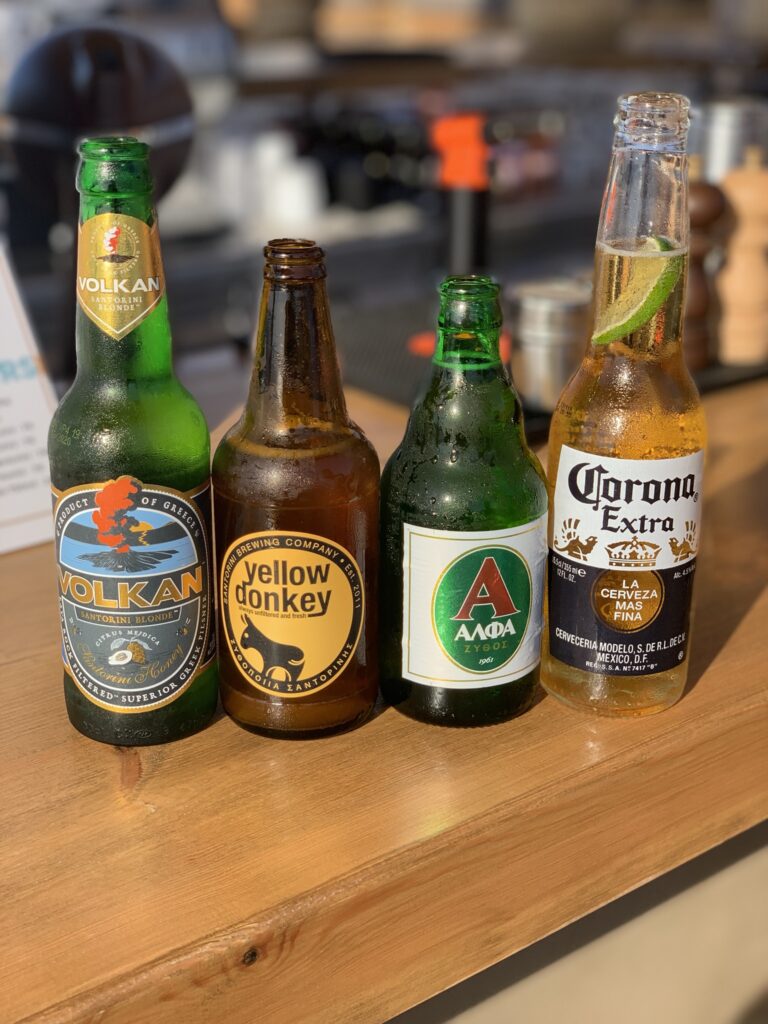 We decided we needed to figure out our plans so we can make dinner reservations. Dimitra suggested 2 restaurants: Lycabettus which has dining on a cliff, and Lauda which is at one of their sister properties and was the FIRST restaurant in Santorini, and the Chef was the founder of a 3 Michelin starred restaurant. Since we couldnt get in at Lycabettus with a good table view, we went to Lauda. As we were leaving to go, one of the guest service ladies insisted to walk us there..ok wow, now that's service!!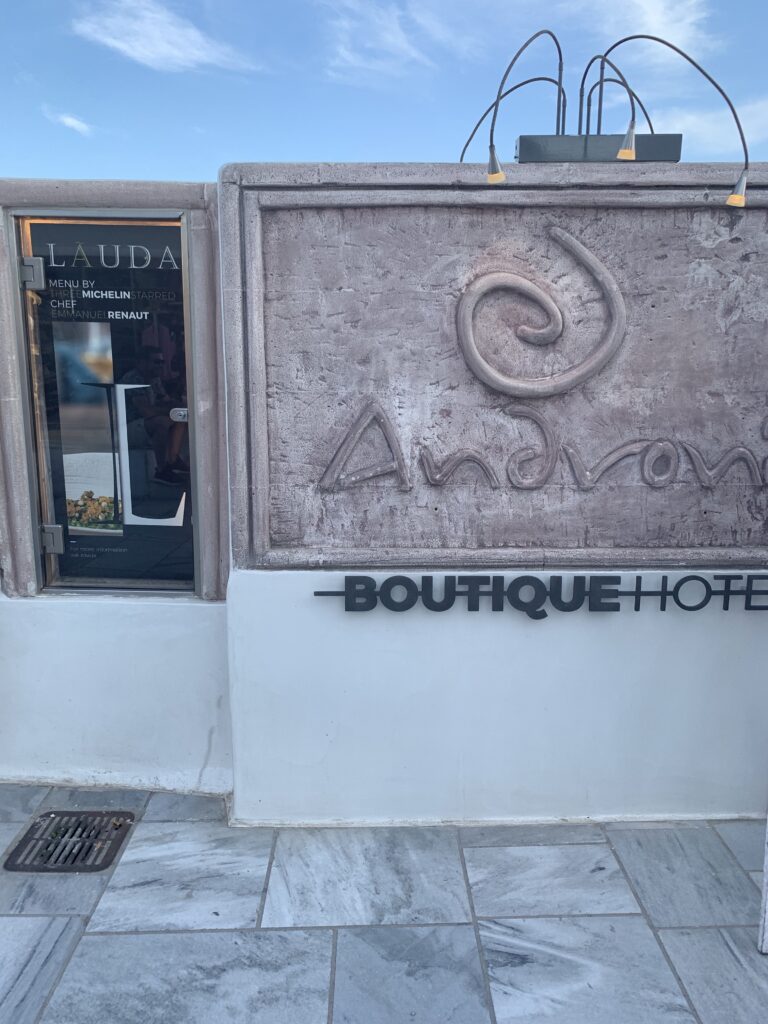 We had to go down several steep stairs that was between the rooms. Im glad we didnt stay here, I would not have liked so many random people walking past my room. Plus the steep stairs…dont get me wrong, I love stairs just not going up and down all day every day.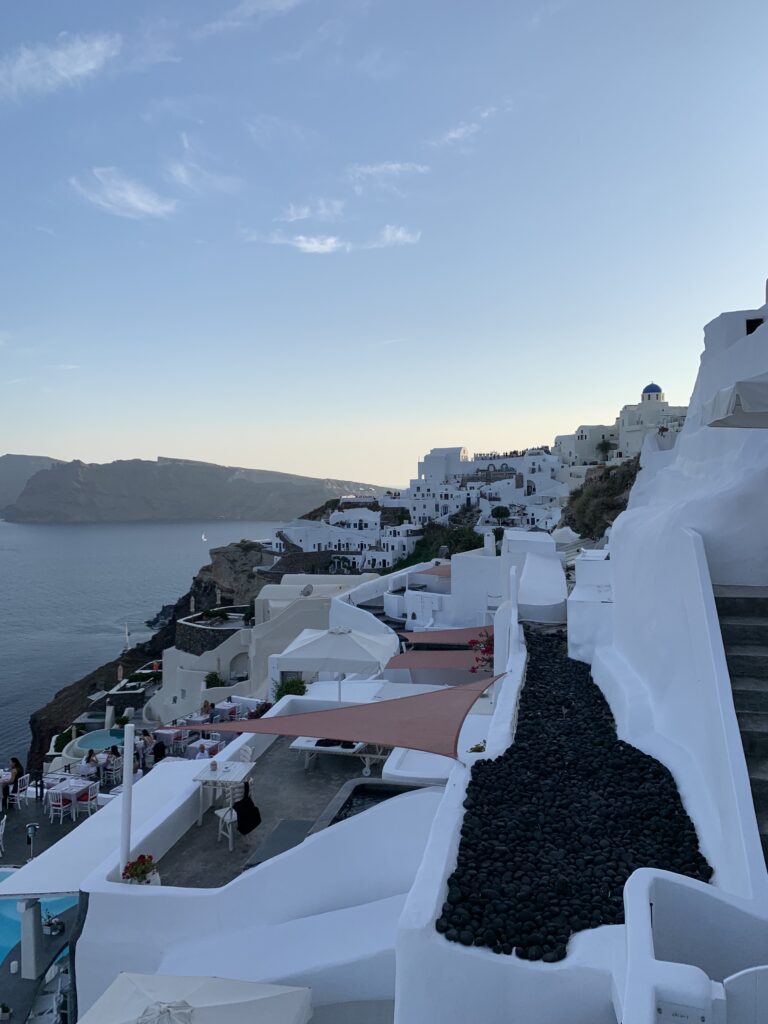 So clearly none of us thought about changing our outfits knowing we are going somewhere fancy…I am wearing cut off jean booty shorts with Converse shoes, Kris is wearing a tank top, and we look like we all came from the beach 🤦🏽‍♀️Everyone dining there was practically dressed for a black tie event, then there's us lol…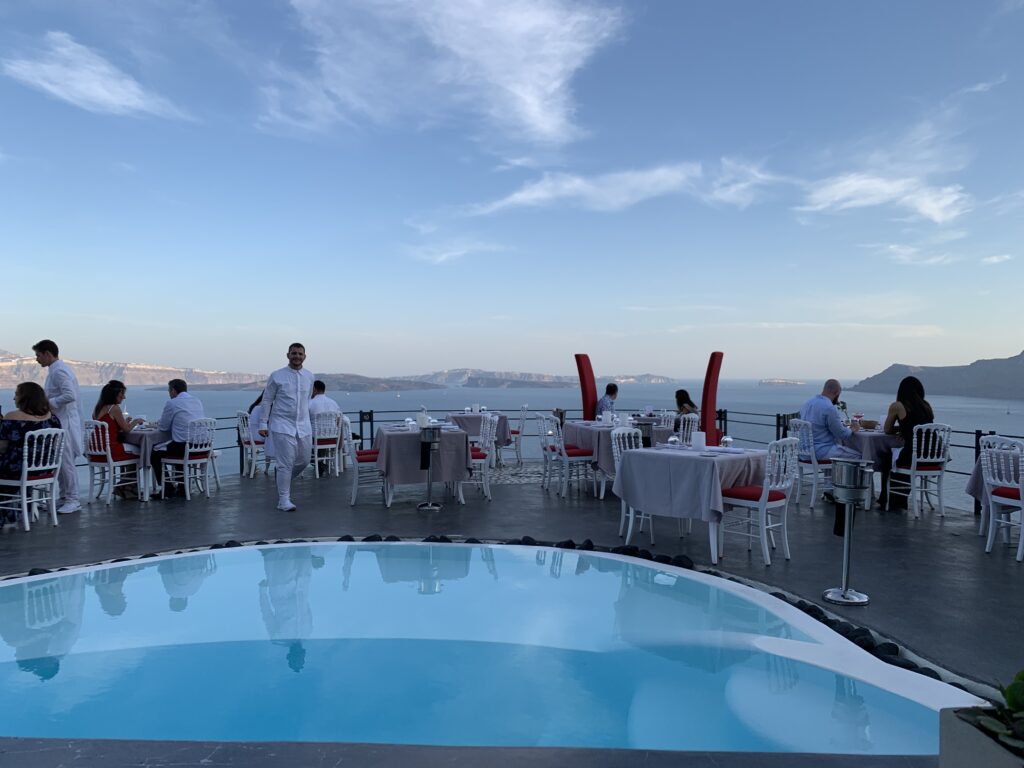 The Sommelier came to bring our beverage and wine menu. The wine menu was the size of an encyclopedia so I needed help. The prices listed in the book was all bottle prices up to €25,000…I actually felt like white wine and wanted to have something from Greece. He asked me a bunch of questions and brought over a bottle to sample….Im scared to see how much this glass is.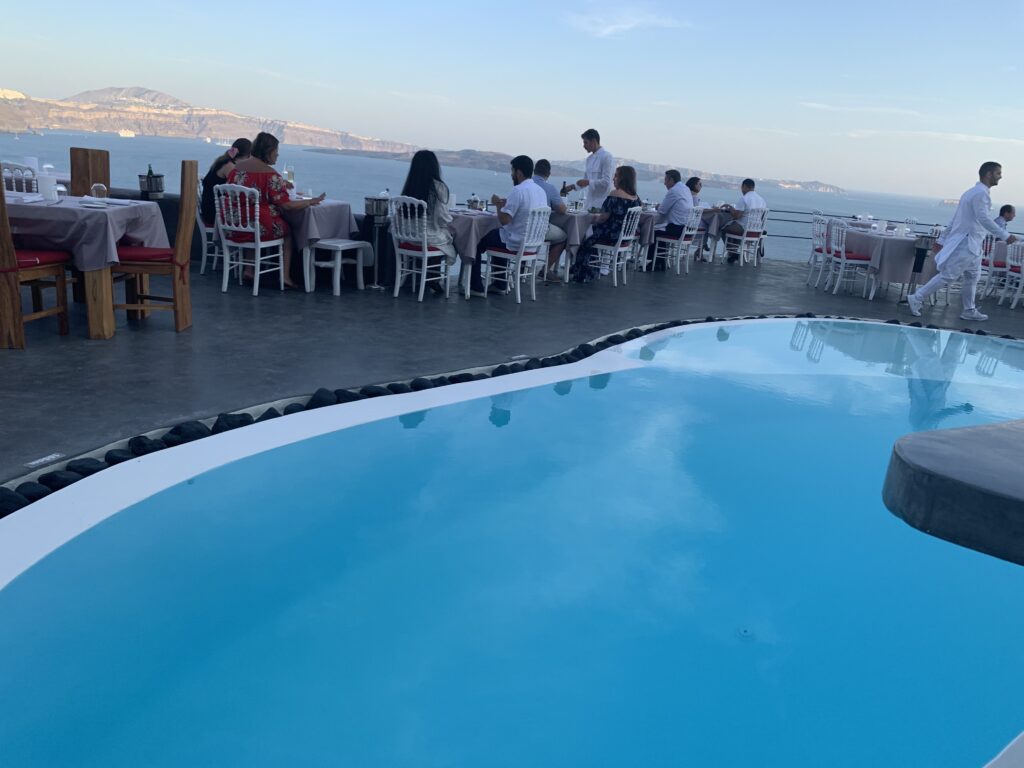 We were given 3 different appetizer things that wasn't sure what all was other than the bread.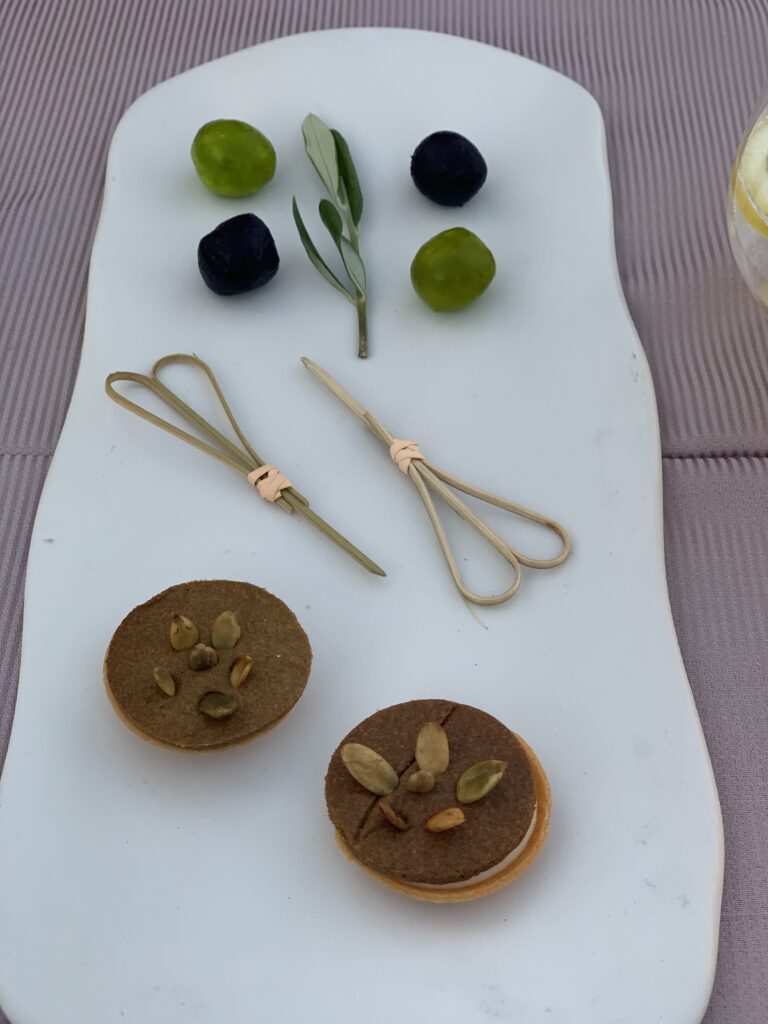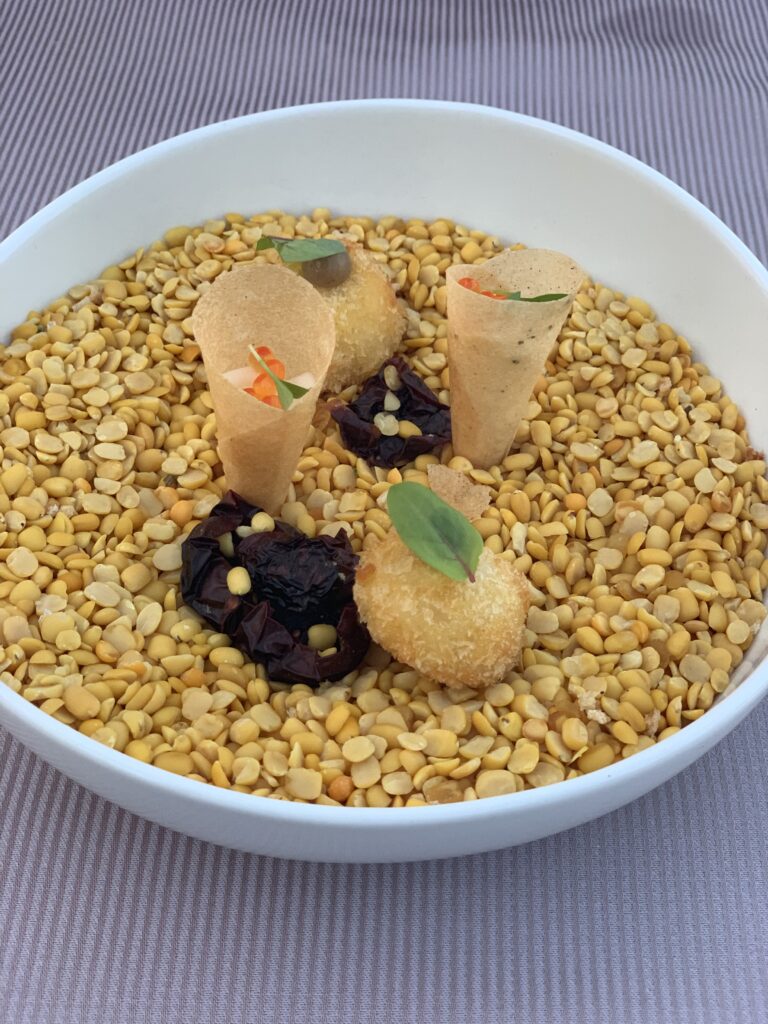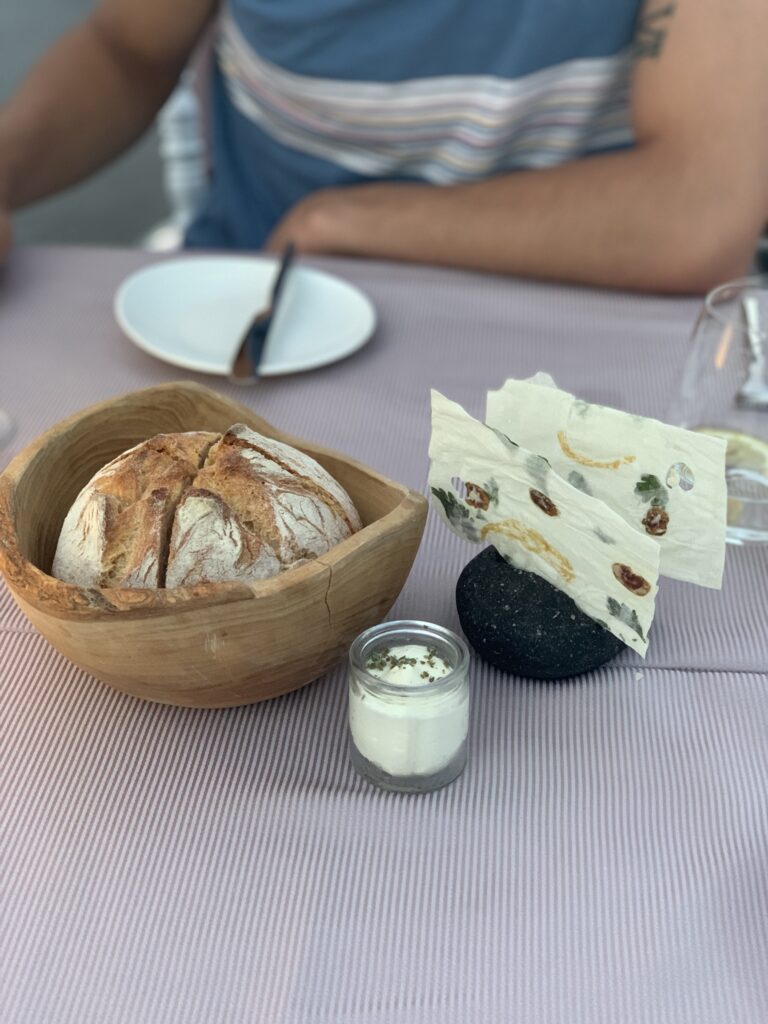 We loved our server. Eddie asked about the €135 ribeye steak and she made a ehhhhh face, shrugged her shoulders, and said its good….but its small. Ok like 7-8oz small? She put her thumbs and index finger together and said like this, but long not square.
She wasnt kidding..omg like 3 ounces…..Oh, and I don't think the plate was regular size…it was smaller so the steak looked bigger lol….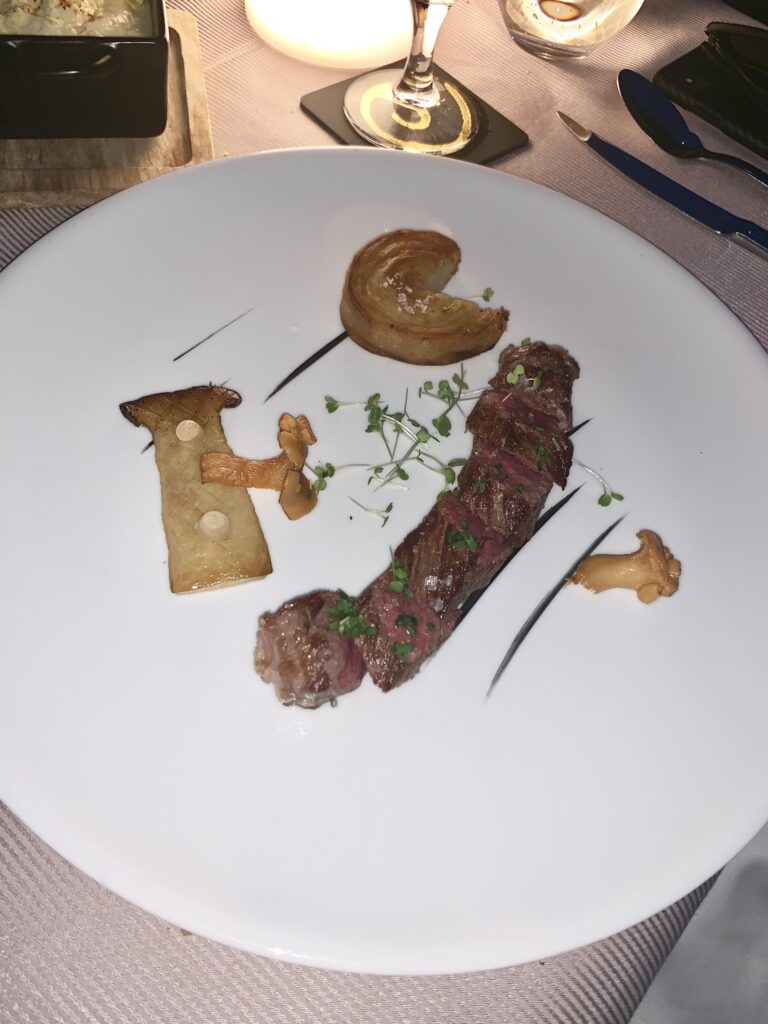 Kris asked chicken or lamb, she didn't hesitate to say lamb…Needless to say, his was maybe 2-3oz TOTAL……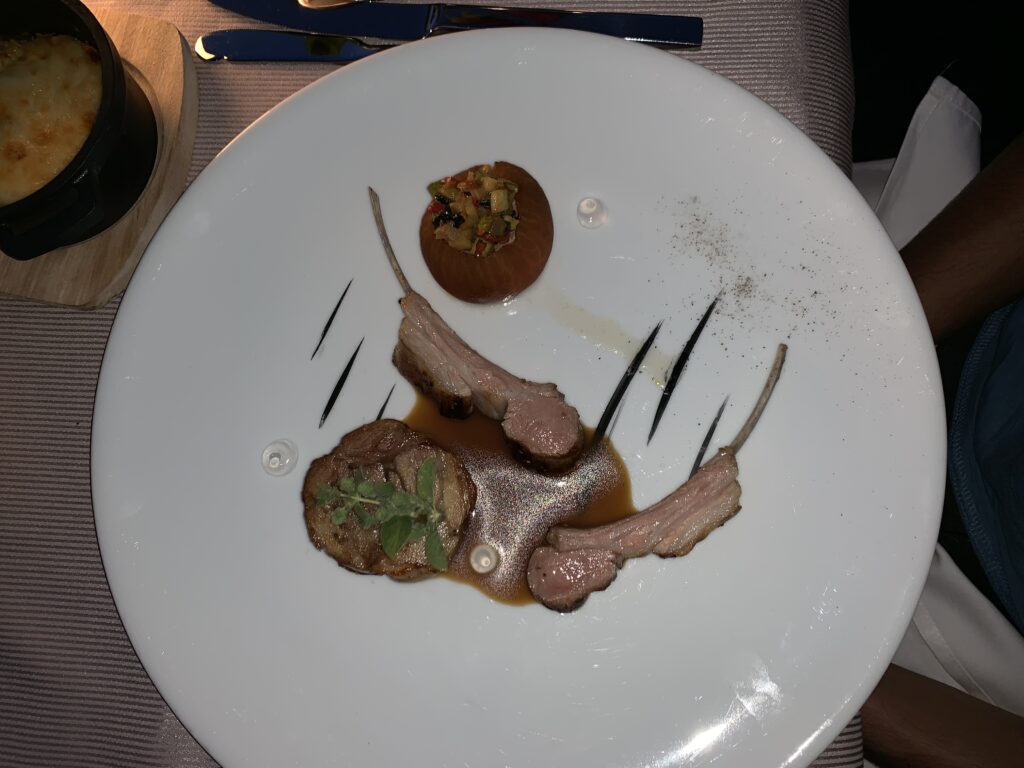 Kayleen got the catch of the day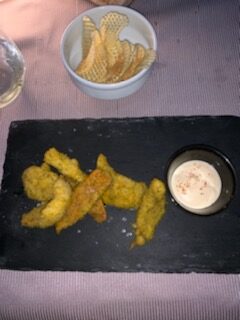 Here is my fish filet…IF I were to guess, 2.5oz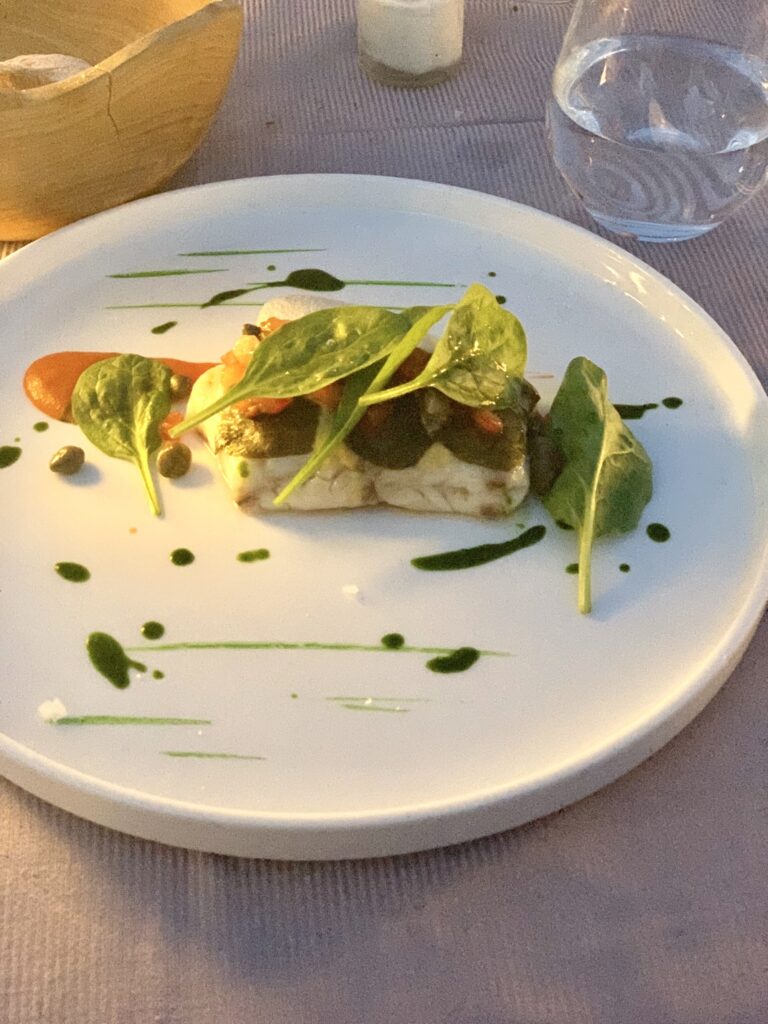 We knew it was Greek with a French twist, but didnt realize it was all bite size 2-3oz servings…None of us were full, but also decided to get gelato in town since once scoop here is €25…yea ok…Hey, this was an experience that we can all giggle about..
They did give us "dessert." It seems like they like to use hazelnuts for a lot of things, so fortunately I don't bother. These were jelly candies or something..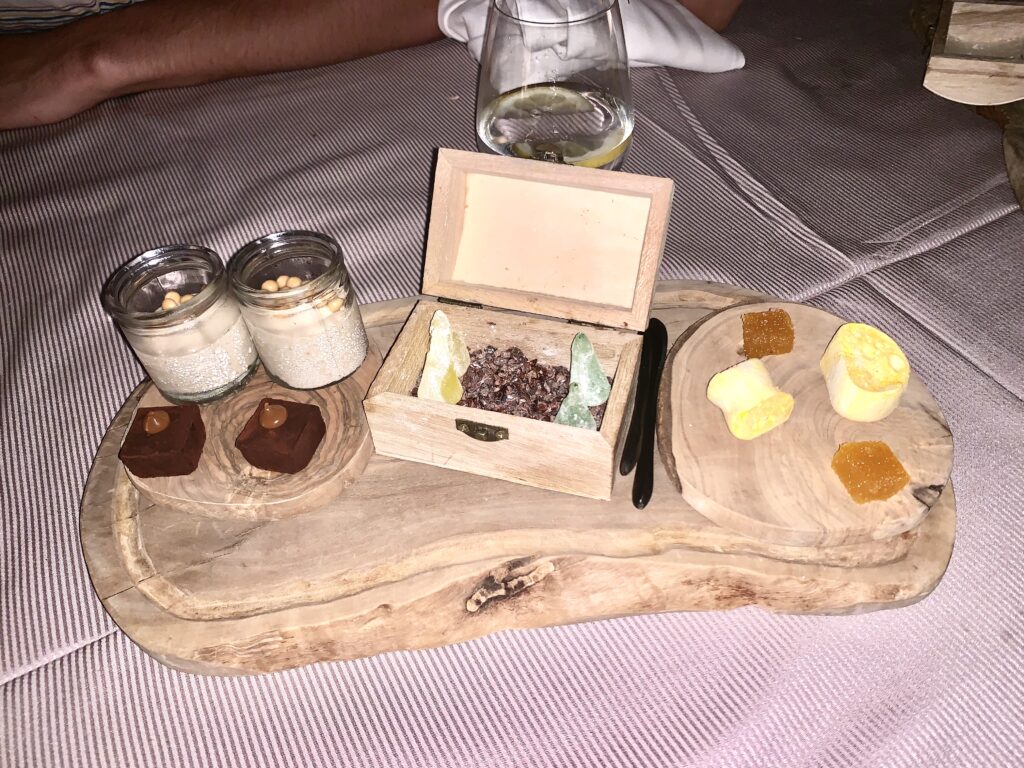 Before we get the check, we all tried to guess how much it would be…Eddie said €500, I thought €400…to our surprise, it was "only" €339…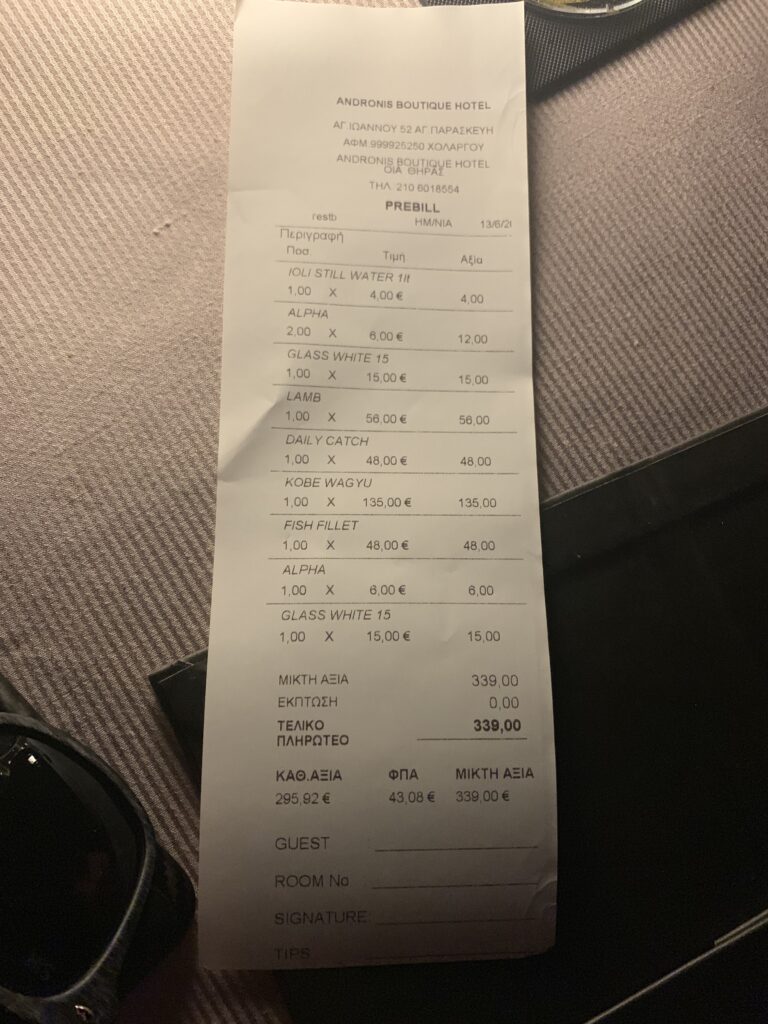 Back up the steep stairs to the shops in town, or steps to the left of the restaurant lol…Guess we're "in town" now…
We stop at Solo Gelato and Eddie got extra super dark chocolate sorbet that tastes like gelato, i got that and pistachio..so good…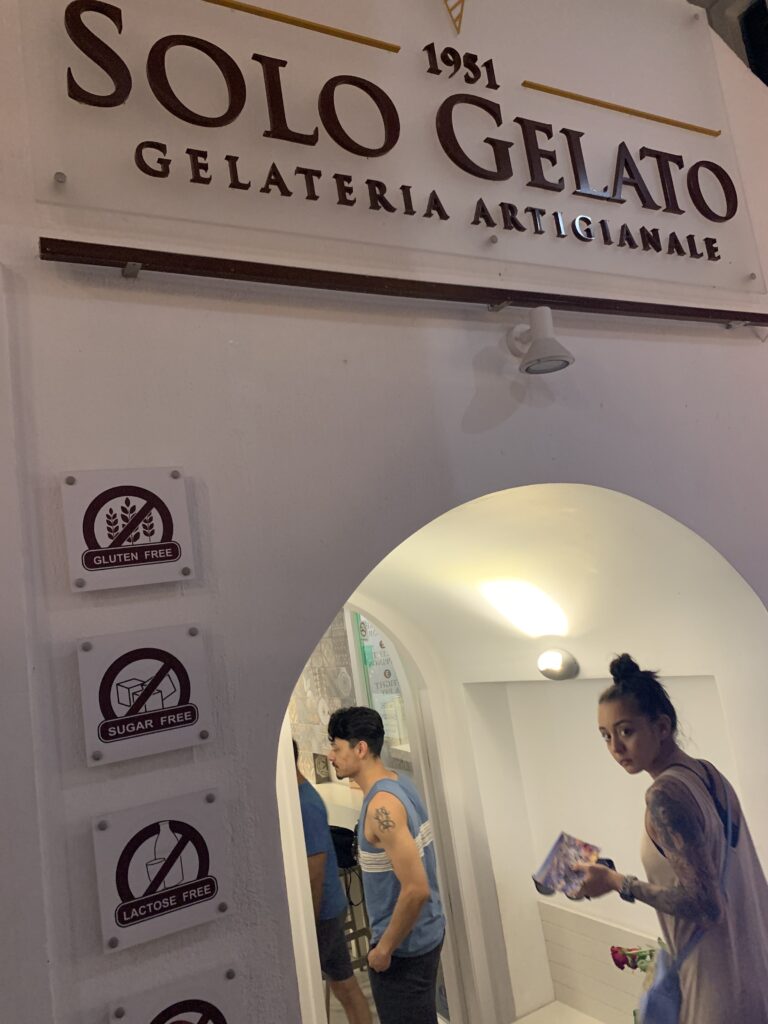 Total steps 9910 today….Back to our gorgeous room till tomorrow
xox~j