We get up at 815 and go to breakfast. Breakfast is included with the beautiful view, and we all expect the typical breakfast buffet. Andreas, our breakfast and pool server, welcomed us and brought menus. It's actually a menu you can order from!!! It is not a buffet!! They bring the homemade bread, homemade butter, and homemade marmalade out and it's so good! Greece is one of the places that banned GMOs. Apparently they dont use preservatives or additives in their breads and pastas, making it more digestible and less sensitive to our bodies, unlike in the States.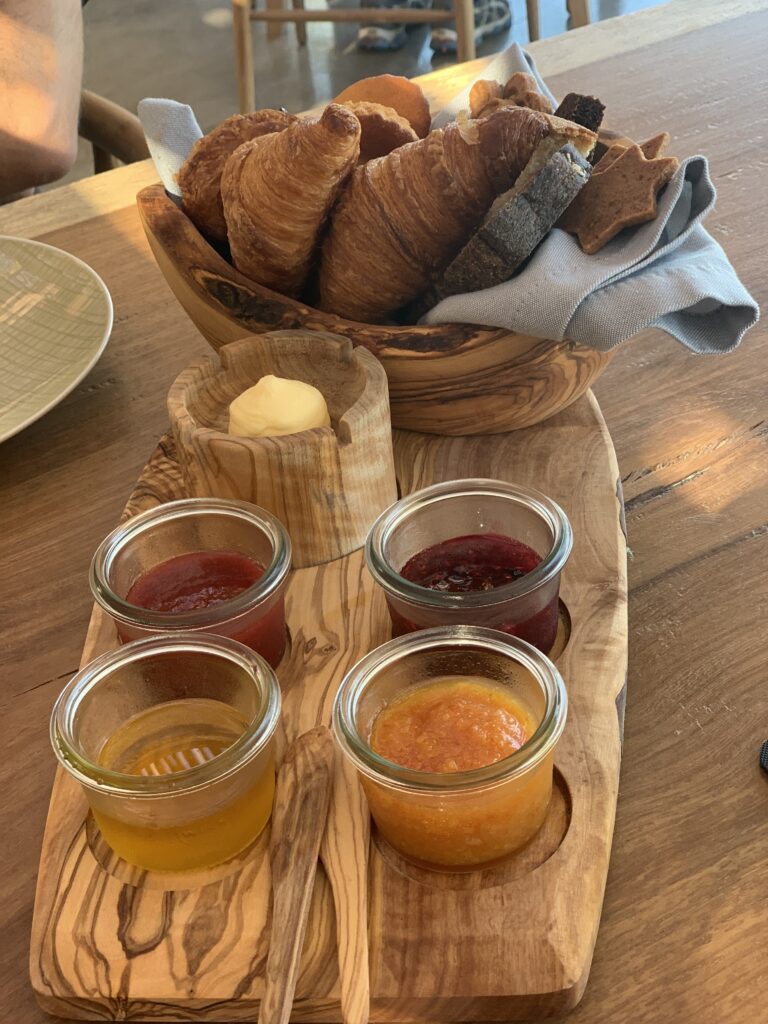 We finish and go back to get pool ready before we have to leave for our private boat tour of Santorini. Relaxing at the pool, admiring the beauty of the water and resort, and enjoying spending quality time with my family. I know this looks terrible, but it was much better in real life (:
We ordered lunch, which was really good for resort food! Except Kristefer's chicken wrap had an overgenerous amount of mayo and 3 small pieces of chicken.
Kayleen's sushi roll

Greek Salad
As we are enjoying the beauty here, one of the guest service ladies came to us and addressed by our family name, and asked if everything is good and if we needed anything, and to let us know the boat company called to say they were picking us up 30 minutes later than planned. Much more personable than slipping a note under our door. So many team members ask us how we are enjoying our stay and if we need anything…I really really enjoy it here, and I am a hard one to impress so for me to say that, it's top notch here.
Our driver picks us up and off we go to our private boat tour around the islands. We needed a copy of our passports incase of coast guard needs.
We drive about 5-10 minutes to Amoudi Bay where Caldera Yachting Cruise will take us to a bunch of stops, make dinner, and watch the sunset. The vans need to drive backwards down the hill cuz there is not enough room to turn around when dropping off at port. I can't watch this narrow driving down a hill. Backwards!!! But look at this view!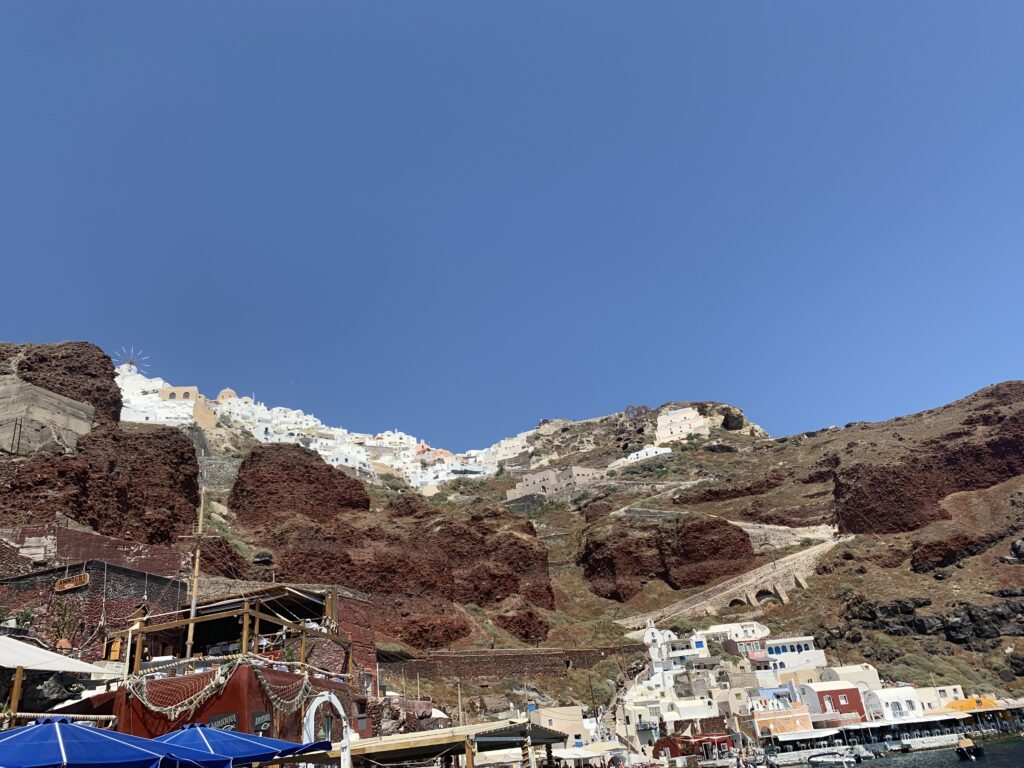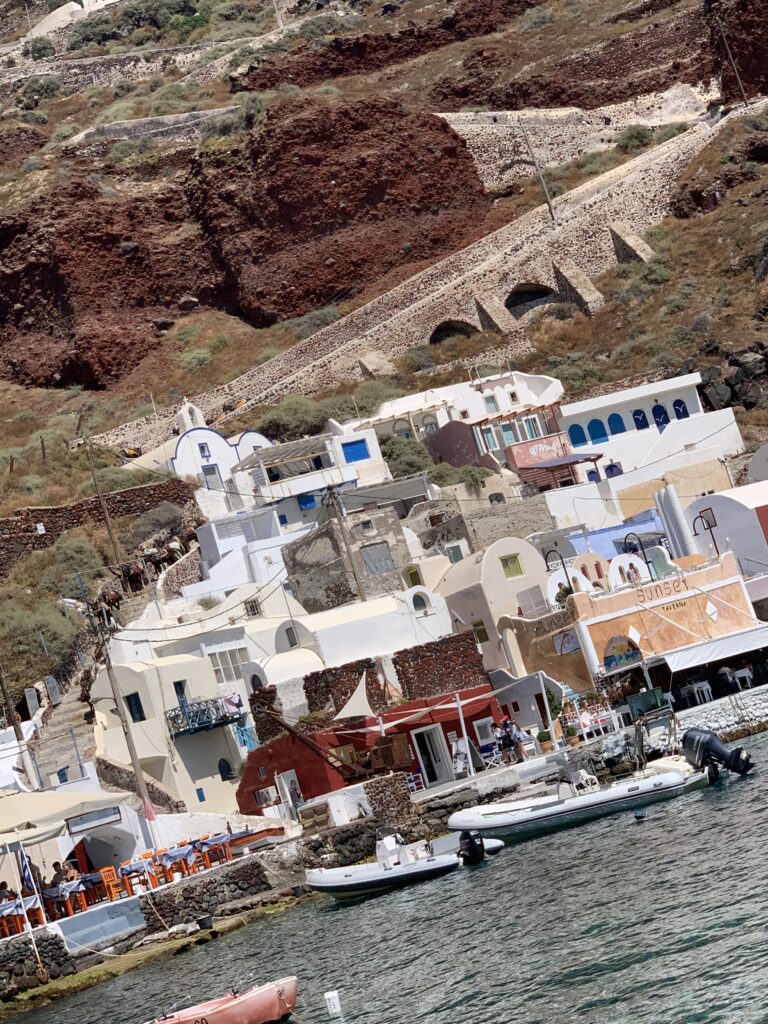 We get to our boat, and love that its bigger! It has 4 bedrooms, 2 baths, kitchen, and lots of space to lay out on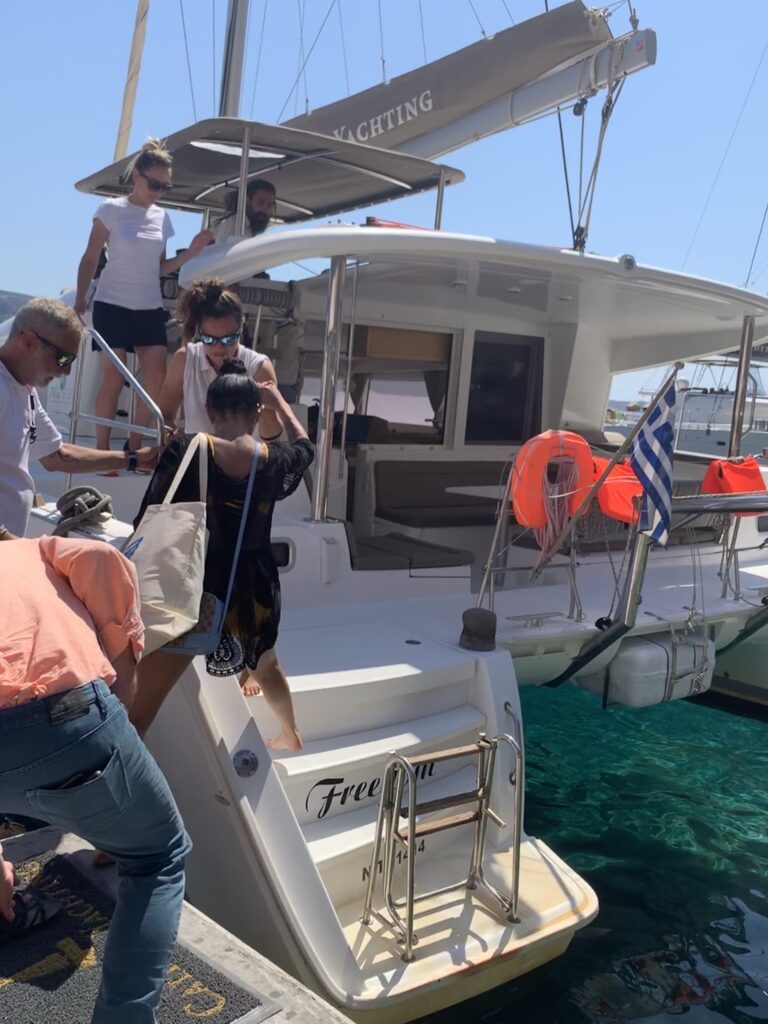 The first stop is Thirasia Island to snorkel. This is where Kris was in the water for 60 seconds and said "I dont like"…he forgot how tiring it is to snorkel, and he didn't have fins on. He put them on and was fine lol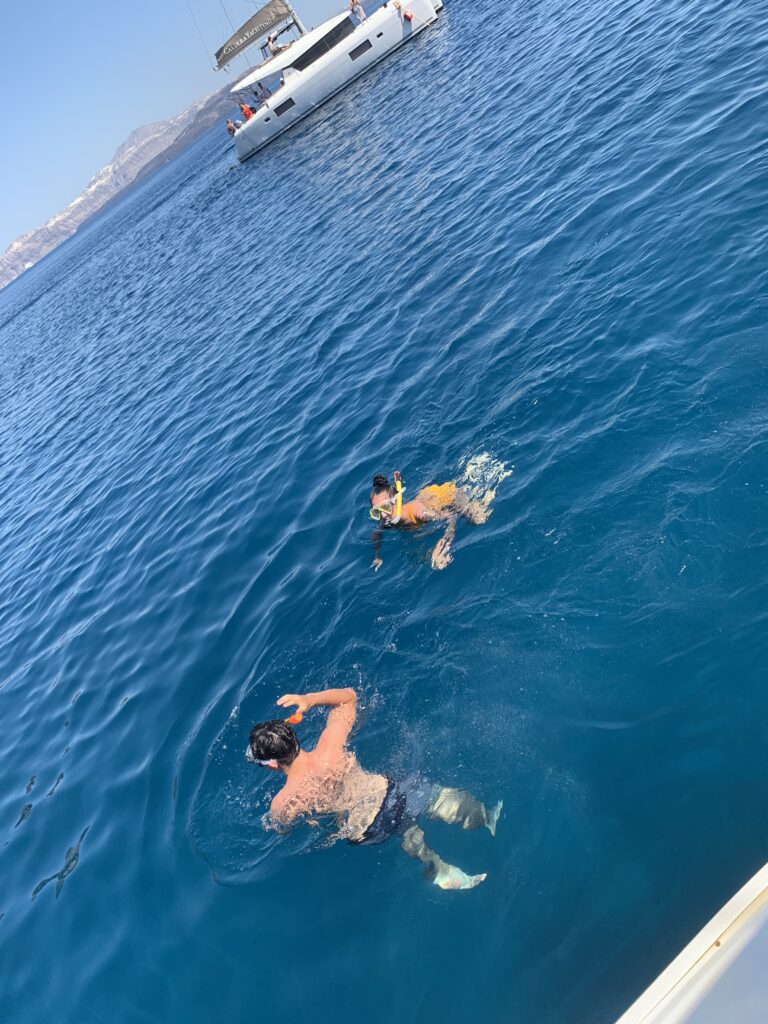 This way to the volcano and hot springs.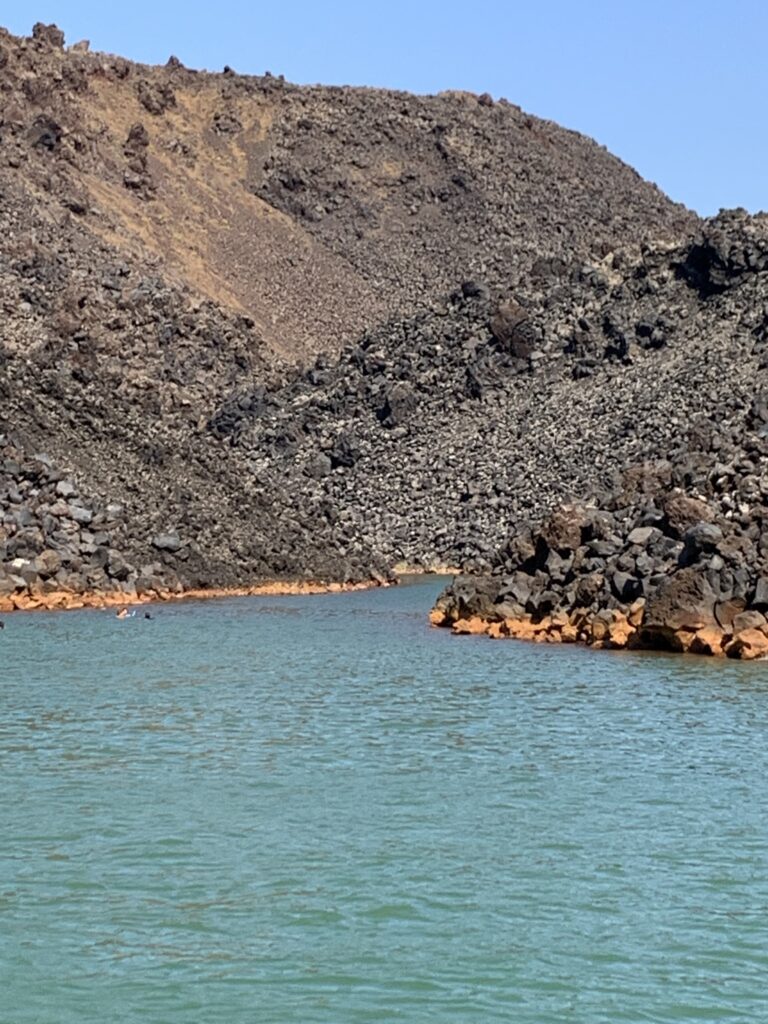 Now we (they lol) can say they swam in the hot springs at an active volcano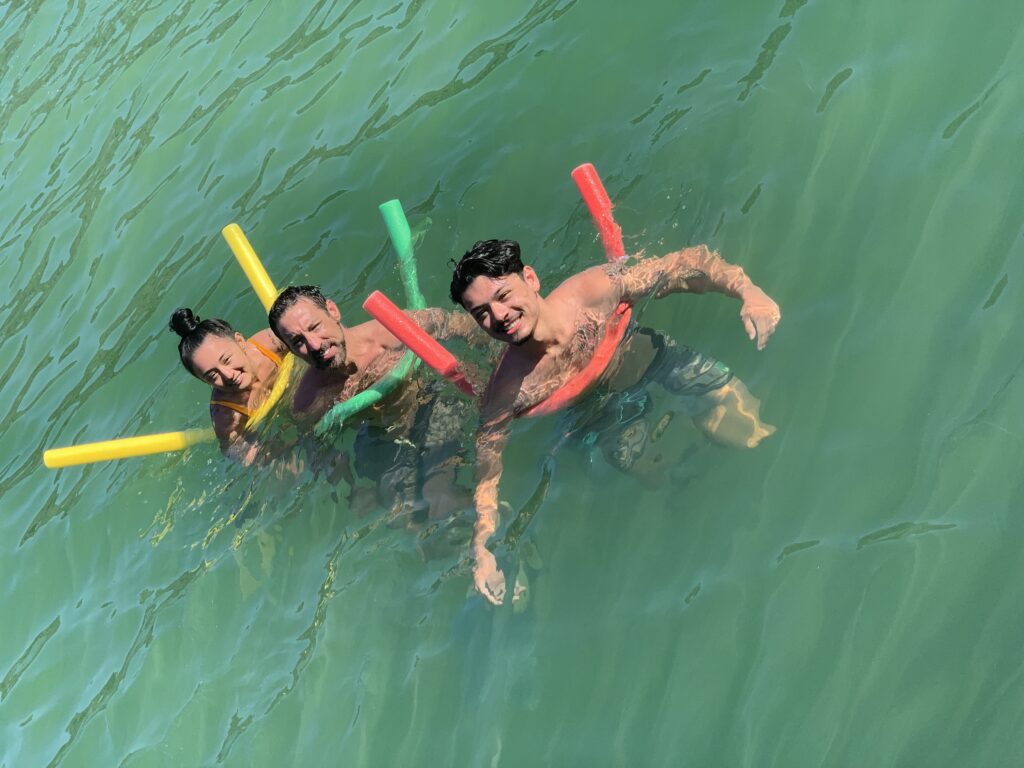 We made a small stop here…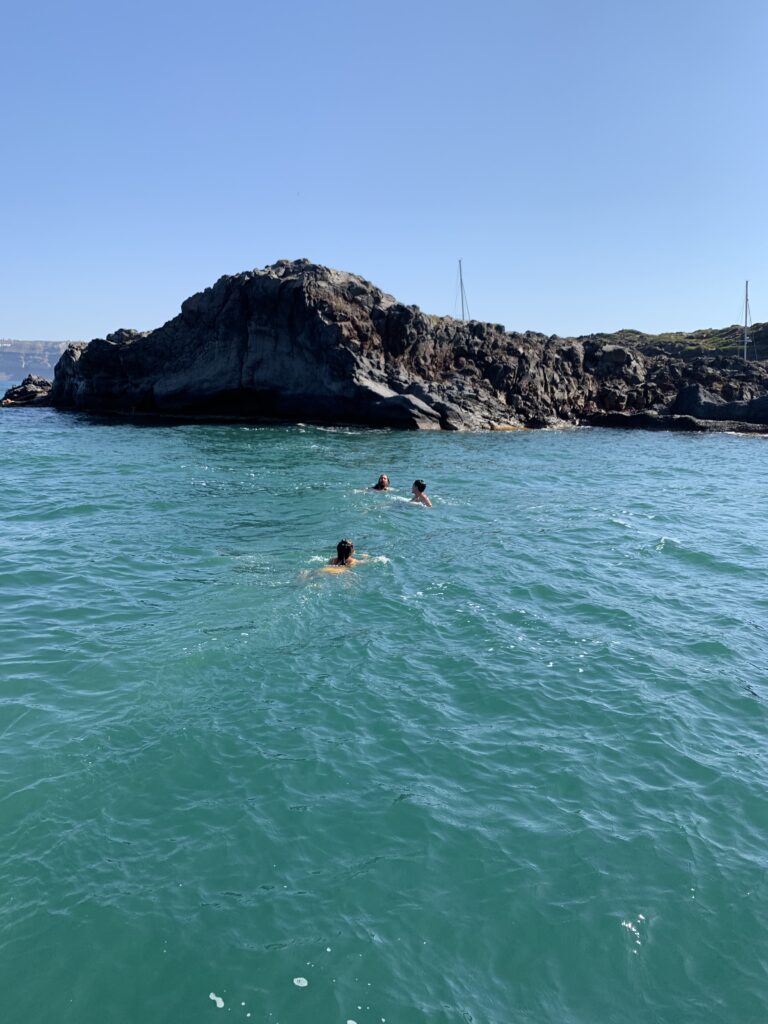 Where the kids jumped off a cliff….
This is the black mountain, and one of the crew members said looks like Bart Simpson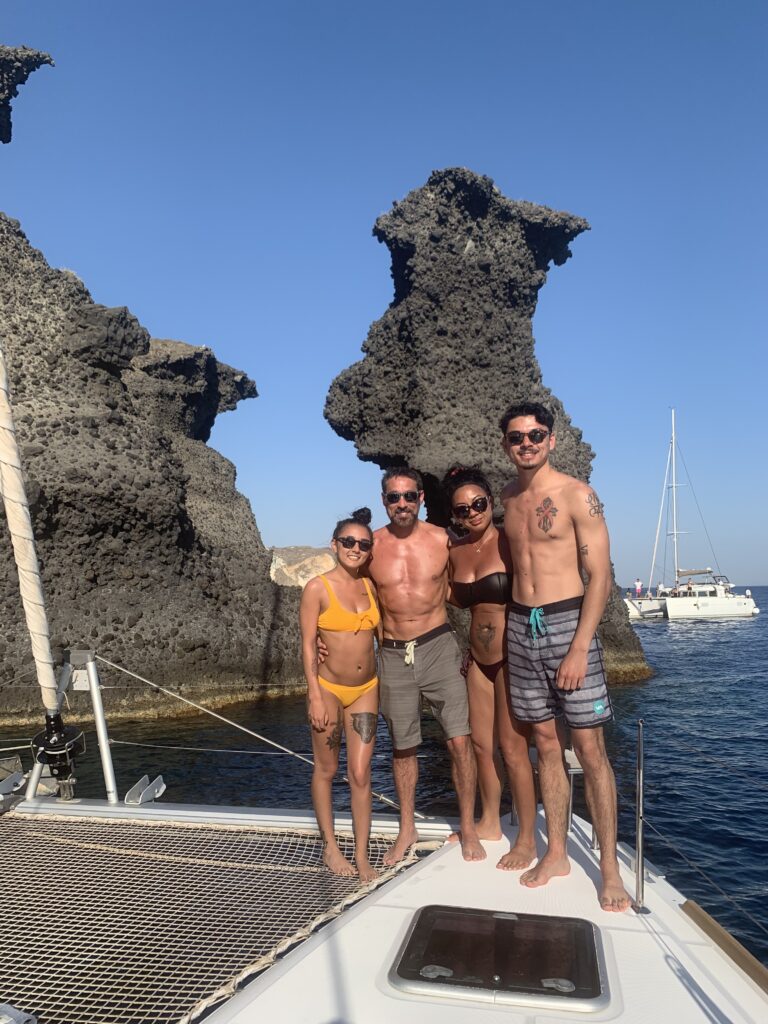 We boat around the other side of Bart where we park for dinner & so Kayleen can get some black sand here at Mesa Pigadia. She literally jumped off the yacht and swam to get the sand, and swam back to the boat.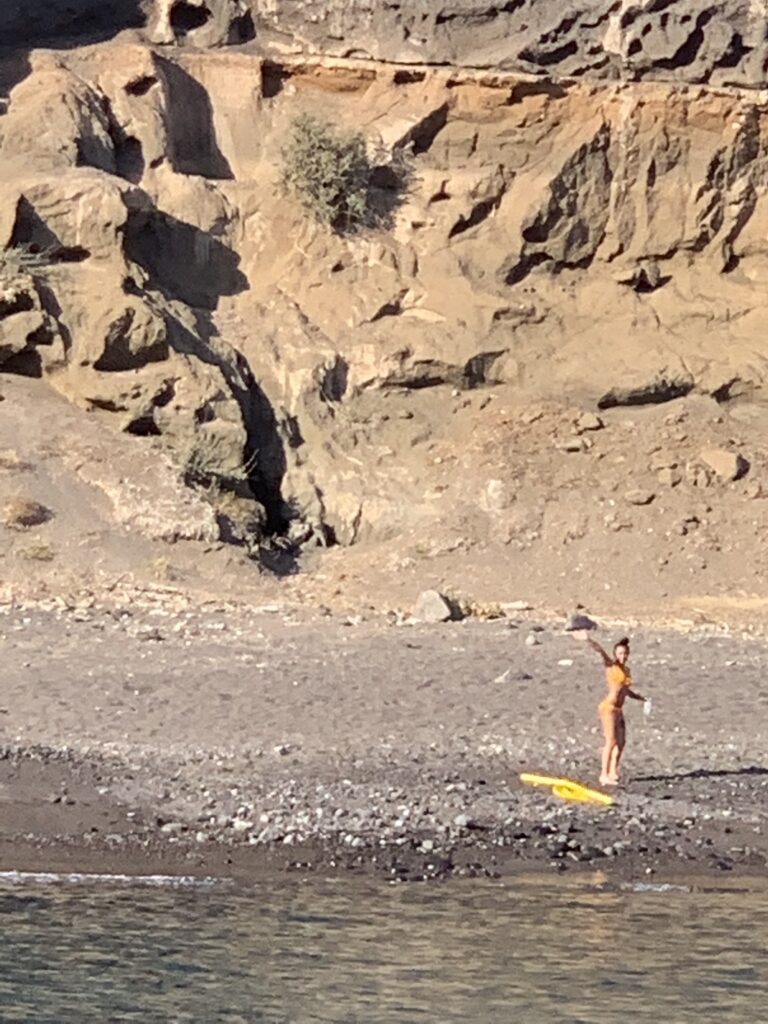 While we were waiting for dinner to be served, Kristefer decided he was going to model for Caldera Yachting lol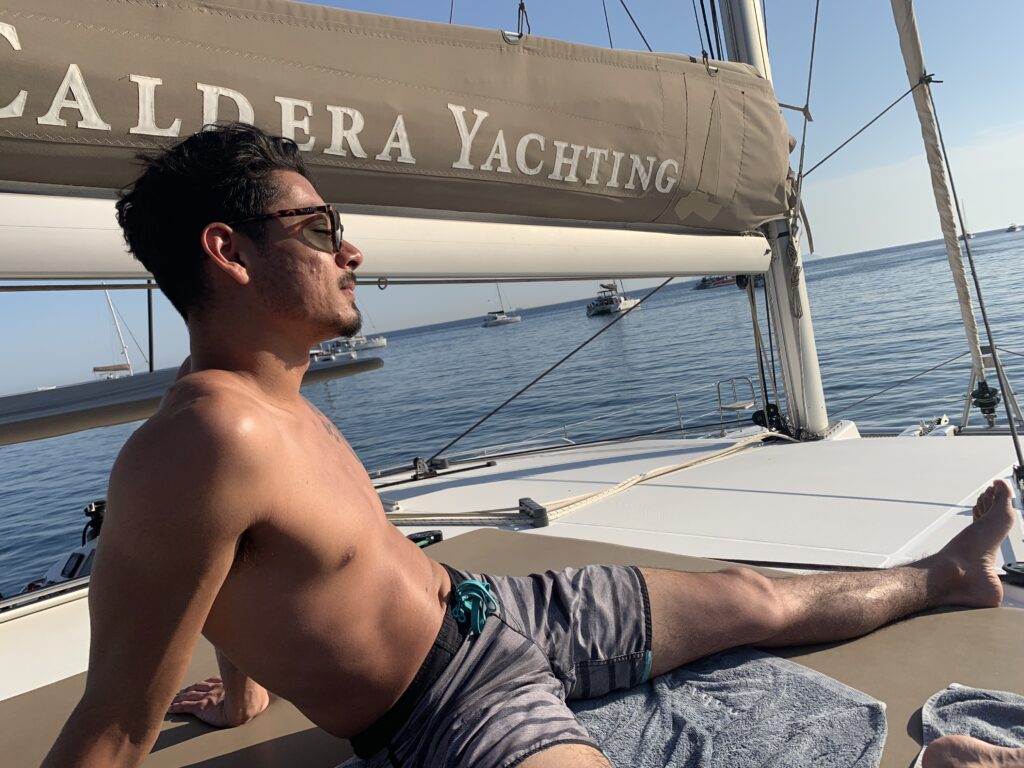 Dinner was included in the cruise, but didn't expect all this! Bread, shrimp souvlaki, Greek salad, rice, Greek sausages, chicken, and I think clams..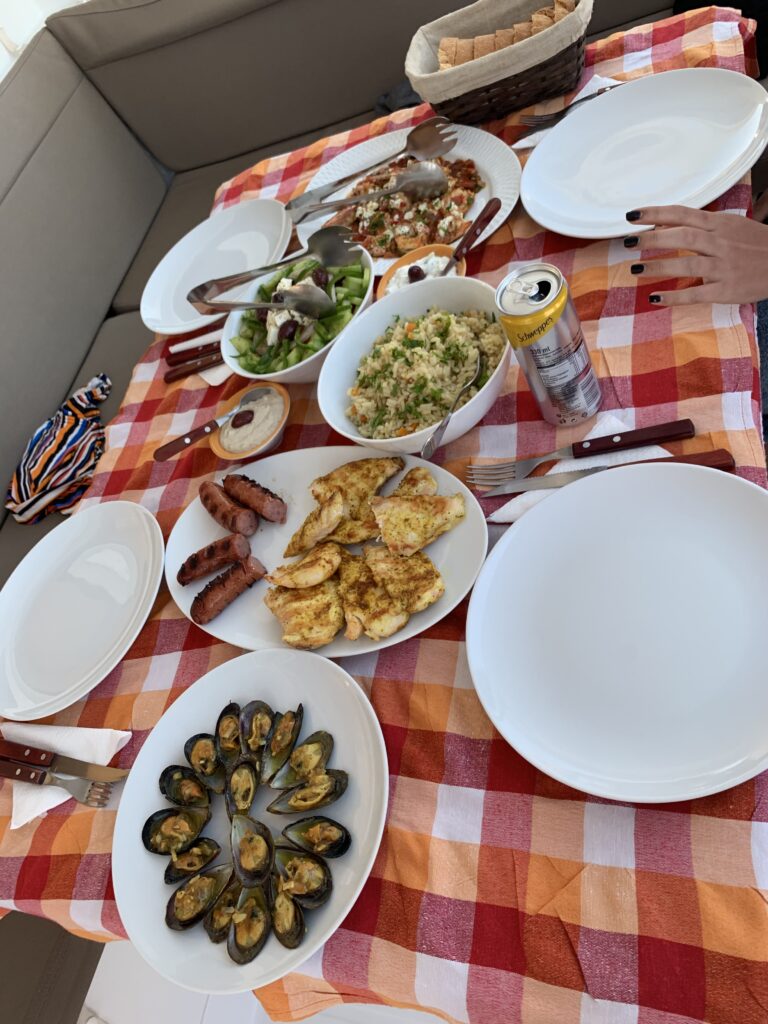 They also entertained us by singing and playing live guitar and Bouzouki. They described it as old Greek slang type singing from back in the day.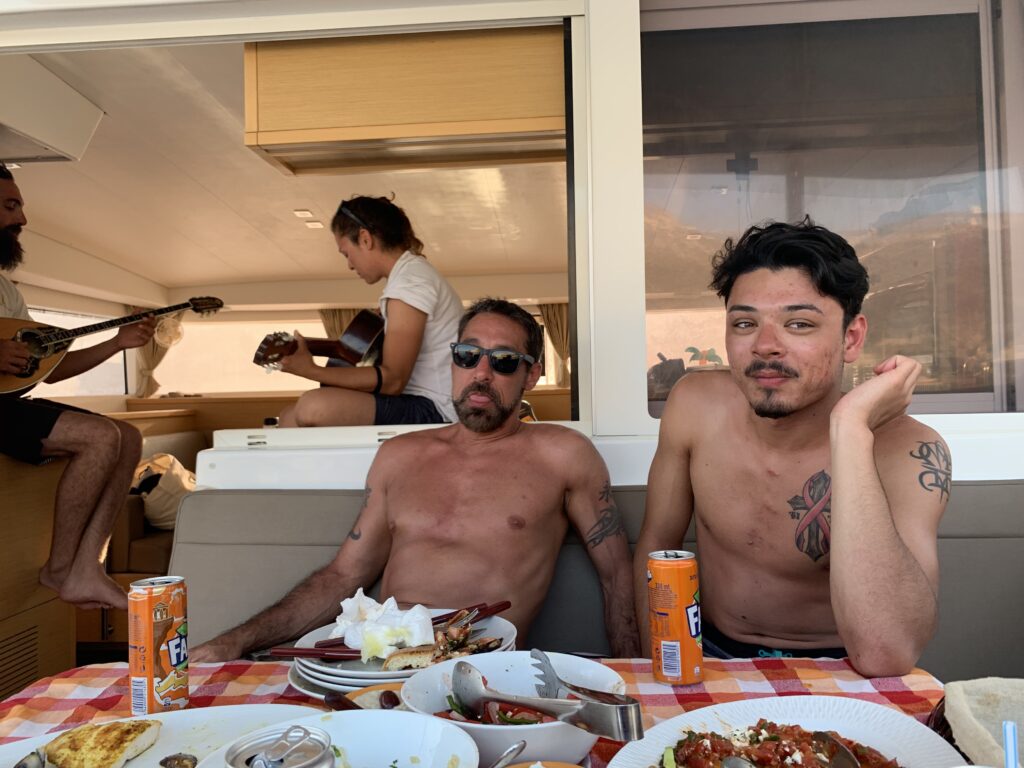 An hour or so later, they cut up apples, apricots, and bananas. They offered to drizzle honey and cinnamon on the apples for us, a nice new treat we have never tried before!
It was cloudy, so the sunset was not as pretty as we hoped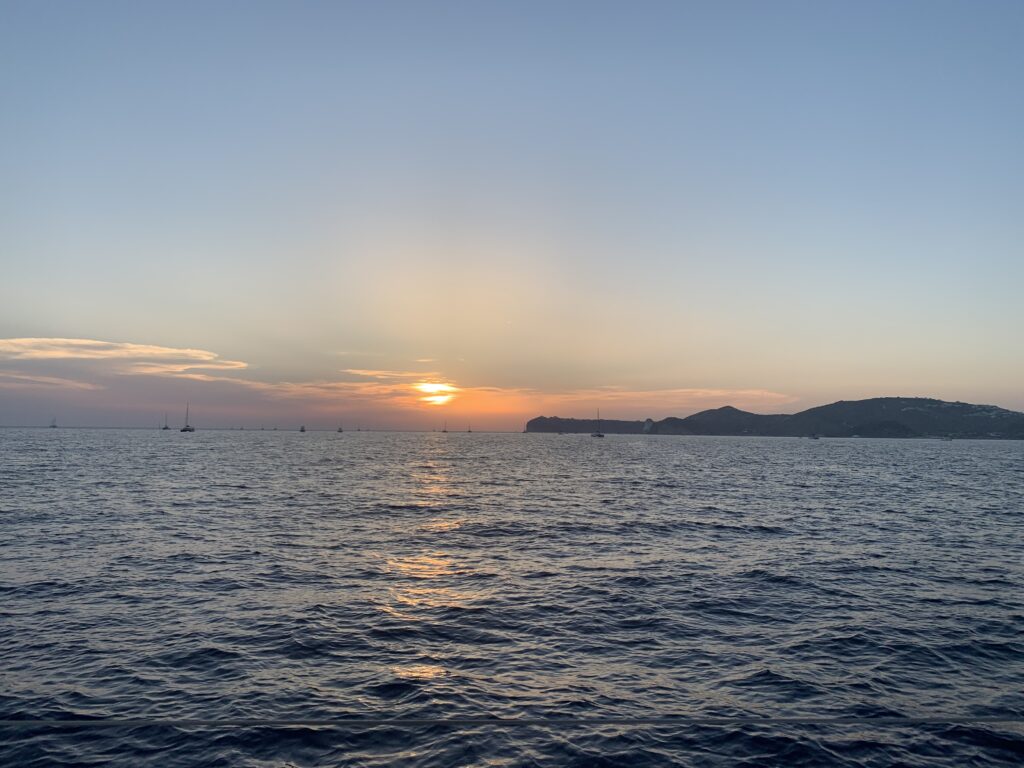 But we got it lol..See where the arrow is pointing? That teeny faint little circle just touching the water? Thats the sunset!!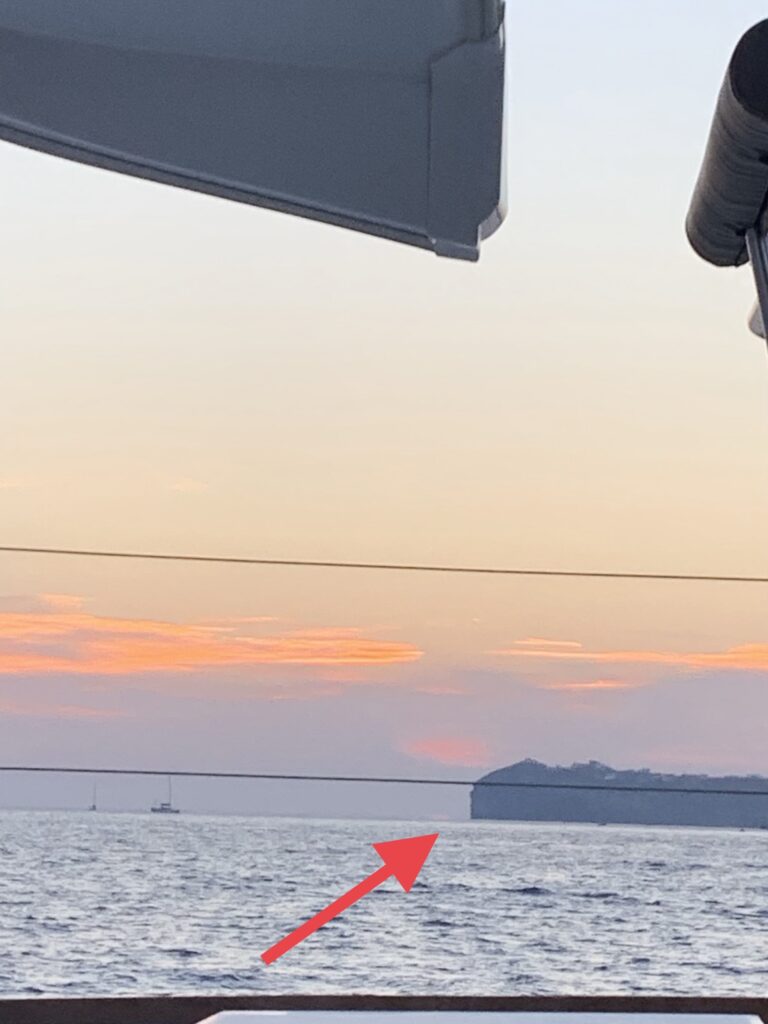 We got back to the south side of the island at 9pm. The 3 crew members (hope I addressed them correctly), were really nice and friendly. The private tour started at 340pm and got back to the dock at 9pm. For the 4 of us on the private tour was $1100(?), and tipped them €50 each, hope that was enough…Ride back to hotel was about 45 minutes, and we cant wait to shower off these 27495 layers of sunscreen…
Now off to walk to Little Venice and get some gelato at Lolita's Gelato!
We walk around a bit and find Catch, this cute little lounge bar/restaurant, so we decide to go in for one. I got this drink that sounded good, no clue what it is but it presented well and tasted good.
We all ordered another round before calling it a night, and walking back to the resort for our last day in paradise tomorrow! Step count was only 7526, but I suppose it was acceptable since we were on a boat for 6 hours!!
xox~j