We wake up and visit our friend Andreas at breakfast before we get ready for our last day in Santorini…I really don't think I can ever eat bread the same again. I have zero intolerance issues eating breads and pastas here in Greece, I wish the States would follow by example…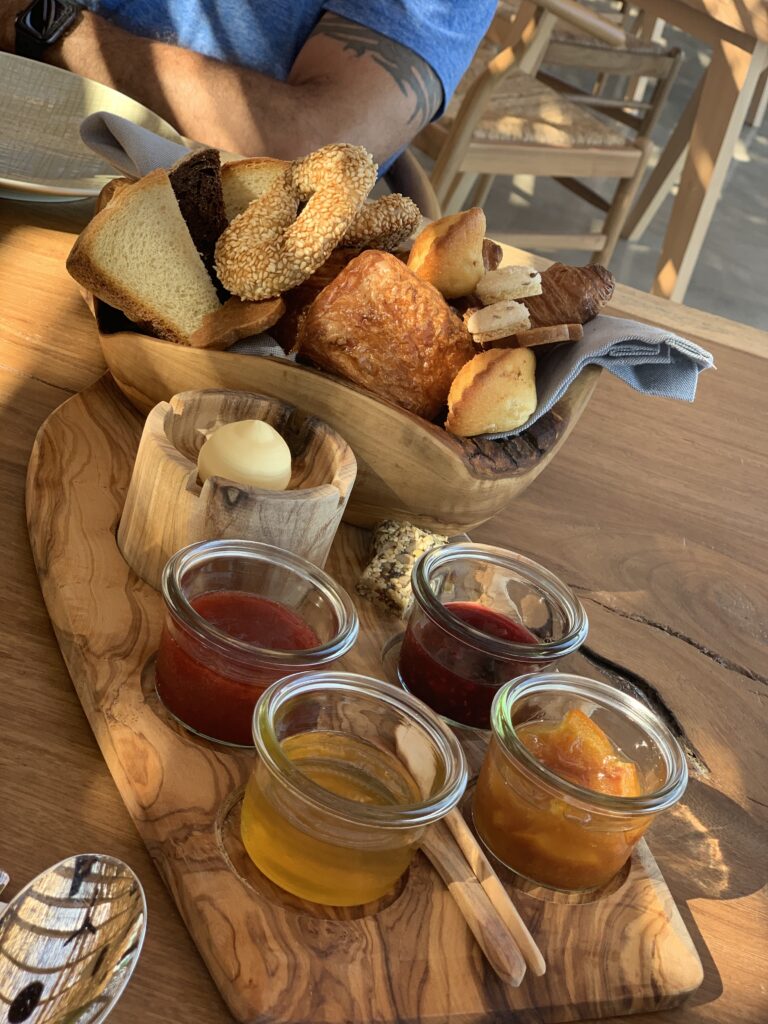 Dimitra made our wine tasting reservations and arranged another Real Housewives luxury private van for our 20 minute drive to our 1st stop on the list: Sigalas Winery.  It's cute here, and has a shaded covered patio to have small bites and to enjoy wine tasting. 
We chose the 12 flight variety, bread basket, cheese & meat platter, another meat platter, and the 4 wine flight from Kir-Yianni. I would say about half of the wines were to our liking.  
While the slow service was expected, normally the staff everywhere we have been to has been very nice, I would have to say the staff was just "eh." Not many smiled or said hello. Our first interaction with our server 10 minutes after we sat down was "are you ready to order?" He was supposed to come back to tell us about each wine after he dropped off our 12 flight tasting, but never did.
Nothing was worth purchasing to take home, plus if we wanted to it would probably inconvenience our server…We only saw the tasting patio area since we opted to not do the tour so I can't comment on the rest of the property. Eddie had to go to the bar and ask for our bill since our server was not attending to us so decided to take matter in our own hands. Plus we needed someone to call the resort to send our driver when he paid the check. Not sure if our table wasn't worth his time or what, but our check was about €120.
I can say that comparing this to Vioma Organic Farms in Mykonos, I would have to say I 100% prefer Vioma, due to customer service and their wine was 10000 times better. We were there for about 2 hours until it was time to get picked up for our next stop, Fira.
It took 20 minutes to Fira where there is more outside shopping, and is where the cruise ships stops. It is probably the same stuff everywhere that we have seen, just different town area.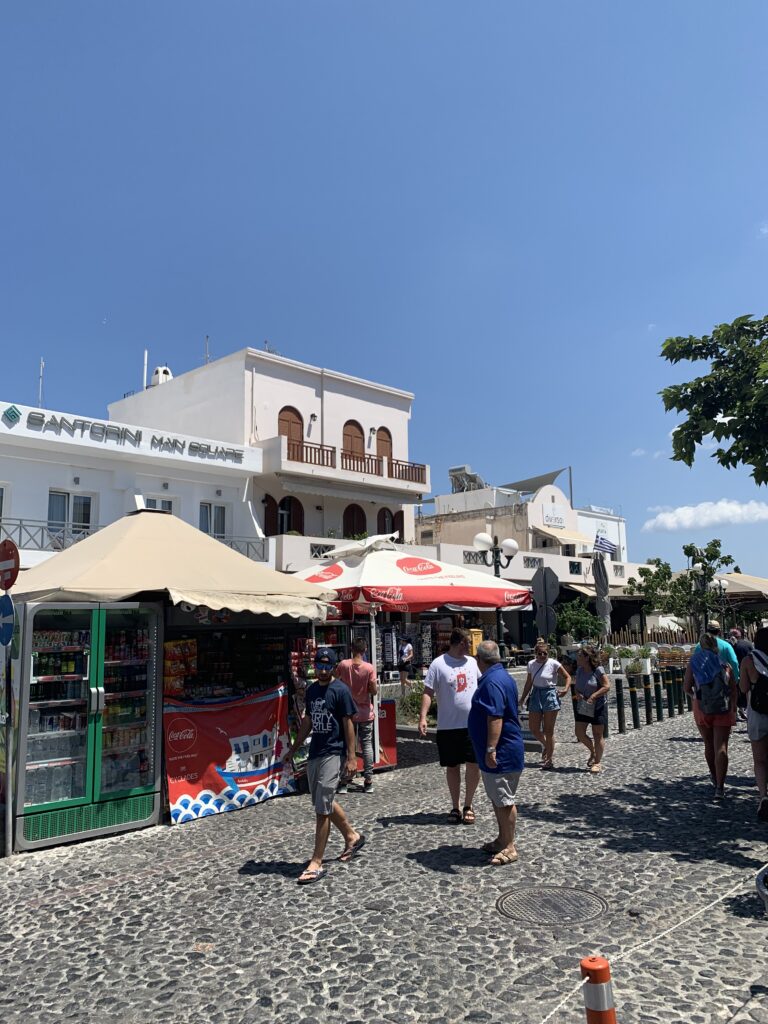 Seemed also prices on stuff were more than in Oia. I would say drinks were almost triple the price also, guessing it's cuz the cruise ships stops here.
We had gelato at the same place in Oia, Solo Gelato.
Stopped off at Two Brothers, which had no relation to the one in the States. This was kind of like a stinky cigarette smelling,  dirty rag, sticky table, gross public bathroom vibe dive bar that I would not return to. If you're into dive bars, this is the place for you…I'm not, so I needless to say, I couldn't wait to leave…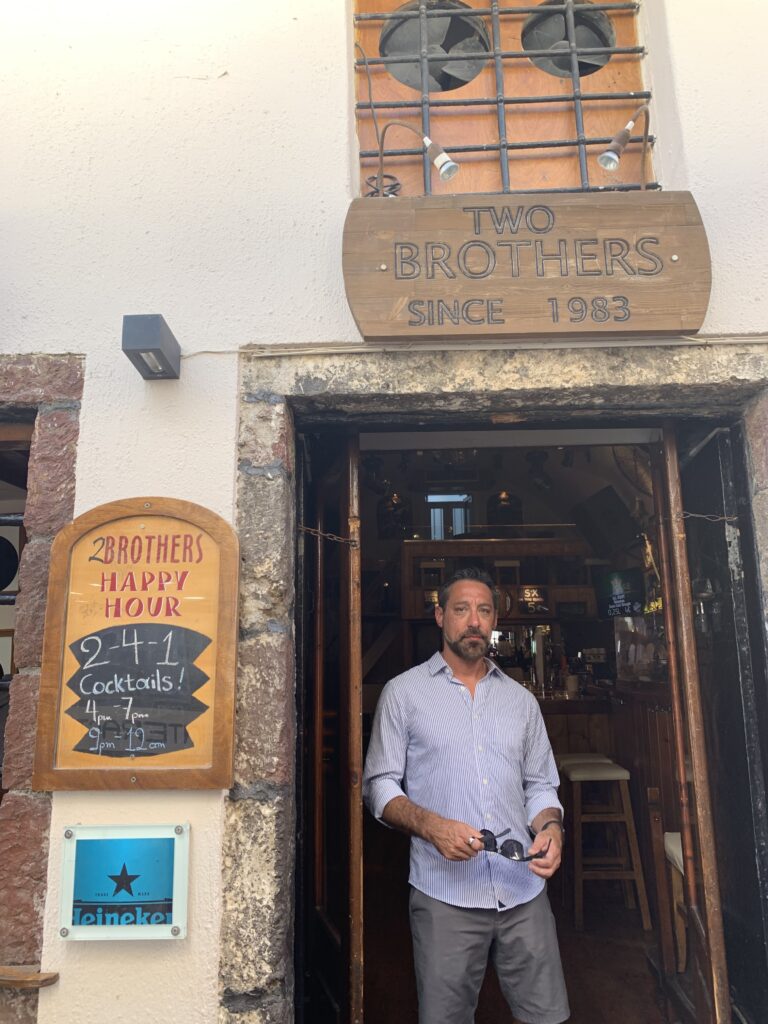 We walked around a bit more and walked into another bar Murphy's for a drink so we can call the resort to have someone pick us up in another fancy vehicle lol. 
It was a 15 min drive back to resort, and we just packed our stuff up to what we could before we left for dinner.  
We had a 5 min drive to Amudi Bay to get on a private boat ride for our 7pm reservations to a restaurant called Armeni. Apparently, to get to this area boat is the only way on or off.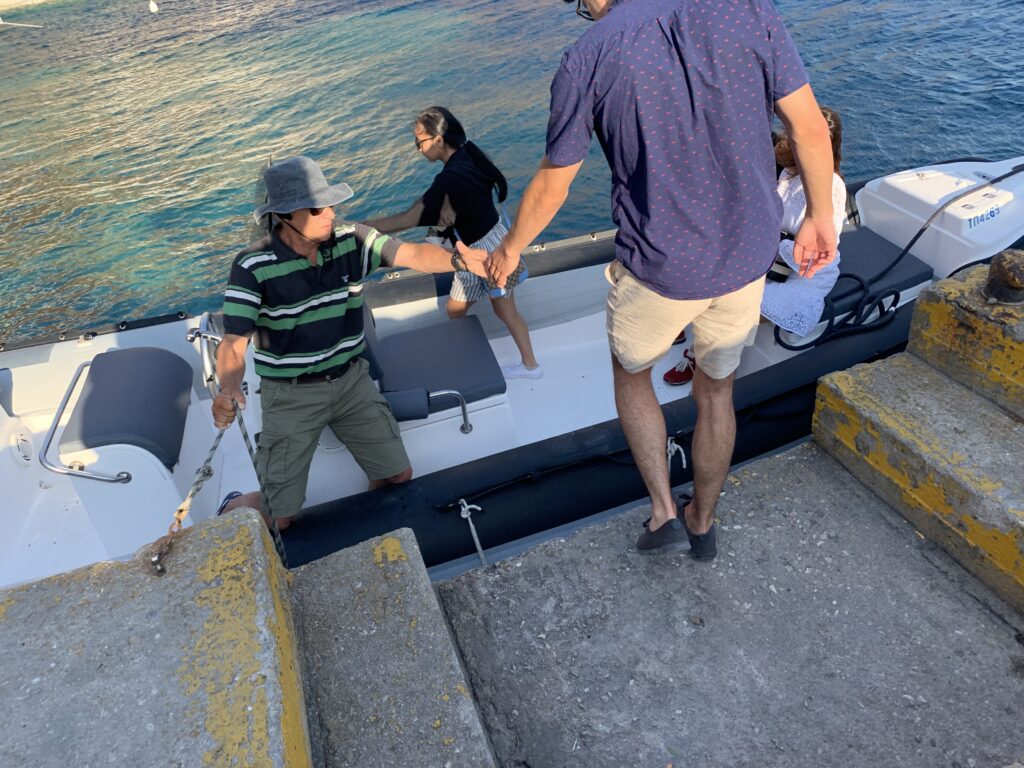 Their menus look home printed and glue sticked onto notebook pages lol…there are a lot of cats and baby kittens roaming around, and we were the 3rd party at the outdoor restaurant.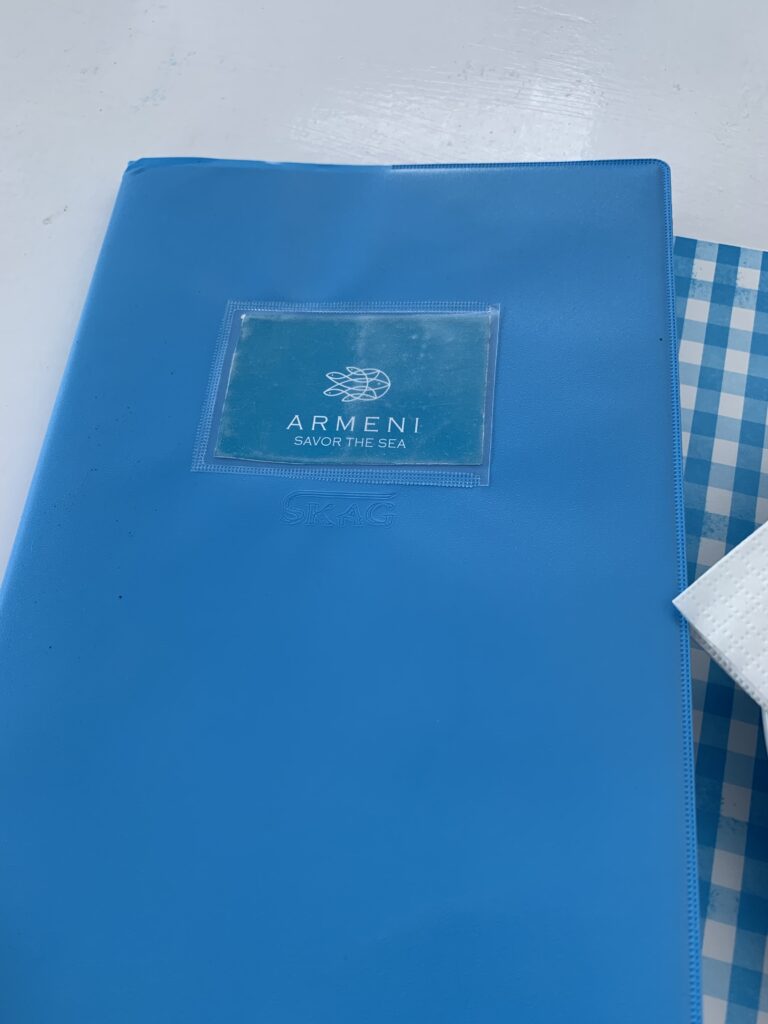 A very jolly man named Nicholas brought out a tray with a scale to weigh the fish that was caught this morning to serve.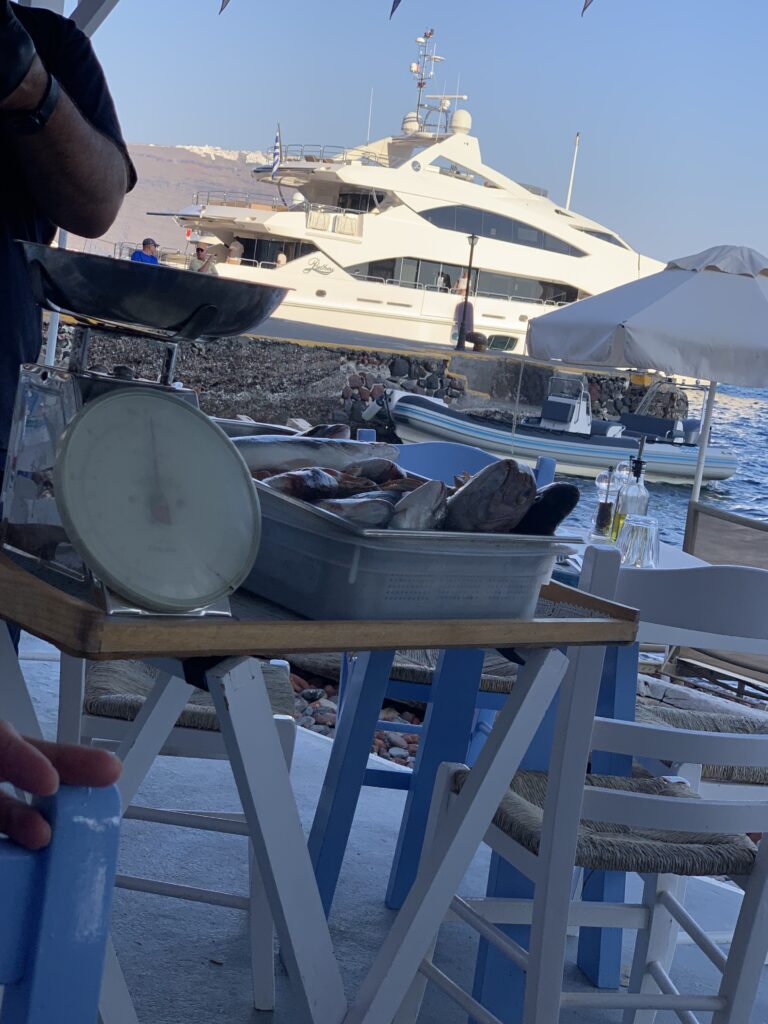 He showed us a bunch of freshly caught fish and found us a 300 and a 500 kilogram sea bass for Kayleen and I to share. We decided on the 500kg but could have probably gone with the 300kg with all the food we had…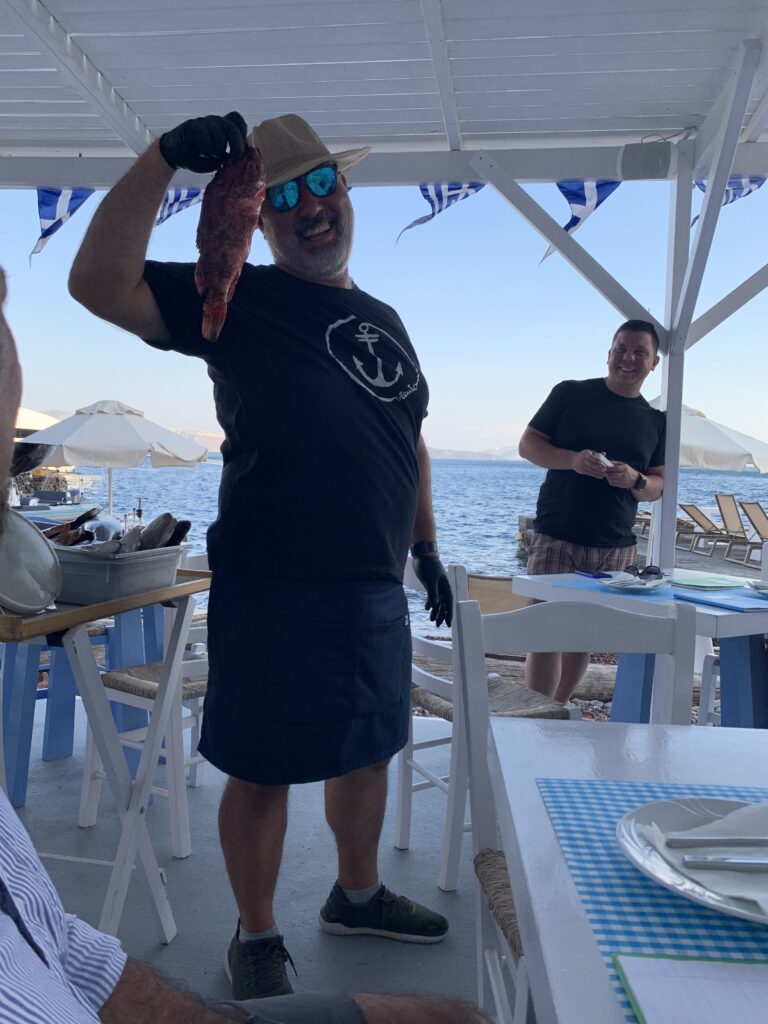 I have never had a sea bass like this before, and wasn't sure what to expect since I'm so used to seeing the filets and ordering it pan-seared. Let me tell you how delicious it was grilled with olive oil and lemon….
We ordered so much food, and we thought we ordered accordingly…Good thing everyone enjoyed their meals!
Besides Andronis Arcadia dining, this was probably the quickest service we have experienced in Greece. We were half way thru bread before the appetizers came, and half way thru appetizers before our meals came. WE. ARE. STUFFED.
They were so nice to give us dessert, and when they brought this out I had to ask if it was hazelnut…of course it is….so he brought me greek yogurt and honey…I also have an intolerance to honey. ugh…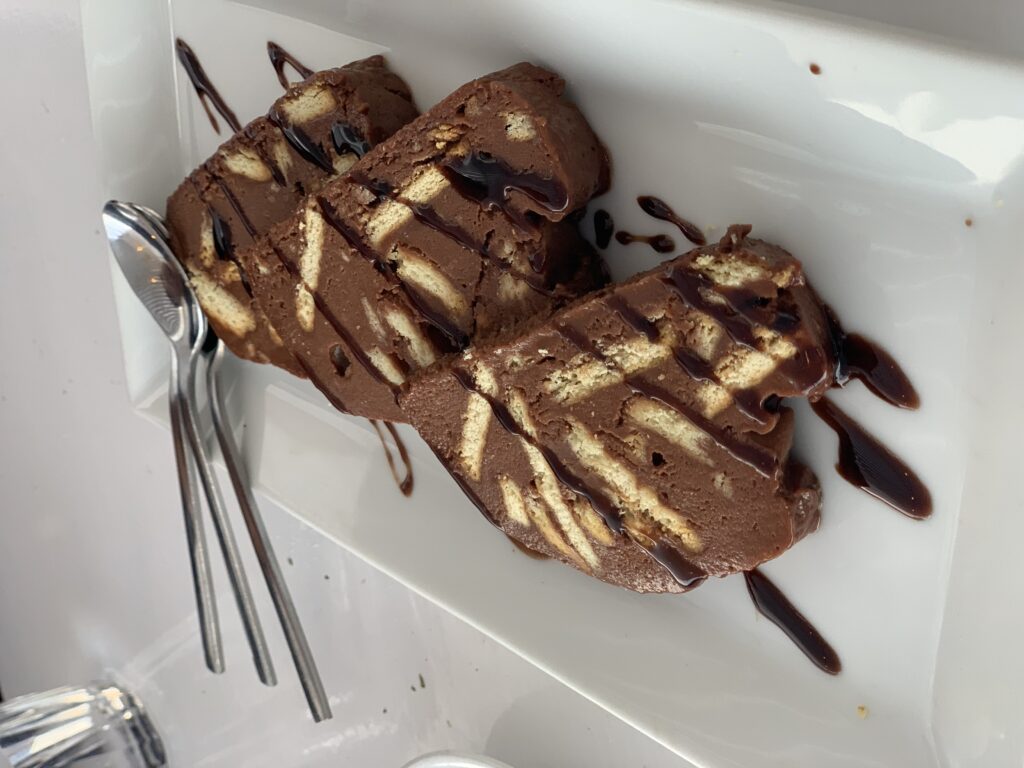 We were able to talk our taxi boat driver to take us and hope to catch the sunset since yesterdays was cloudy. Because it was 820ish he said it isn't a good time to go back because all the other boats are going to the bay to watch the sunset, but he did anyways and squeezed us between all the boats. We made it in time to see the sunset!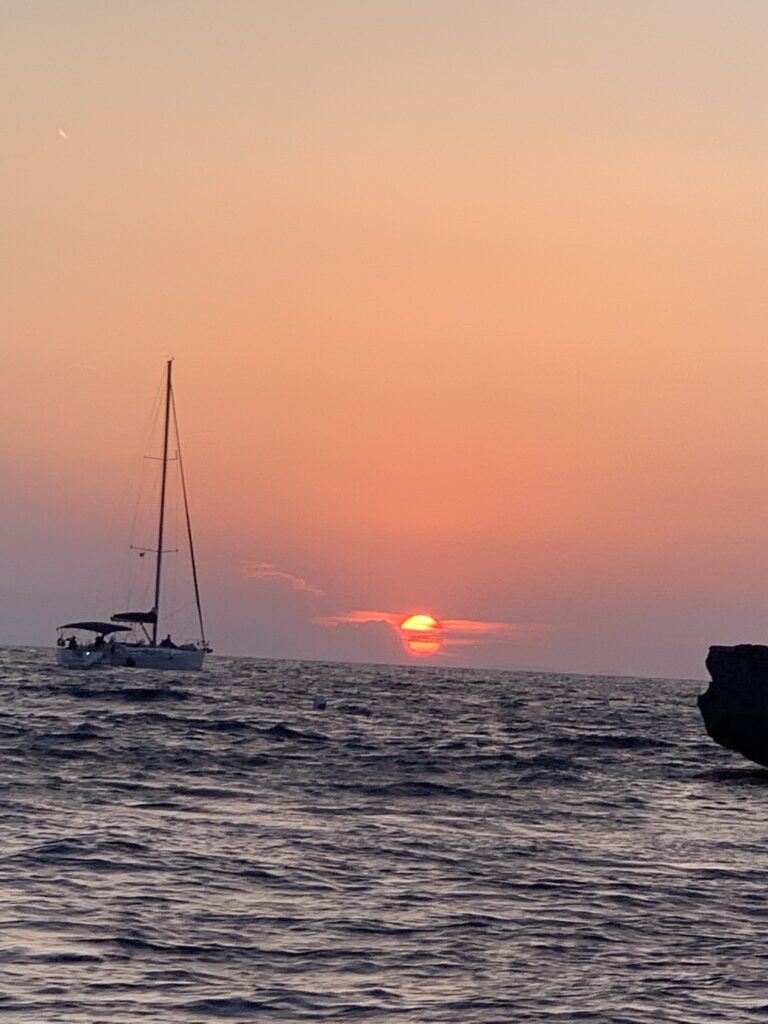 After we got off the boat taxi, we asked the restaurant Ammoudi to call the resort for a driver, and because it's sunset time it may take 30 minutes or more.
Time for another round at Ammoudi while we wait and enjoy the last few moments of Santorini….
We get back to the resort and find these wonderful goodies and a survey to fill out! Each night they left 2 sesame bar cookie things on our pillows!
Sighhh…..I can't believe I'm saying this, but I am actually not ready to go home yet…
xox~j