HAPPY FATHERS DAY!!
Sadly this day has come, and it is time for us to leave. When we went to check out, we were given 4 breakfast boxes with orange juice, pasteries, ham cheese mayo sandwich, a banana, and a peach. Just a simple ham cheese and mayo sandwich has literally never tasted so good, this no preservatives no GMO thing is a really nice thing they have going on here!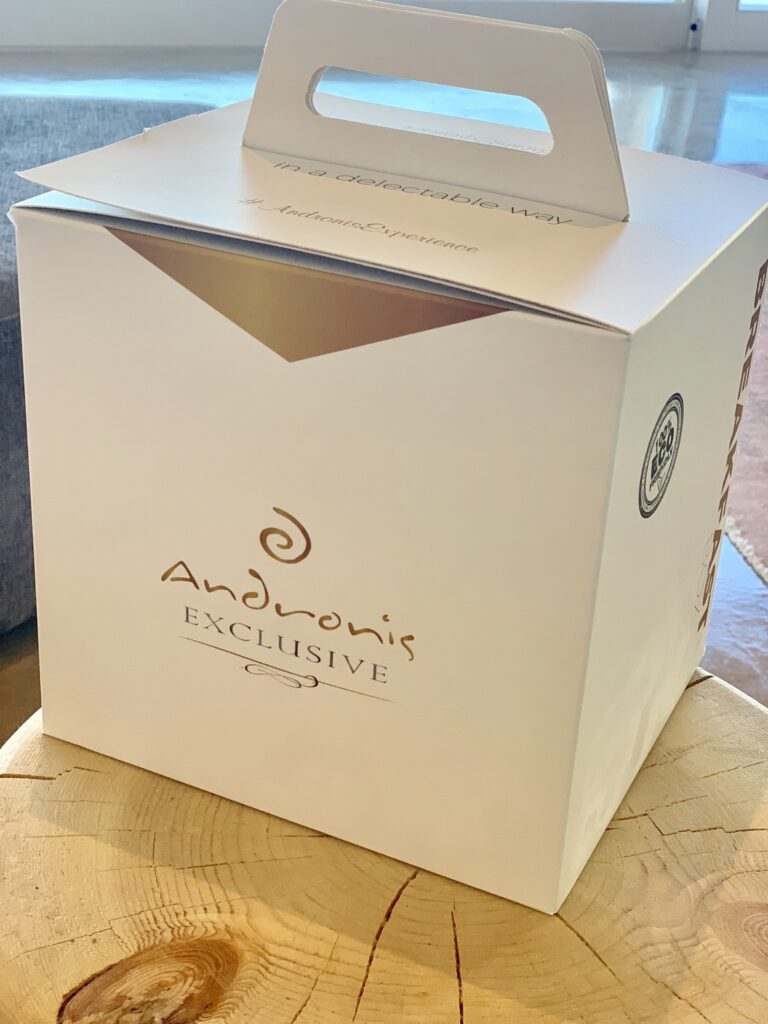 Kristefer loved the robe so much, I had to ask how much it was. We forgot about it until we were paying for our final bill when the front desk said Dimitra had a gift for us! She was so sweet to gift us Kristefer's very own robe at check out along with a burlap resort pool bag! I cannot get over how amazing Dimitra was to us and how her and her staff made us feel like VIP!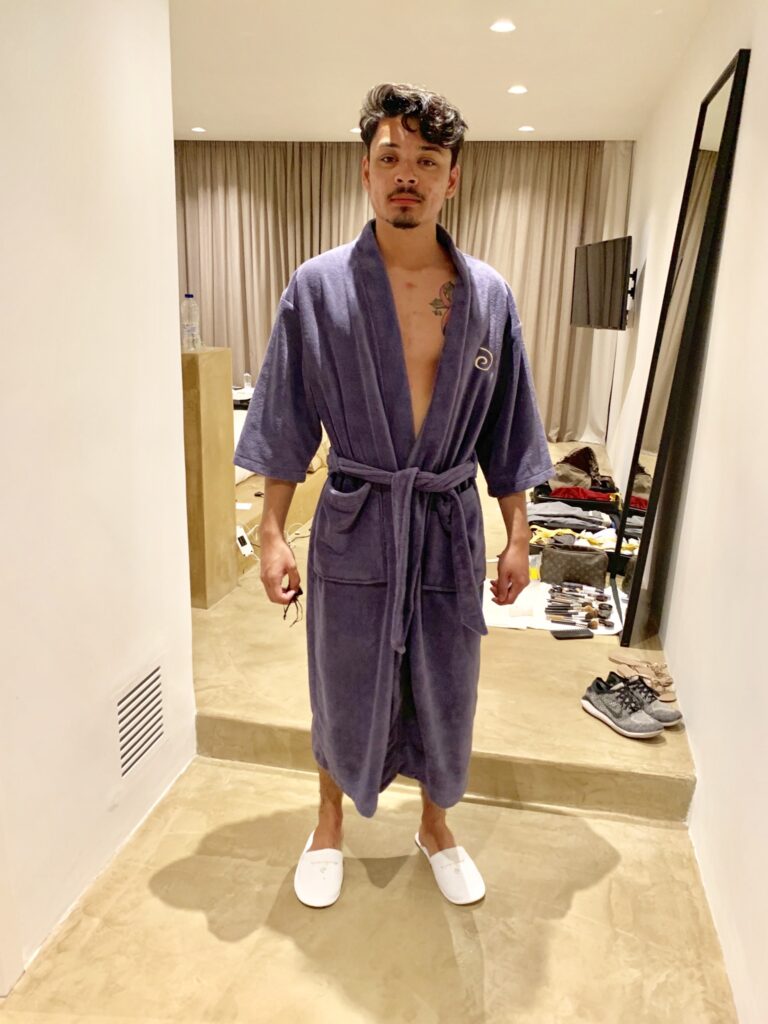 Our driver came at 815 for the 15 minute ride to the airport. Santorini airport is really small, about 6-7 gates where the bus takes us to tarmat and board the plane. We flew on SunExpress and was our 1st time on a propeller plane since the puddle jumper in Hawaii…it's only an hour right?? Not sure how I feel about this…
We safely get to Athens airport, get off the shuttle like a bunch of roaches, and head inside. There was a giant line full of people so I had everyone stay in line just incase. I walk all the way to the left and Kayleen calls me to come back cuz we should have walked to the right for American Airlines…of course cuz I went left…For some reason, Eddie and I could not get our mobil boarding passes, so we had to go to an agent. While we are next standing in line, a lady was asking a bunch of questions. She asked Kayleen where she got her tattoos, what town. She asked Kris how we are all related, and who is who. She asked me where we vacationed, which I liked best. She asked Eddie what he did for a living, what is Sprint, how many stores are in US…Random questions, but why and what's the point, like what is she looking for in our answers? We get our boarding passes and off to VAT window. There were 2 ladies in the box, and seemed like they were bff's cuz they were nonstop talking about whatever in Greek, and taking their sweet time diddle-dallying about who knows what. She stamps our paperwork and says "Next." Wait what? I've never done this before so I need help…She seemed annoyed I asked her 6 times cuz I couldn't understand with her heavy accent so I just left. All I heard was "passport, and security." We head over to a surprisingly quick security line, and see the VAT Refund window.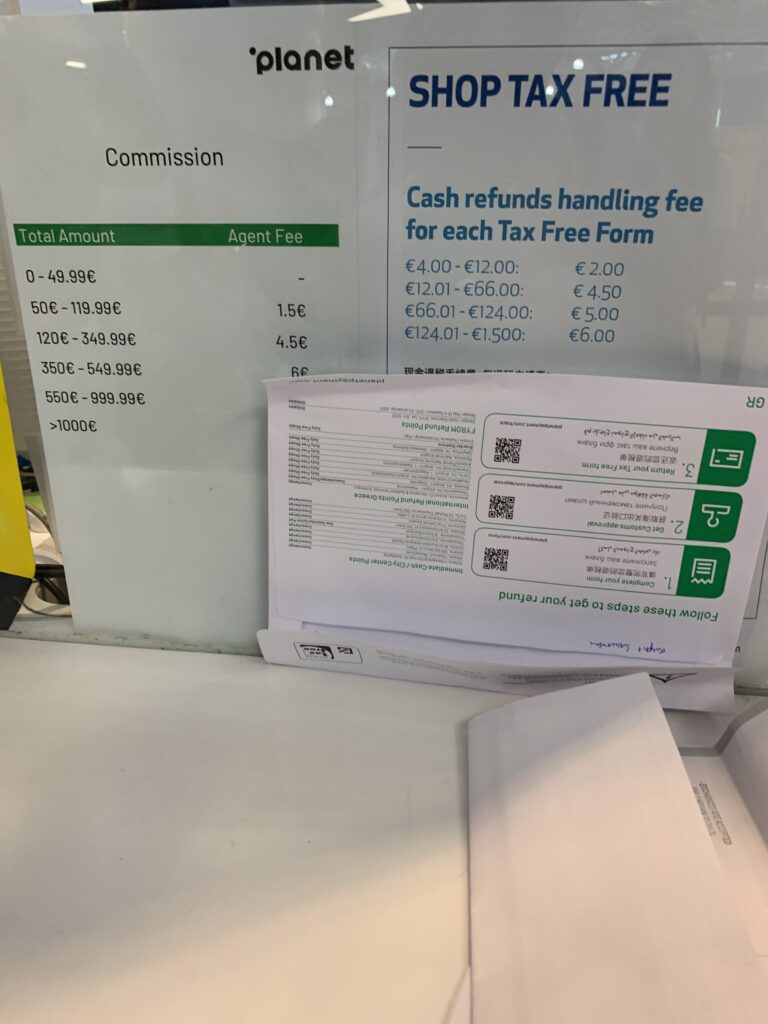 We give all the papers we had and our passports since the lady just stuck her hand out like we knew what to do. She said "cash or card" so we gave her our card and she gave us everything back with refund receipts. Guess that was all we needed to do!
We head over to the gate and we have to gate A1, aaaallllllll the way at the end of the airport…We have to go thru another set of security lines (this was actually 3 people long), where Eddie and I are flagged for another security check at the American Airlines gate. I have to unzip all my zippers on my bags and suitcase, take my shoes off so she can swab everything, remove my hoodie, and get patted down. Ugh I have to repack and reorganize all my stuff…oh well, no sense in arguing or getting annoyed cuz it is what it is.
We hear our names being called on the loudspeaker. The kids head over to find out why we were called, and as soon as we were done practically getting cavity checked, we head over. Apparently Premium Economy (International Business Class) was overbooked, and there are two seats they need to upgrade to 1st class…YAAAASSSSS!
BUT……only 2 of us could go…The kids asked which two….HAHAHA right… WHO DO YOU THINK (: After all, we did pay for this family adventure! Kayleen and Kris were naturally sour, but too bad lol…Who was the one that "tried" talking sense into us and saving money just to have a few more inches of room and the upgraded liquor, nicer pillows and blankets? Who were the ones that was excited when sitting in Premium that there was so much more room than coach? ohhh, right….NOW they want to sit in the 1st class pods?? SORRY BUDDY!!! I am more excited for Eddie so he can lay back and be more comfortable with his neck problems.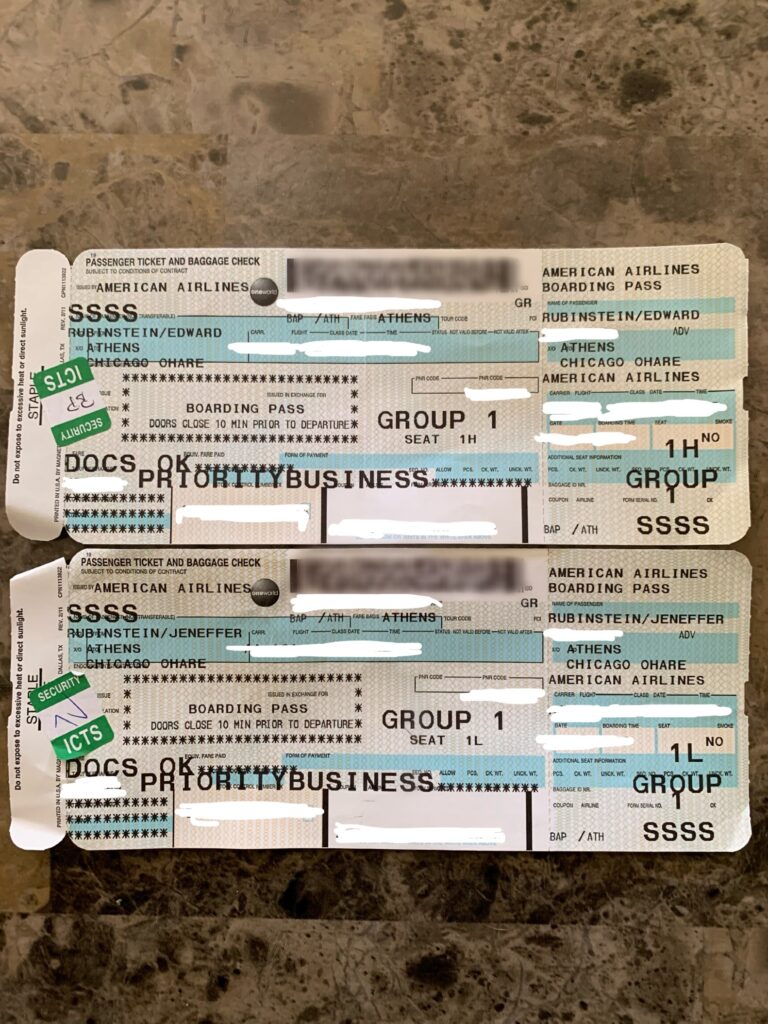 We board in group 1, and walk to seat 1H and 1L….why am I afraid we won't be able to sit in Premium again after this flight…We are greeted with a glass of bubbly, well don't mind if I do!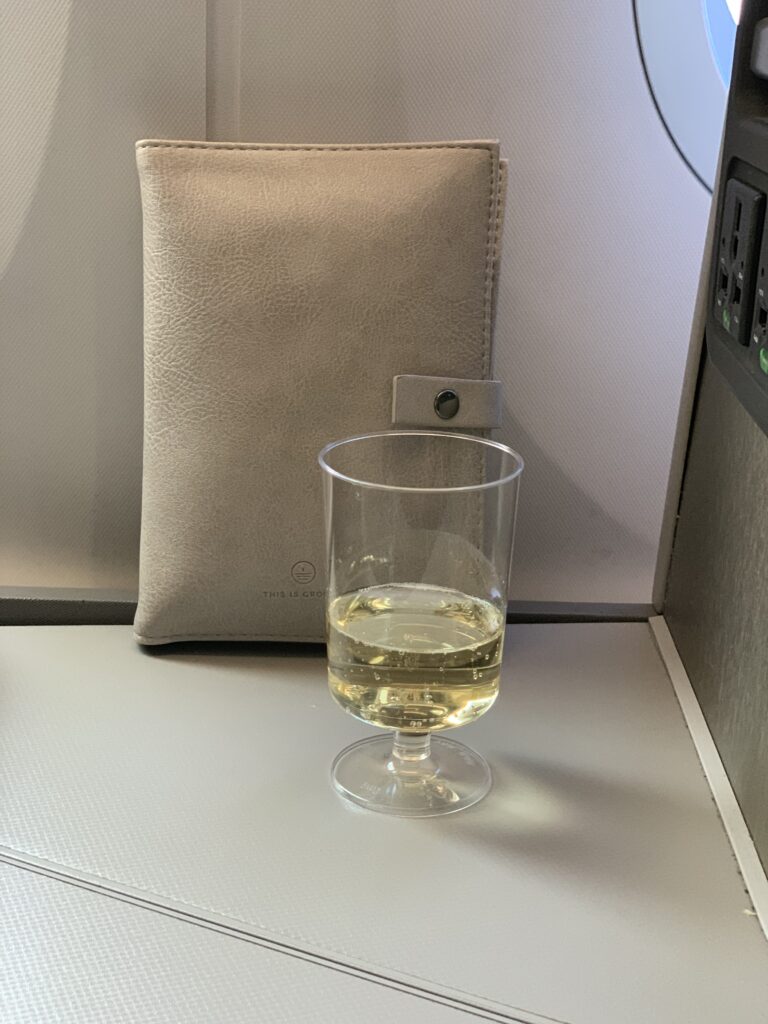 Look how happy he is, I LOVE IT!! Happy Fathers Day to this cutie!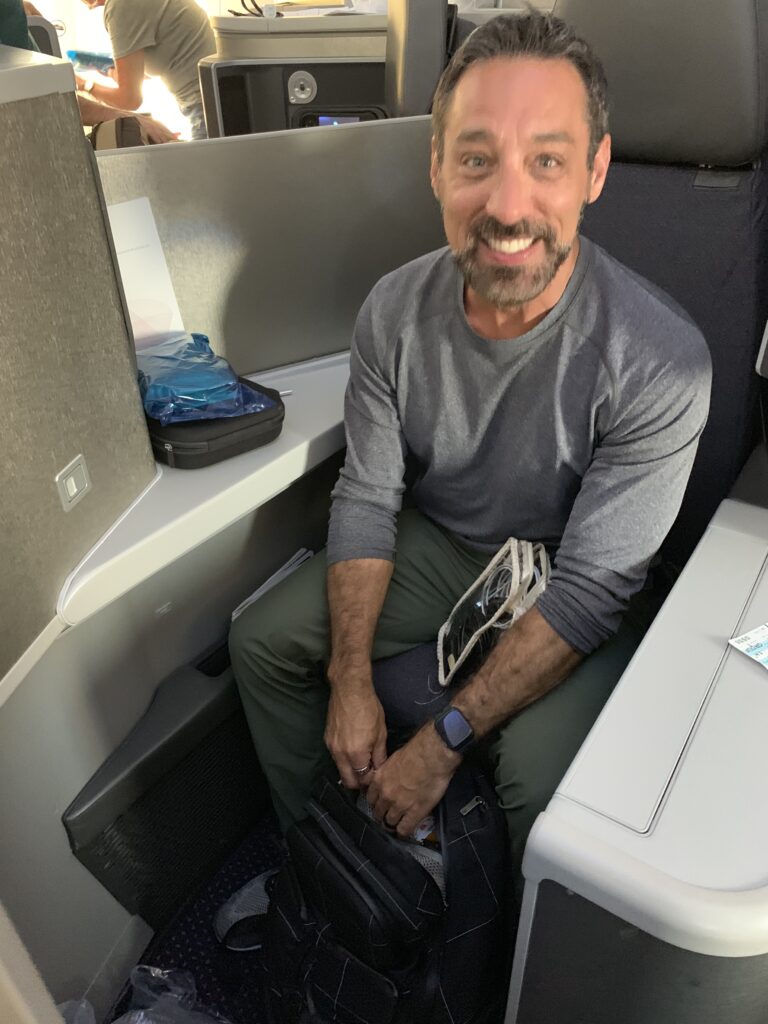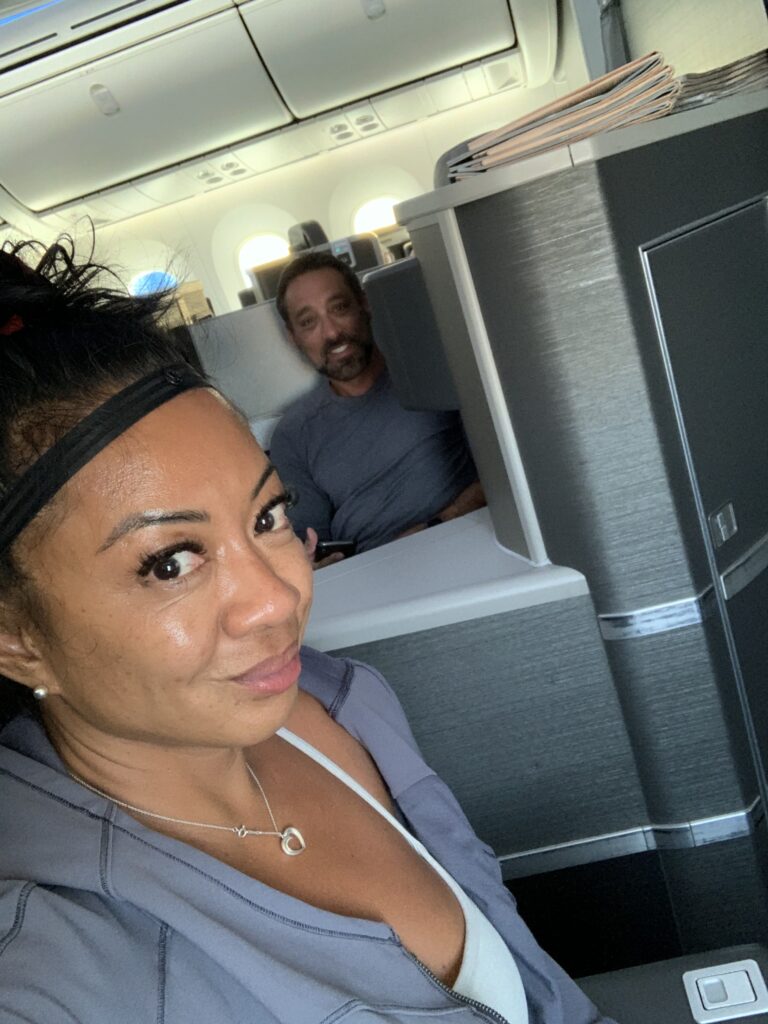 Flight is delayed from 215pm to 315pm so we are given hot nuts and more bubbly…FINE!!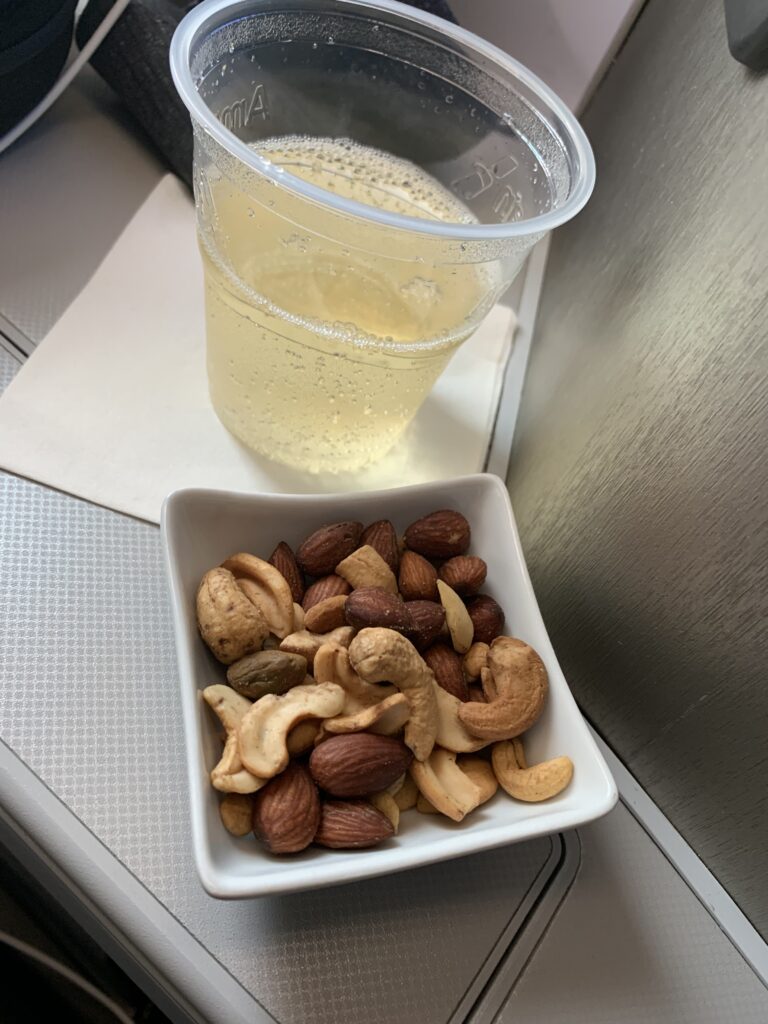 We left the gate at 347pm and finally took off just after 4pm, and I guess it's time to eat. Our flight attendant asked to set up our table…Really? I can do that lol…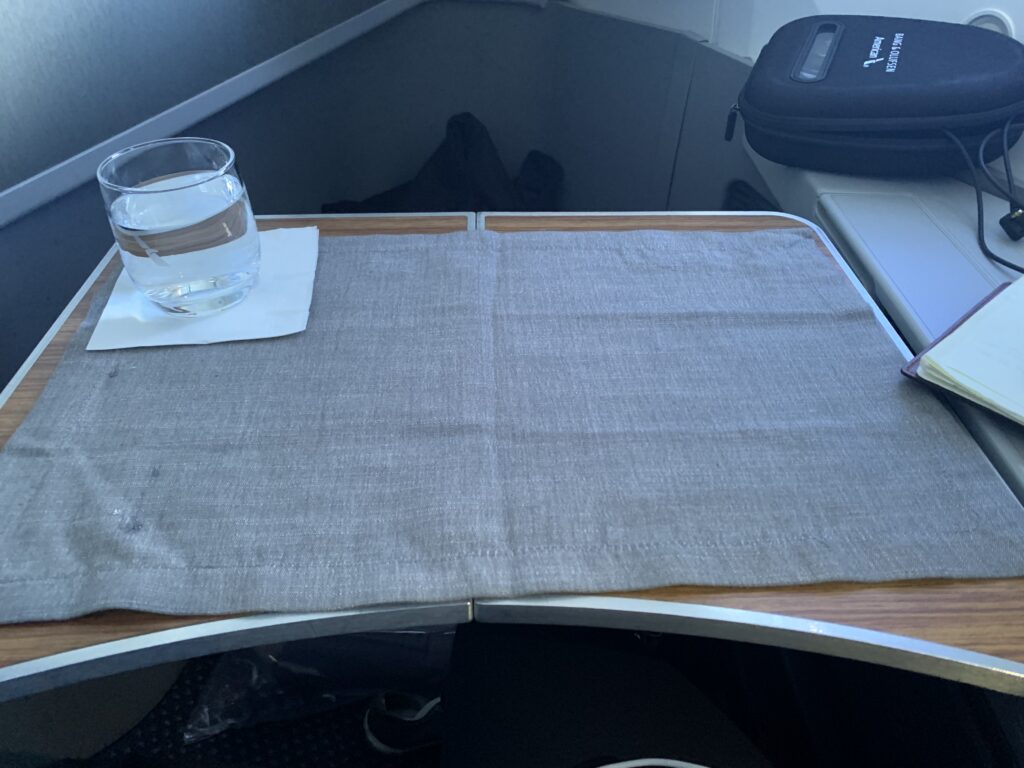 Then she asks if she can set up my pillow and blanket…Uh ok? Thank you? The Casper pillow and blanket is much nicer than what they give in Premium class! Wondering if someone is going to give me a bath too? lol (: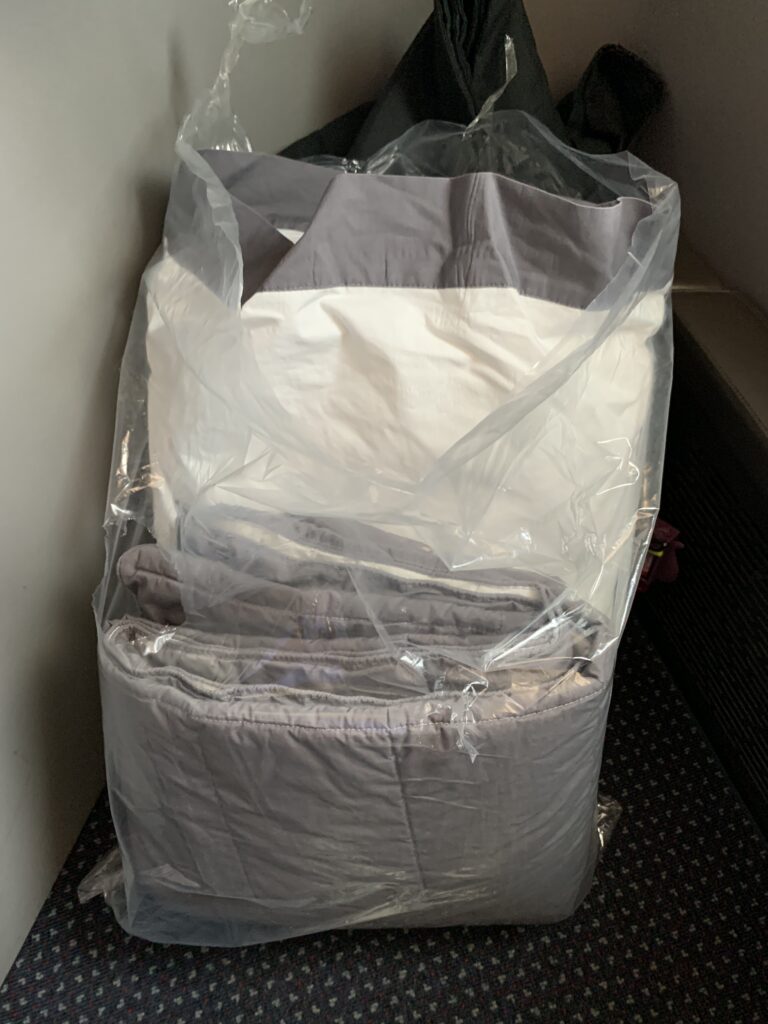 Eddie and I are like kids in a candy store sitting in 1st class for the 11h 26min flight back home. We are being fed and fed and fed.
This was the "appetizer"

30 minutes later, served butterfish. Not the greatest, but better than I thought it would be
Then we are presented with dessert….Holy crap, how the hell am I going to turn down dessert? AND A BEN & JERRYS CUSTOM SUNDAE!! Look how happy Eddie is with his hot fudge and vanilla ice cream!
I recline my chair to lay flat and I can't close my eyes…I feel full, uncomfortable, and bored so I walk back and forth to bother the kids. We get to sit in 1st class and get to actually lay down, and I freakin can't! I'm up and about walking the long way to the bathroom a few times, up and down the aisles several times, getting a refill (or 5) of wine, giving the kids snacks from our special snack trays in the front a bunch of times. I am antsy…Hopefully by walking around and getting up will help minimize my swollen body like it was when we flew to Greece! That was painful.
Thank goodness Eddie was able to sleep! At least until I took his picture (: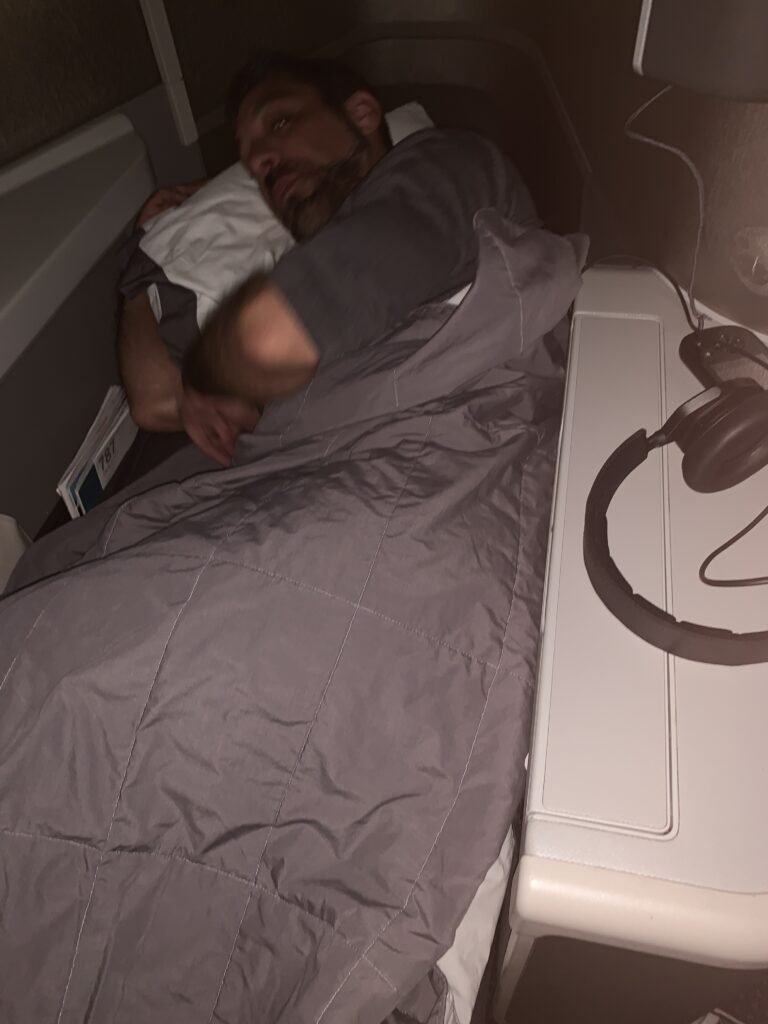 After 2 glasses of bubbly and 5 glasses of wine, I finally close my eyes and take a few hour nap. I was awaken by the sun shining thru my dimmed window.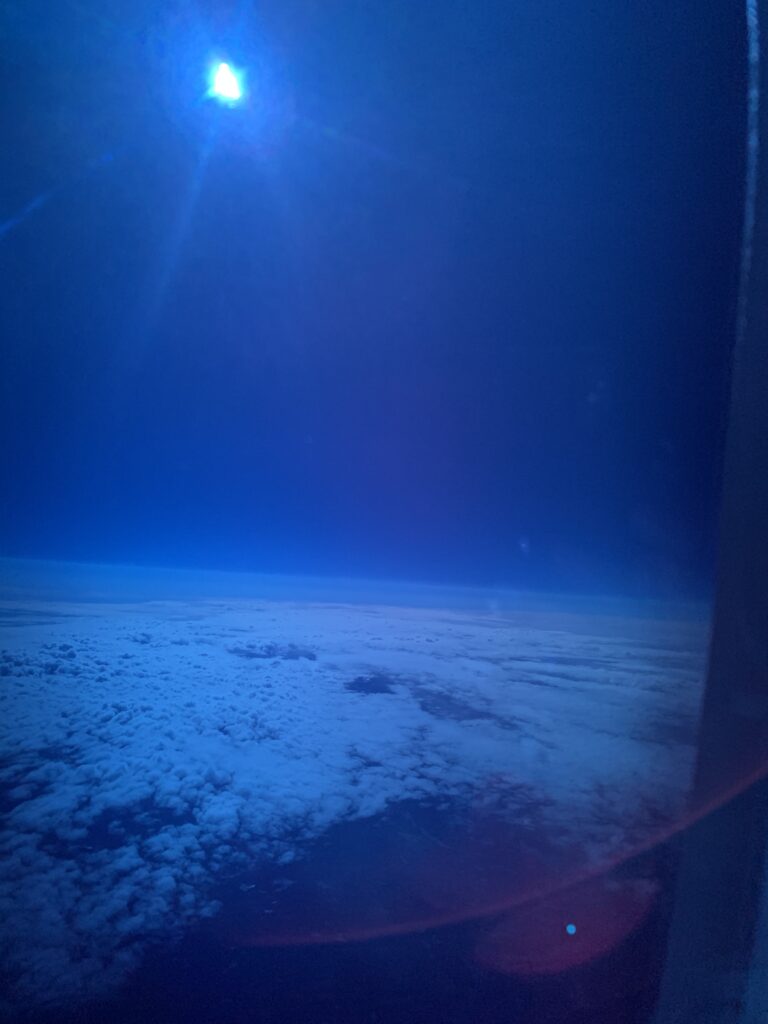 There is 1hr 45 minutes left and our flight attendant offers me another meal of chicken wrap or orzo pasta salad. I take the orzo salad, and surprisingly is good.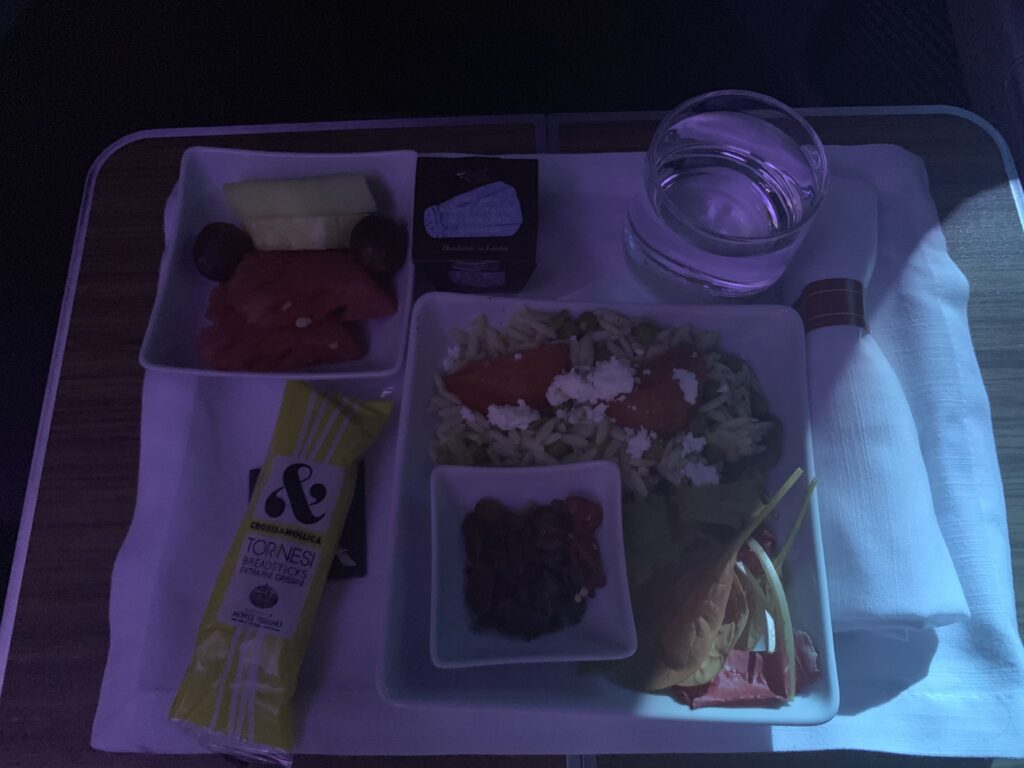 Time to get off the plane, breeze thru customs with our Global Entry, and get our luggage. I love Global Entry! Not only do we go to the special quick TSA lines, every time we go thru customs and see the long lines, I think each time how worth it it was we did it….Our luggage is supposed to come out first, you know since we are 1st class and all hee hee…NOPE, ours was damn near last, but at least we had the orange PRIORITY sticker on our bags that clearly did nothing….Now time to go home & wait for the jet lag to kick in…
xox~j