What is Xmas Adam you ask??? It's the day before Xmas Eve, duh lol! We have been celebrating Xmas Adam for several years now, and just the last 5ish years Eddie, Kayleen, Kristefer, and I get all cute and go to dinner at a nice steak house. Xmas Adam is on Sunday this year, and Eddie usually ends up working so I thought it would be a great idea to take the train downtown and visit ChristKindl Market at the Daley Center, and Eddie will meet us there.
Kayleen has never been on the Metra, and I usually go with other people who know what they're doing on public transportation…So, we are relying on Kristefer to get us there in one piece and not get us lost lol. We got on at the Libertyville station, and wait for the train. It's sunny here, and deceivingly cold. The ride was about an hour, and fairly nice and quick and the last stop is where we get off, at Union Station.
We get to ChristKindl Market around 3pm, and omg….There are people literally shoulder to shoulder. Kayleen wanted to get some hot chocolate mugs, and Kris wanted to get a giant pretzel & bratwurst, so we split up and went in line. We probably each waited over 30 minutes and found a place to stand and eat.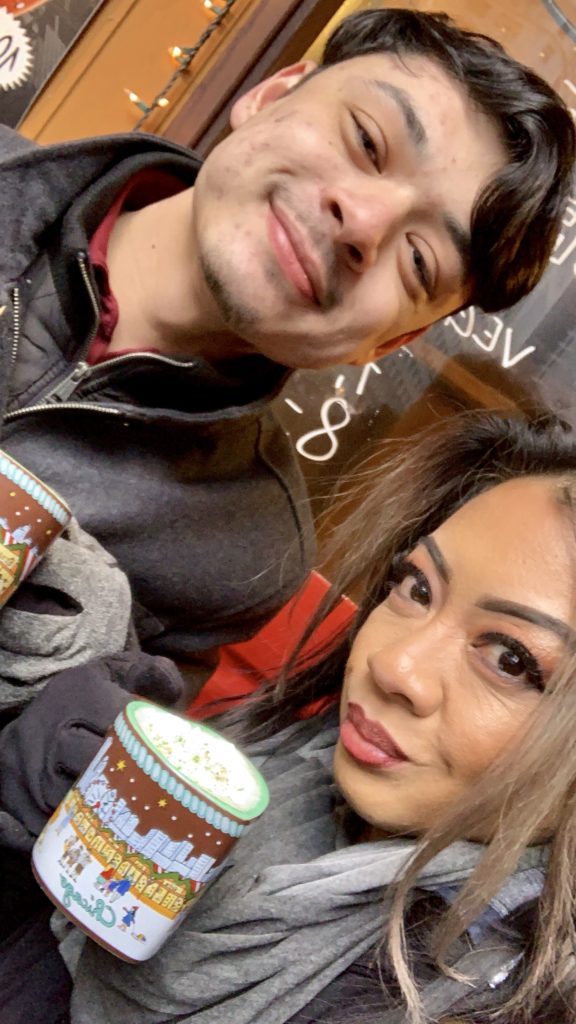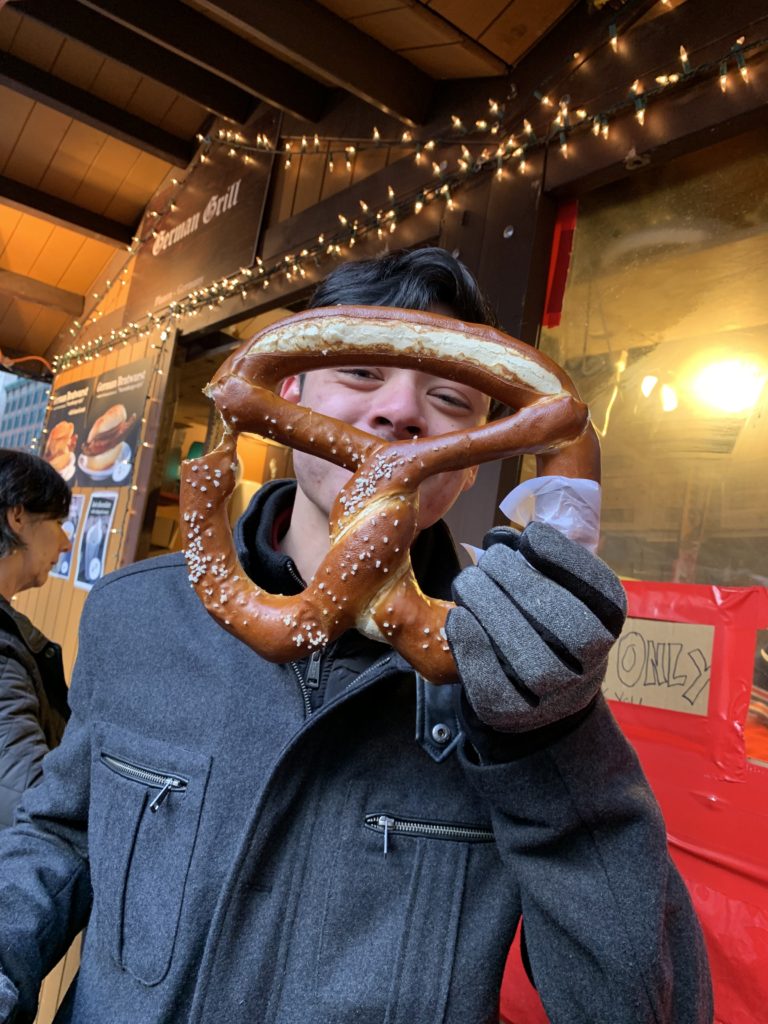 After we were done, we thought it would be a good idea to grab a beer so we head over to find some. No one is moving, there is about 2-3 million people in a about a half block radius, I am now sweating, and I am having a slight panic attack. I am only 5'1" and I can't see anything and I want to throw my hands up in the air and wave them, scream until my head turns 360 degrees and hope people move. Of course I didn't, but I wanted to…This was legit a safety hazard, and I need to leave…like NOW…This reminded me of Kayleen's cheer competitions inside the arenas where I had to take a Xanax because it was the same crowded mess. This moment made me remember why we never came back. This was not enjoyable at all. We just tried to find our way out, or somewhere we can breathe and that was easily about 30 minutes of just trying to not have a panic attack.
We FINALLY made it out, and decided we were going to Flight Club and meet Eddie before dinner.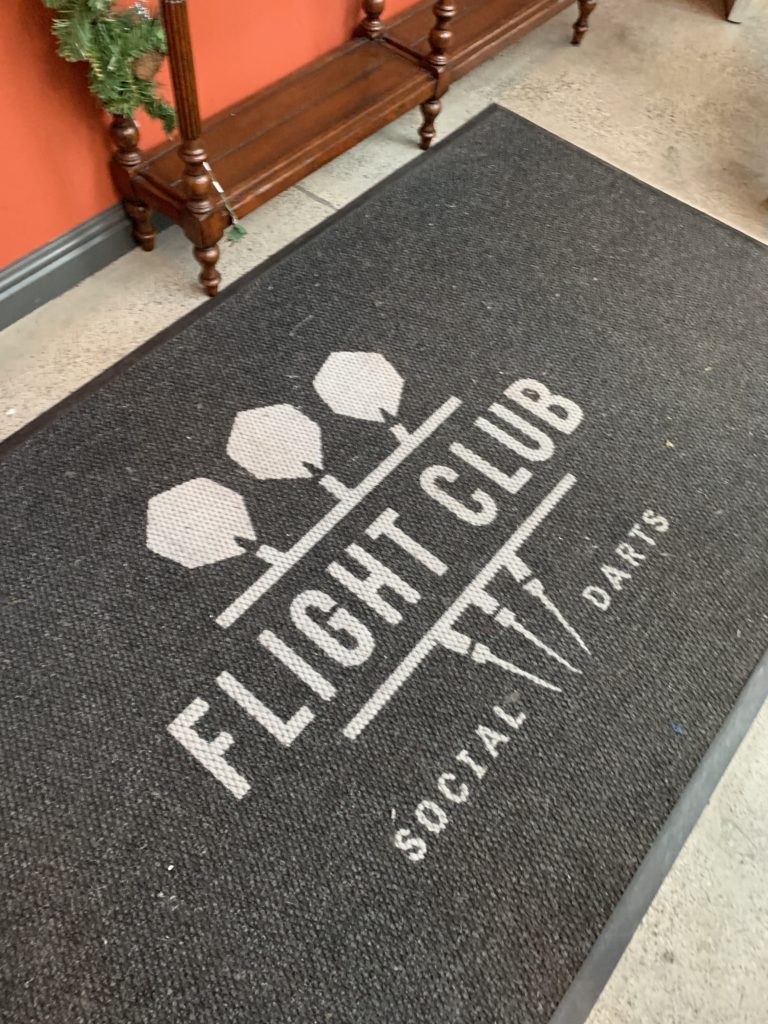 look how cute this bowl is that the french fries came in!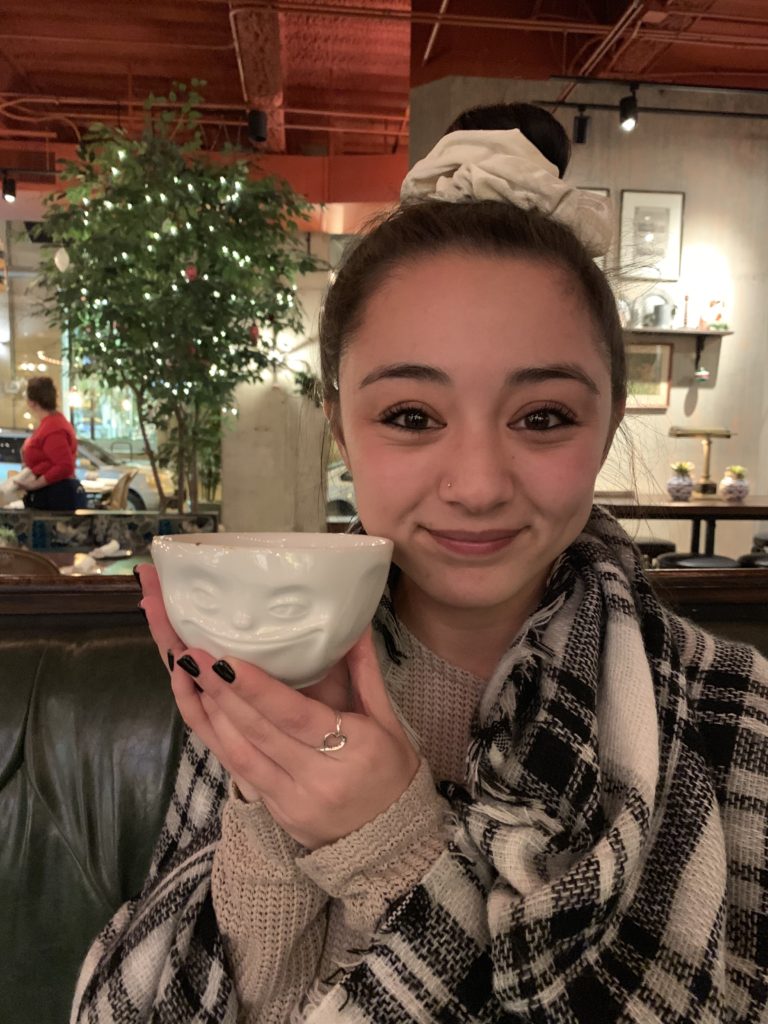 It's $30 for 60 minutes of dart time. Perfect for killing some time before dinner! These playbacks are fun to watch!!
Our 60 minutes was done, and we walked 5 minutes over to Mastro's for dinner.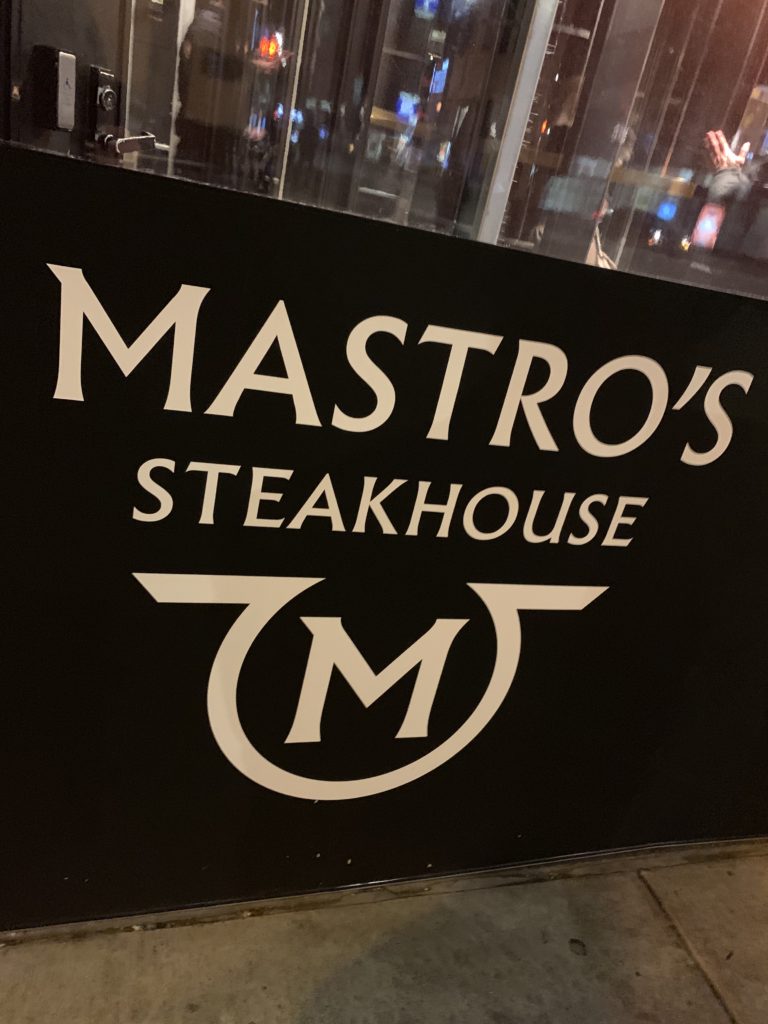 We've been here several times in the past and have enjoyed it very much. They have this great drink called Skinny Diablo which consists of Don Julio Blanco Tequila, agave nectar, lime juice, fresh jalapeño and red bell pepper served tall over ice with a lime garnish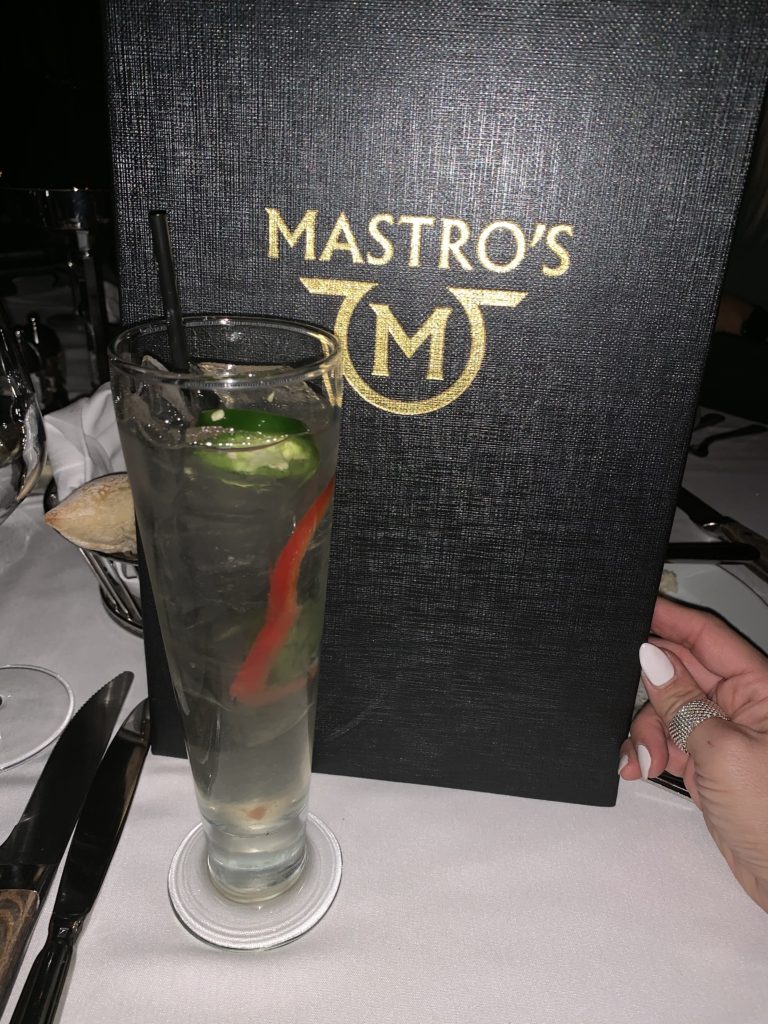 Eddie ordered his usual 22oz ribeye, Kris and I shared a ribeye, Kayleen and Delaney also shared a ribeye, Leo ordered one, and Angela ordered a sushi roll and green beans. We ordered twice baked potatoes, broccoli, and lobster mashed for sides.
They brought out our plates before the steak came…yum lol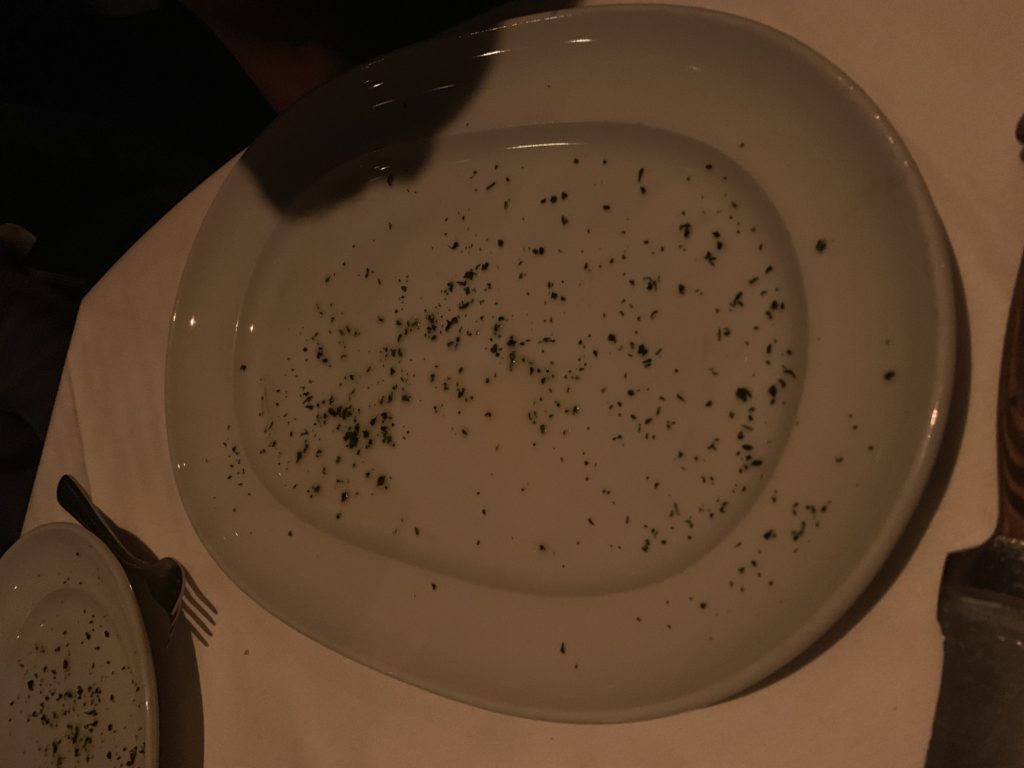 They brought the shared steaks out cut, which I loved. I don't know why but I always feel like it tastes better precut (:
Definitely a good call sharing the steak cuz Eddie didn't finish his, Kristefer and I, and Kayleen and Delaney had leftovers. We could have gotten 2 steaks to split with the 5 of us. It was the damn bread….and butter….
They did have this bone marrow butter in a small ramekin that I could have eaten with a spoon alone. I almost ordered my own butter, but our server said it was pretty dense and a little goes a long way, so we decided to get one and see how it was.  Good thing we ordered one cuz apparently was $15, and had I known that I would have taken the other half home! 
All of us were stuffed but needed dessert. Since we couldn't decide, we ordered the butter cake, crème brulee, and Eddie got his chocolate ice cream. Talk about stuffed….sheesh, can't breathe….
The dinner for all 7 of us was not as bad as I thought, but four of us shared an entrée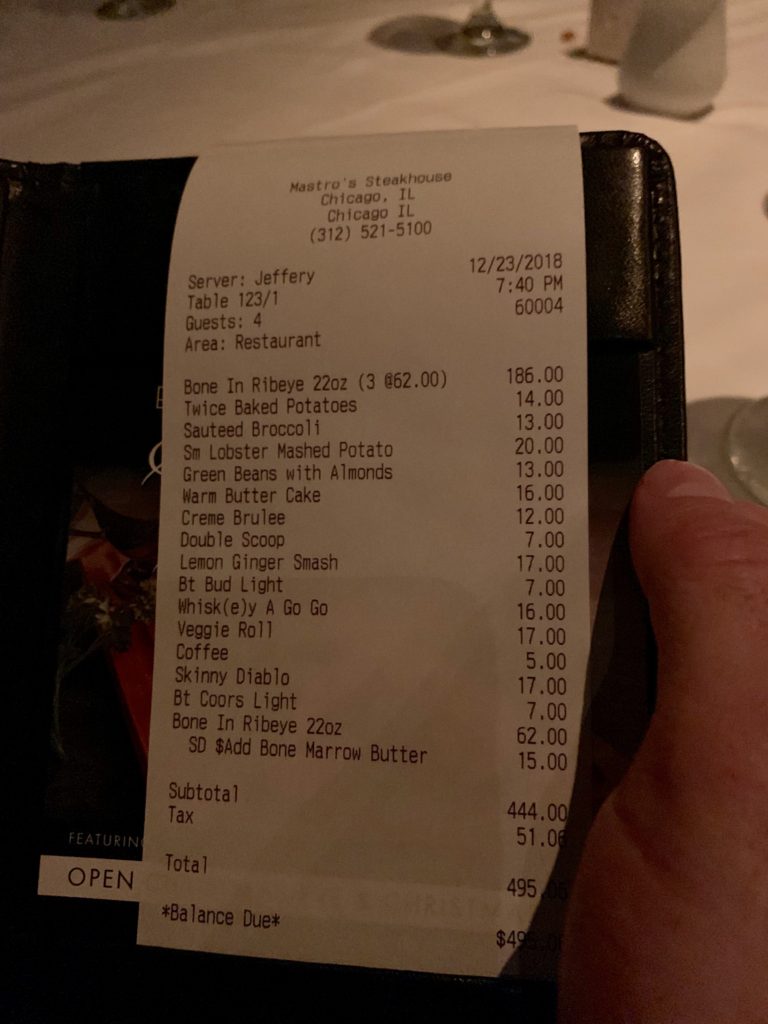 Another fun filled Xmas Adam day! I hope we can continue to make this a yearly tradition!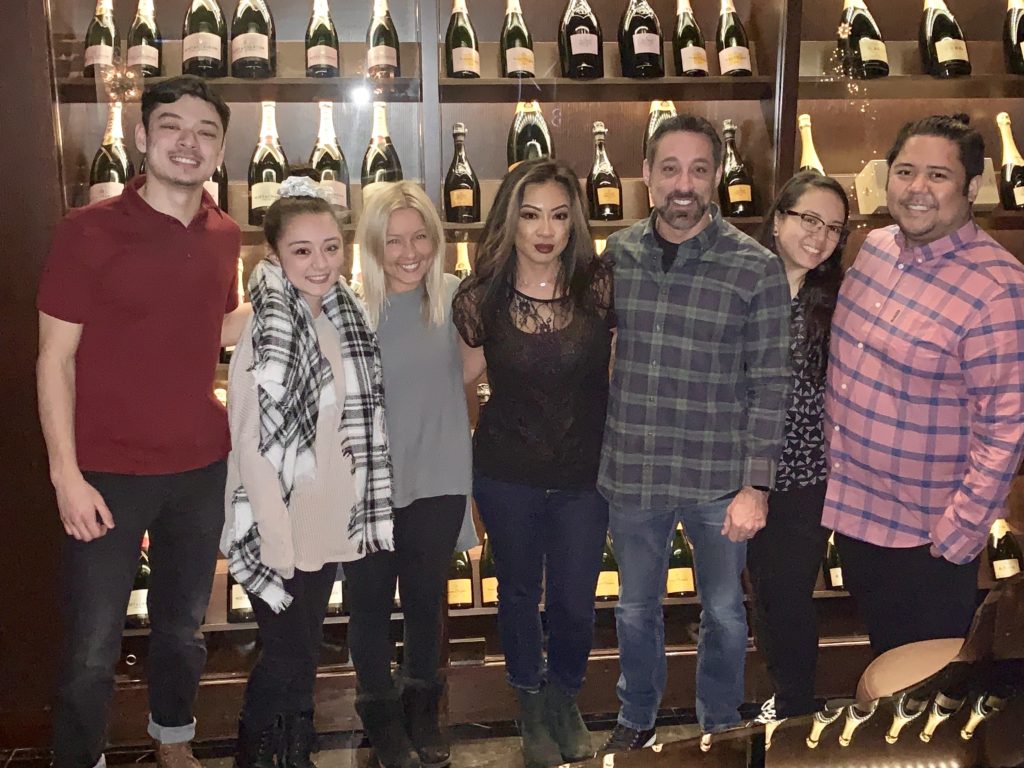 xox~j