It's that time of year where Kristefer and I have our annual "gurls trip" in August. We started the tradition last year in 2018 when Kristefer was finally 21, and I hope to make this an annual bonding and cuddling event!!
WINE COUNTRY, HERE WE COMEEEE!!!
Our plane departed ORD 8.8.19 at 1037pm, and arrived SFO 8.9.19 at 110am….Not 100% sure why I was thinking taking a flight that late would be a good idea instead of taking the 1st flight in the morning. I was probably thinking I should at least try it once in my life before I completely knock the idea lol…Well, I can say I can completely "knock" the idea and that I don't have any intention to purposely do that again, ESPECIALLY since we have to get our car rental and drive ourselves to the hotel during the weeee hours of the night. For a few minutes, I thought it would be a good idea to just get in the car and drive straight to the Napa hotel after our flight. Then Eddie convinced me I was crazy and I would not want to arrive at 1am, get the car rental by 2am-ish, drive one hour+ to the hotel in the middle of the night, check in 330am-ish. After he put in perspective to me that its 530am-ish central time, he was right….
Hope this will help me sleep on the plane!!!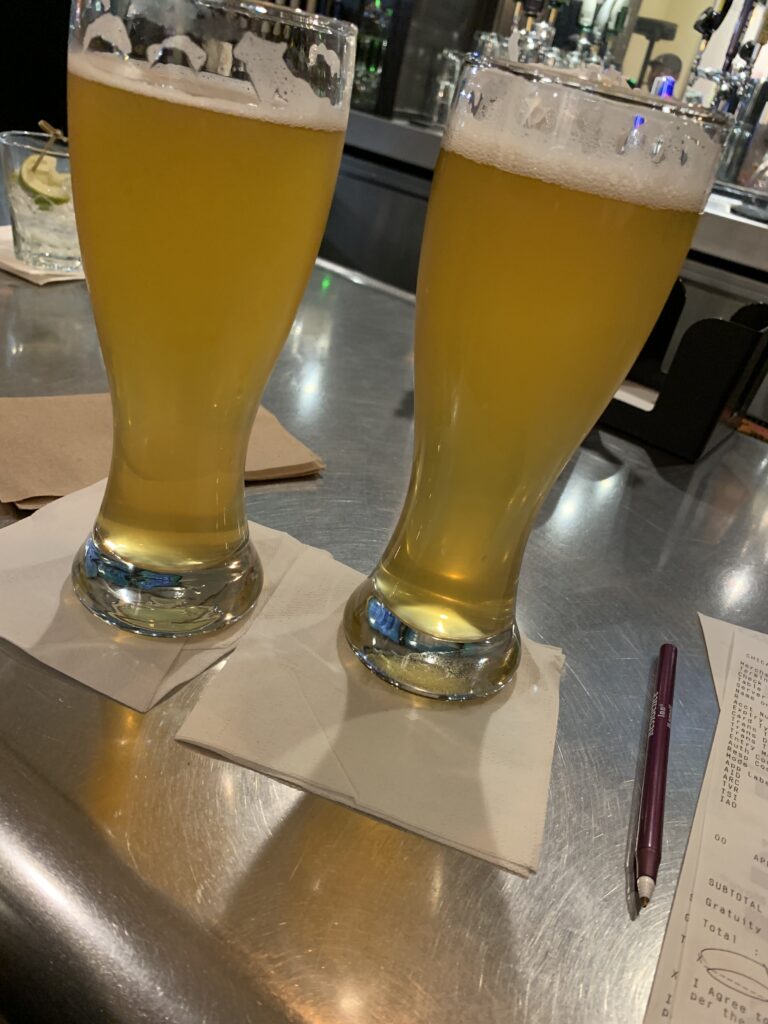 We arrive at SFO after a horrible sleep on the plane sitting practically erect. Sitting in business and 1st class on the last few flights sure had me spoiled…I felt like a stiff sardine trying to sleep with my legs bent at 90 degrees. I have short legs and I can't imagine how taller people do it…We get our rental and about 15 minutes later we arrive about 245am-ish to the Courtyard Marriott. I thought I was gonna die I was so tired….but, we made it, checked in, and got upgraded! YAY!! Now for some shut eye until 7am…Jesus, it was hard thinking about 4 hours of sleep….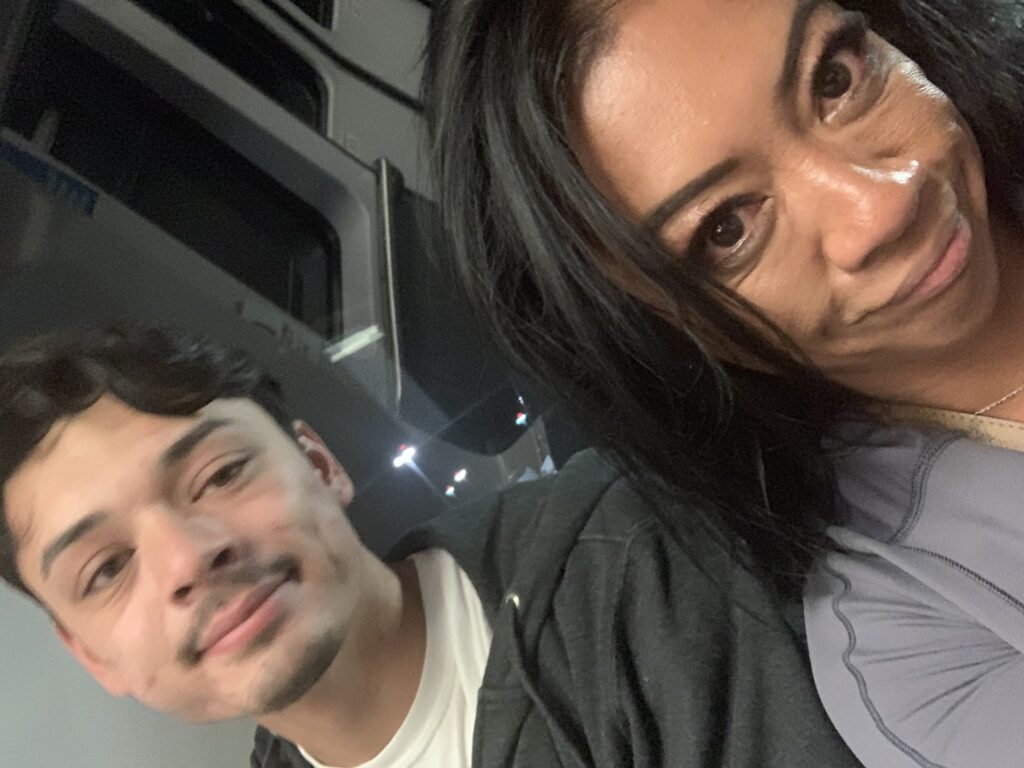 I get up at 7am and walk over to get us some coffee from the lobby to wake up a bit before we go back to eat breakfast.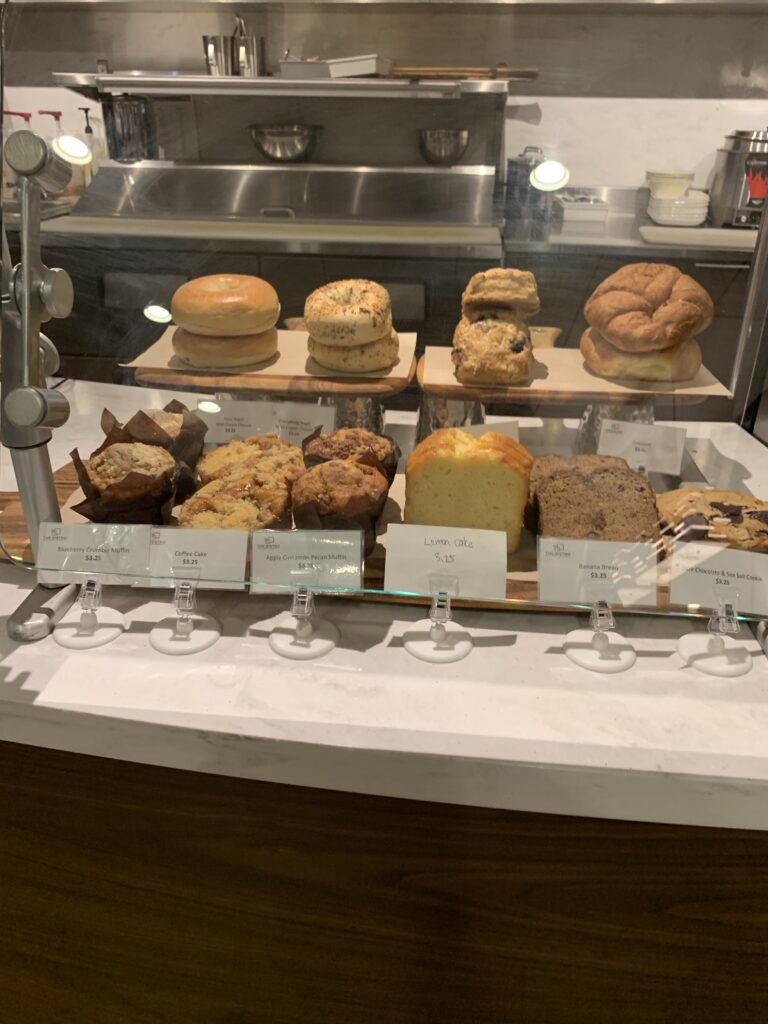 We checked out of the hotel around 9am for the hour or so drive to Hampton Inn & Suites Napa so we can leave our car and Uber to our first stop. Our room wasn't ready yet, but the nice lady asked if we mind getting upgraded to a king suite…hahah I mean I don't want anyone inconvenienced so if it'll make it easier for everyone, I think we can sacrifice! And, if we absolutely need to I guess we will…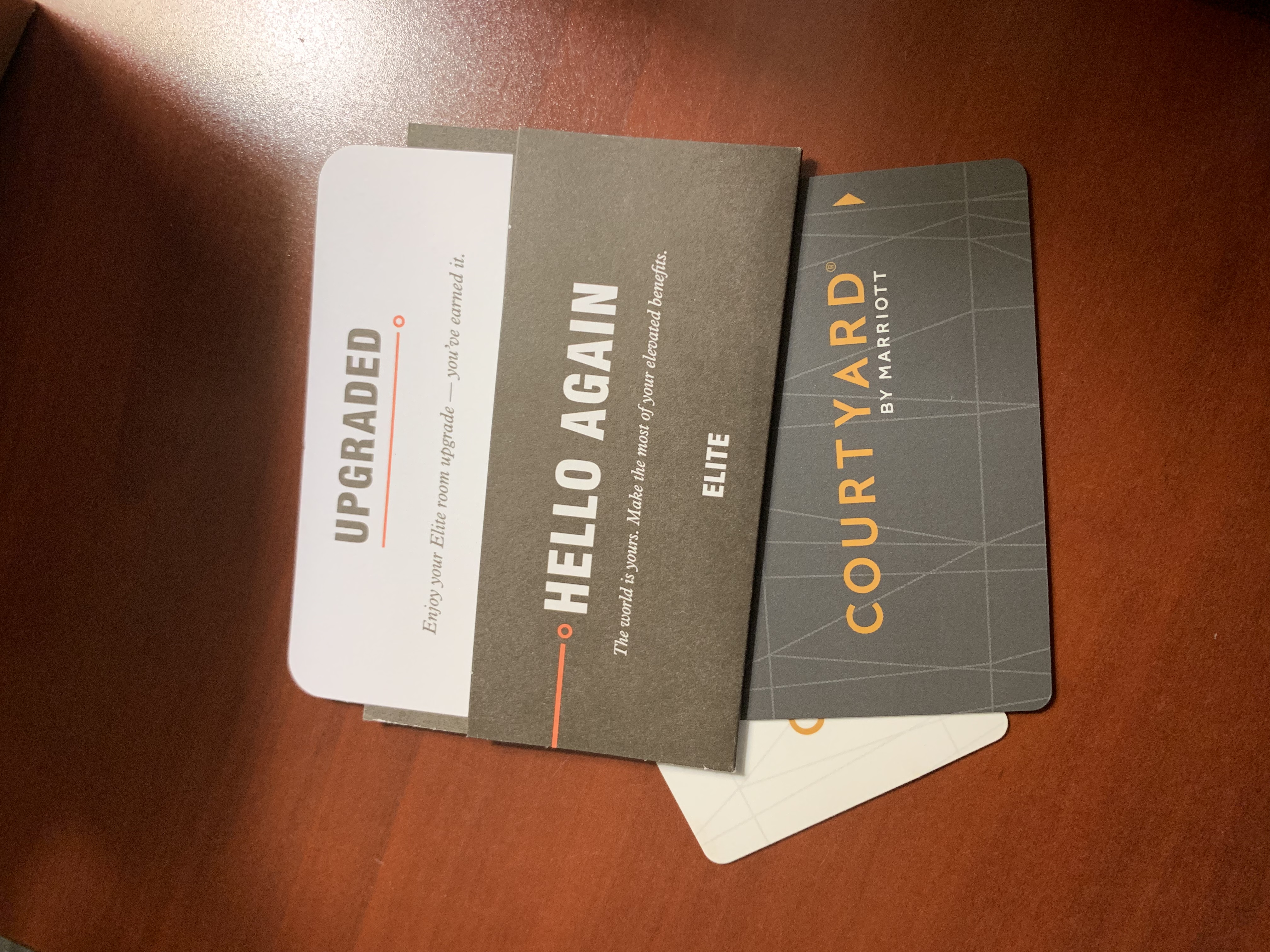 Our Uber arrives and drives us 20 minutes to Cakebread Cellars for $27.75 for the first tasting of the day! We did the current release tasting for $25 per person.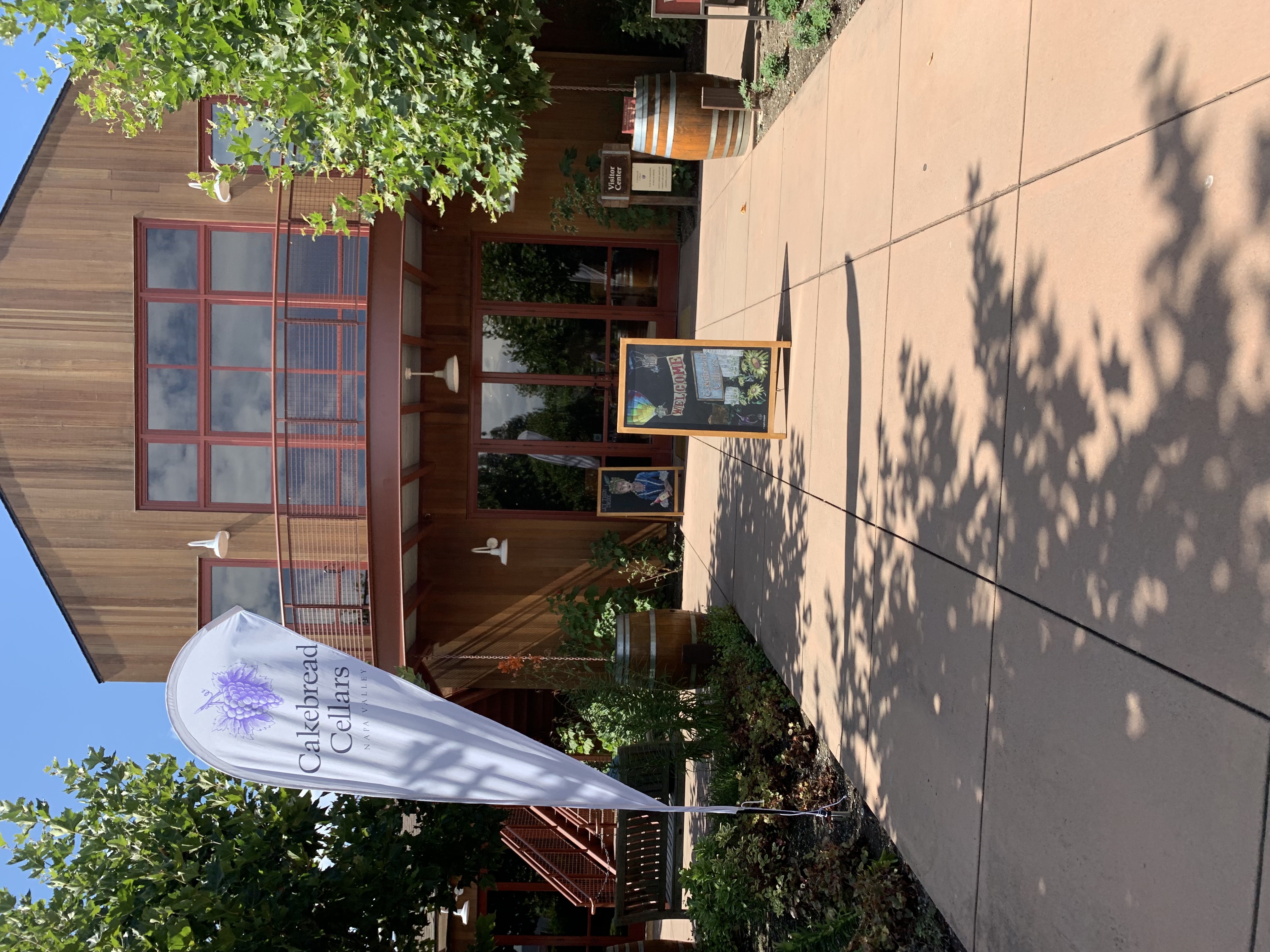 There were other 2 other couples at the bar doing tasting with us, and our server Jacob (?) was pretty informative and did a great job. He gave us some chocolate squares to enjoy with the tasting and said to take a sip, take a bite, take another sip and see the difference in the wine. Well damn, the chocolates were heavenly, AND definitely was a difference in the taste of the wines.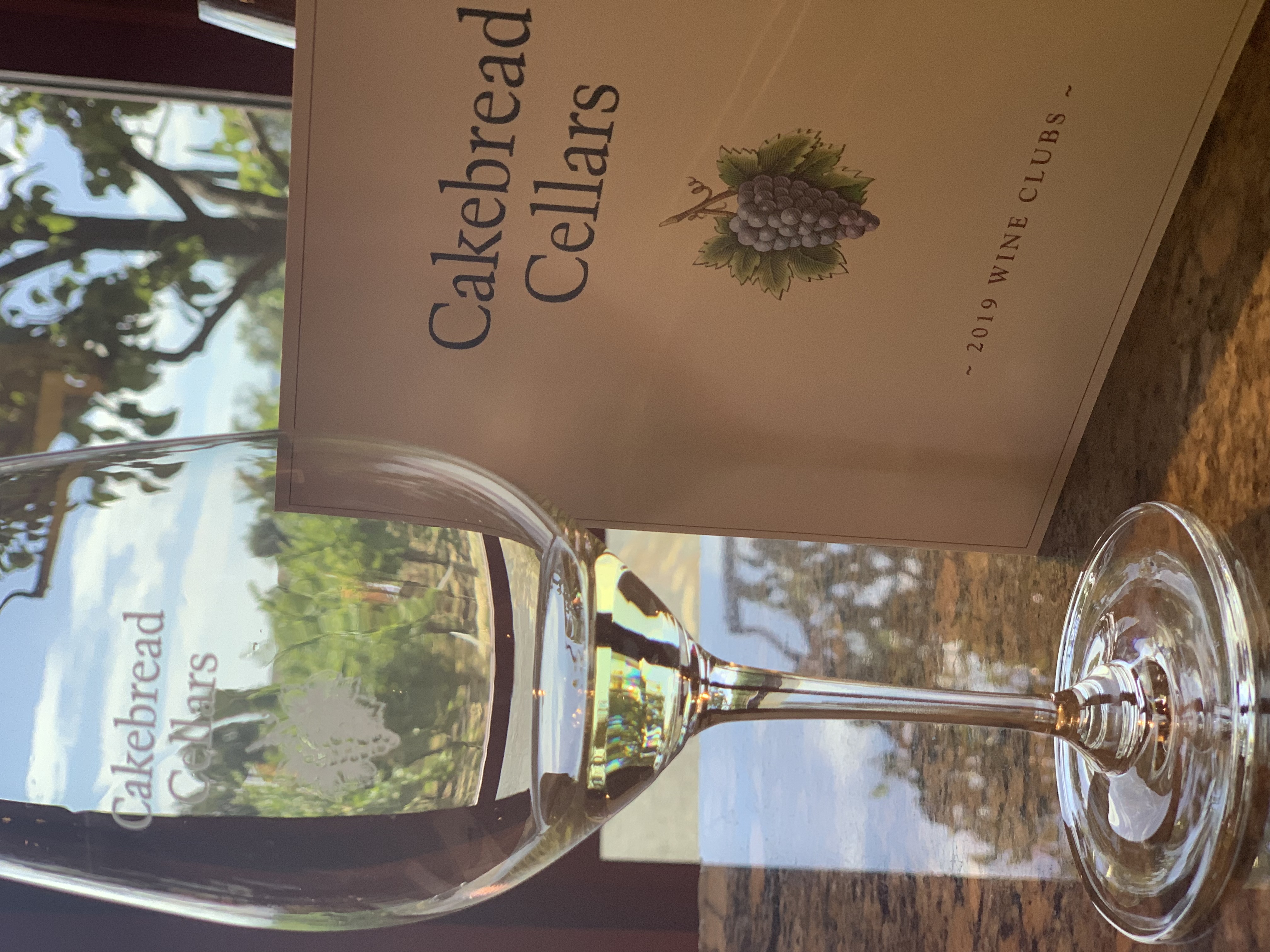 The chocolate was so good…but they dont sell it, they just give with the tasting The brand is Le Belge so we can order online or try to find at another winery. Apparently, they make it in Napa and only sell in Napa, and online (I think).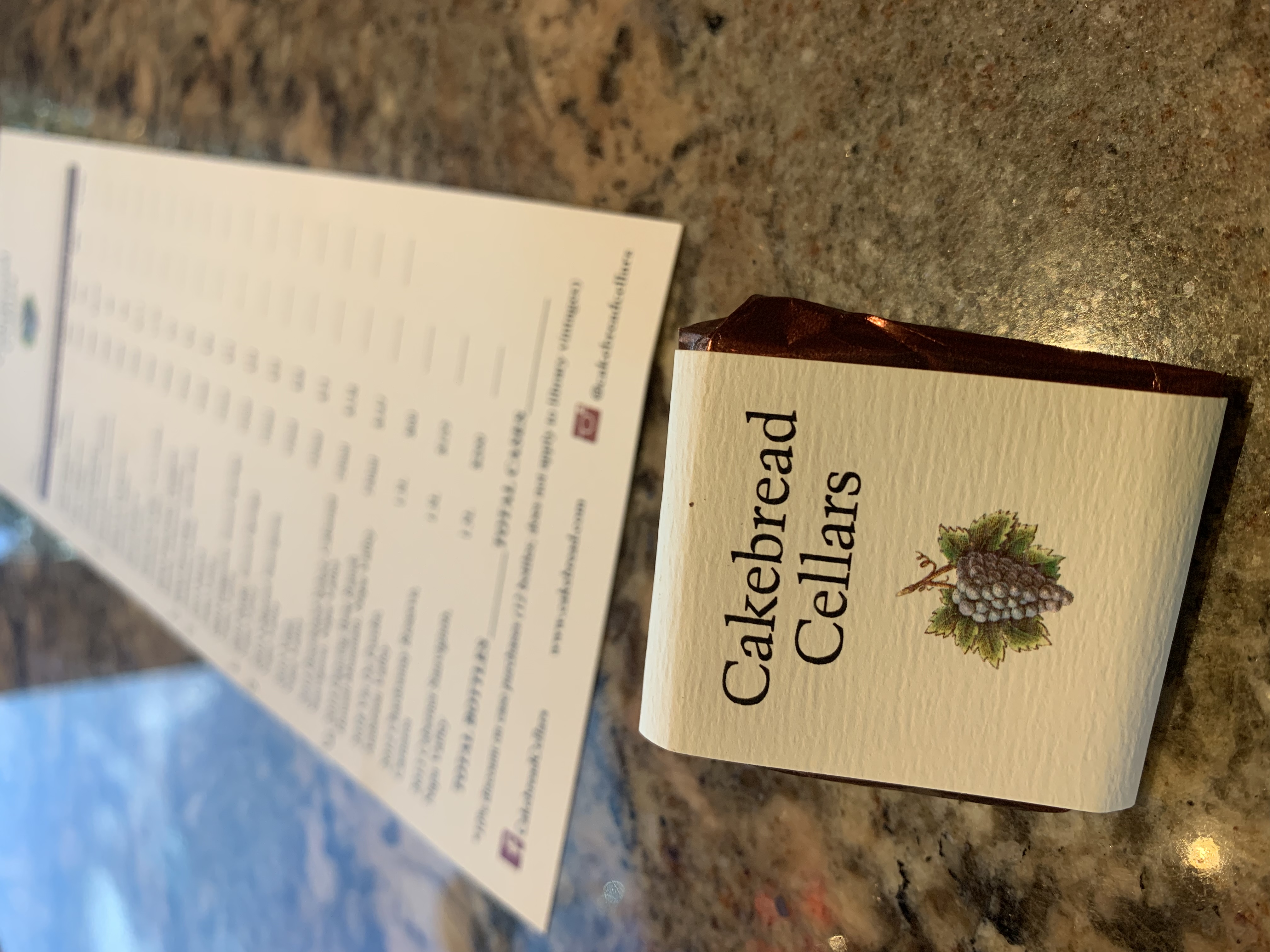 The wines on the current release tasting was:
2017 Chardonnay, Napa Valley $38.50/bottle
2015 Chardonnay Reserve, Carneros $56/bottle
2016 Pinot Noir, Apple Barn, Anderson Valley $56/bottle
2015 Merlot, Napa Valley $54/bottle
2015 Cabernet Sauvignon, Napa Valley $68/bottle
2015 Syrah, Suscol Springs Napa Valley $59/bottle
2014 Dancing Bear Ranch Howell Mountain, Napa Valley $147/bottle
2018 Vin De Porche, Anderson Valley $27.50/bottle
I have to say, I didn't quite appreciate the $147 bottle like I thought I would appreciate a bottle that expensive. It was really good, but not quite $147 bottle to my palette good. While there wasn't one we didn't care for, both of our favorites was their Rose called Vin De Porche, which ironically, the cheapest bottle on the tasting! Kristefer bought a bottle to take home, and if I'm not mistaken he also paid for our tasting (: Thanks Kris!!!
It was a cute little winery with a nice sunflower garden area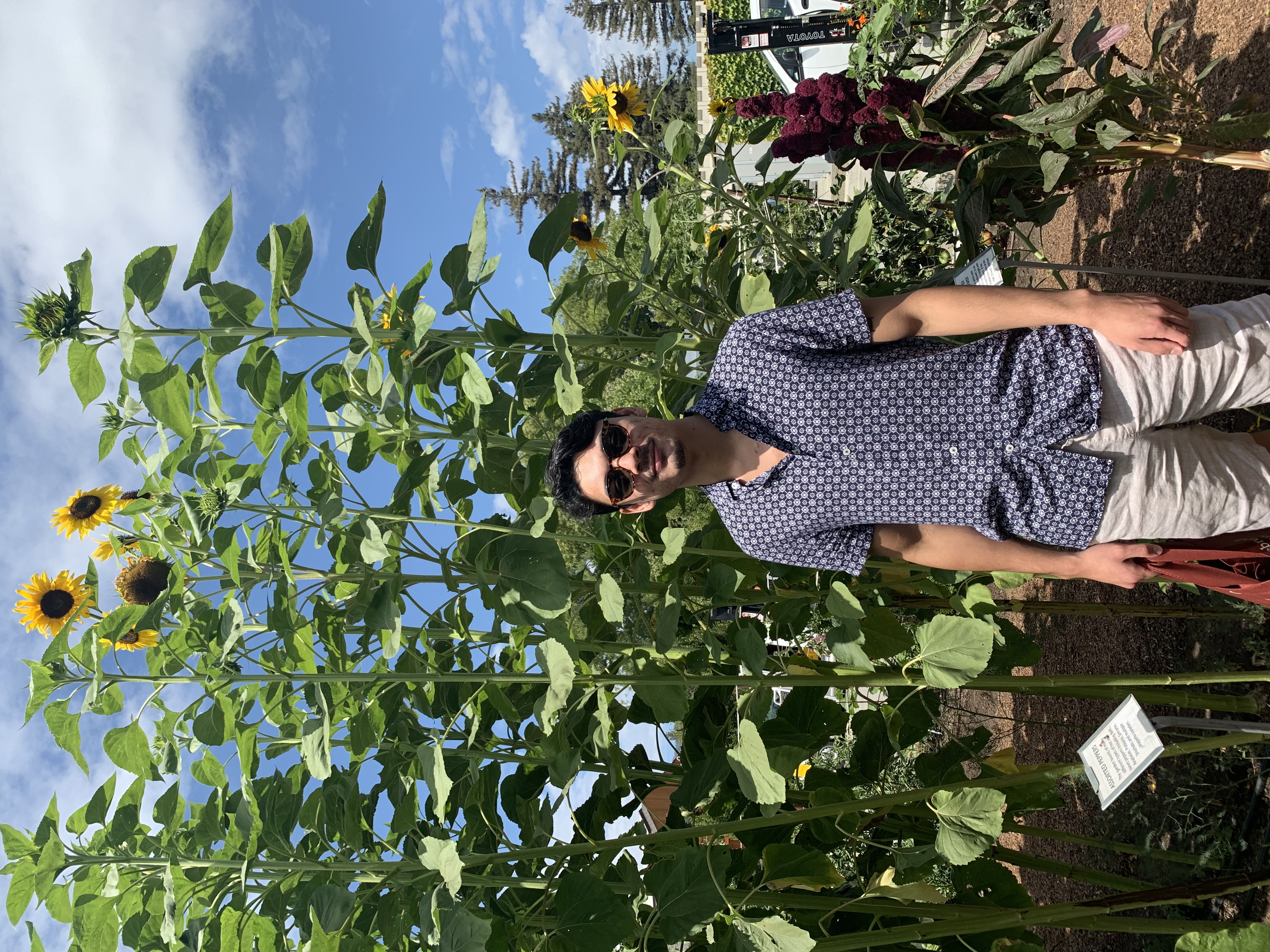 We were here for about an hour and walked half a mile across the road to our next stop Robert Mondavi . It was in the mid 80's with a perfect light breeze. I can get used to this!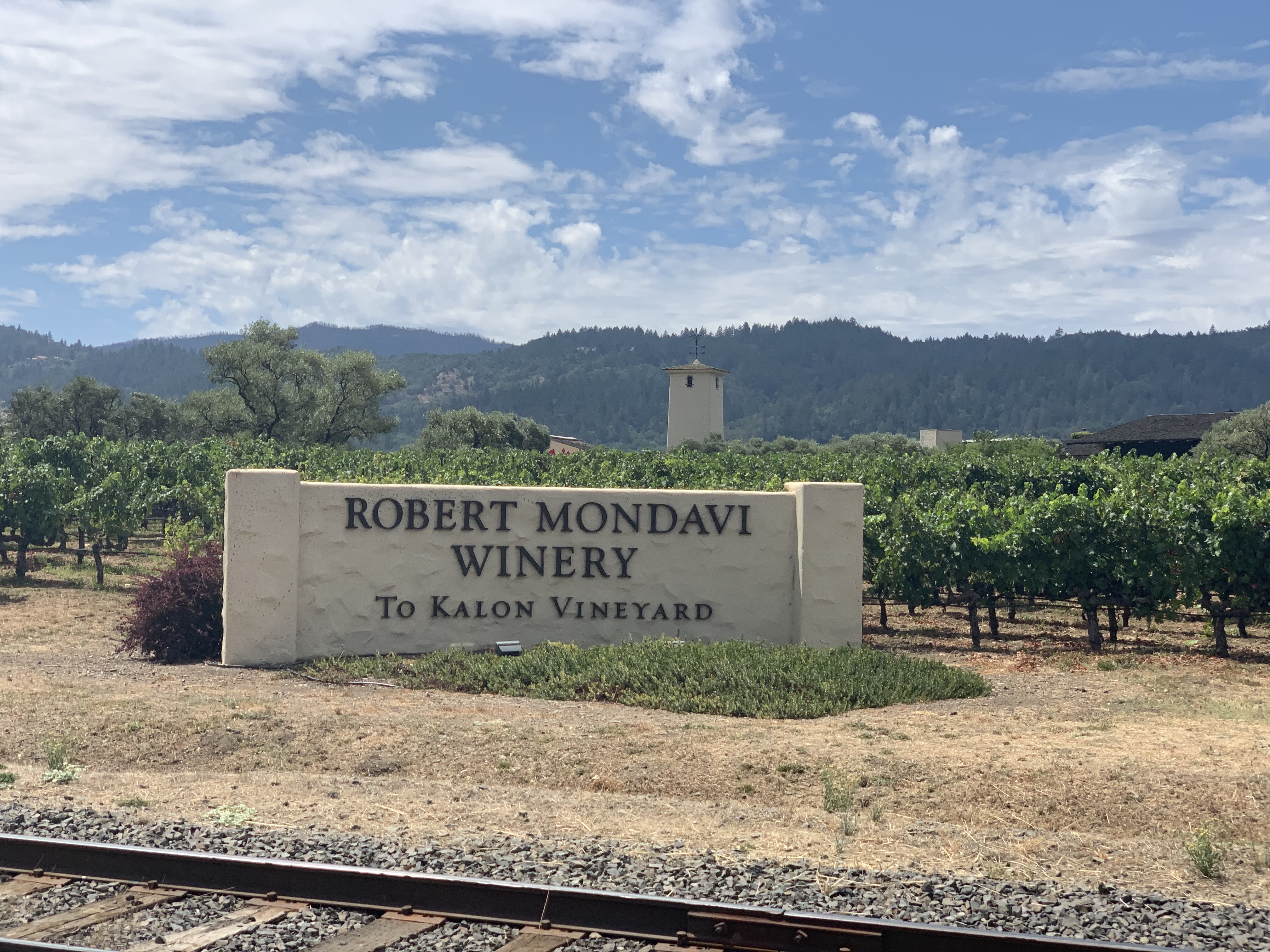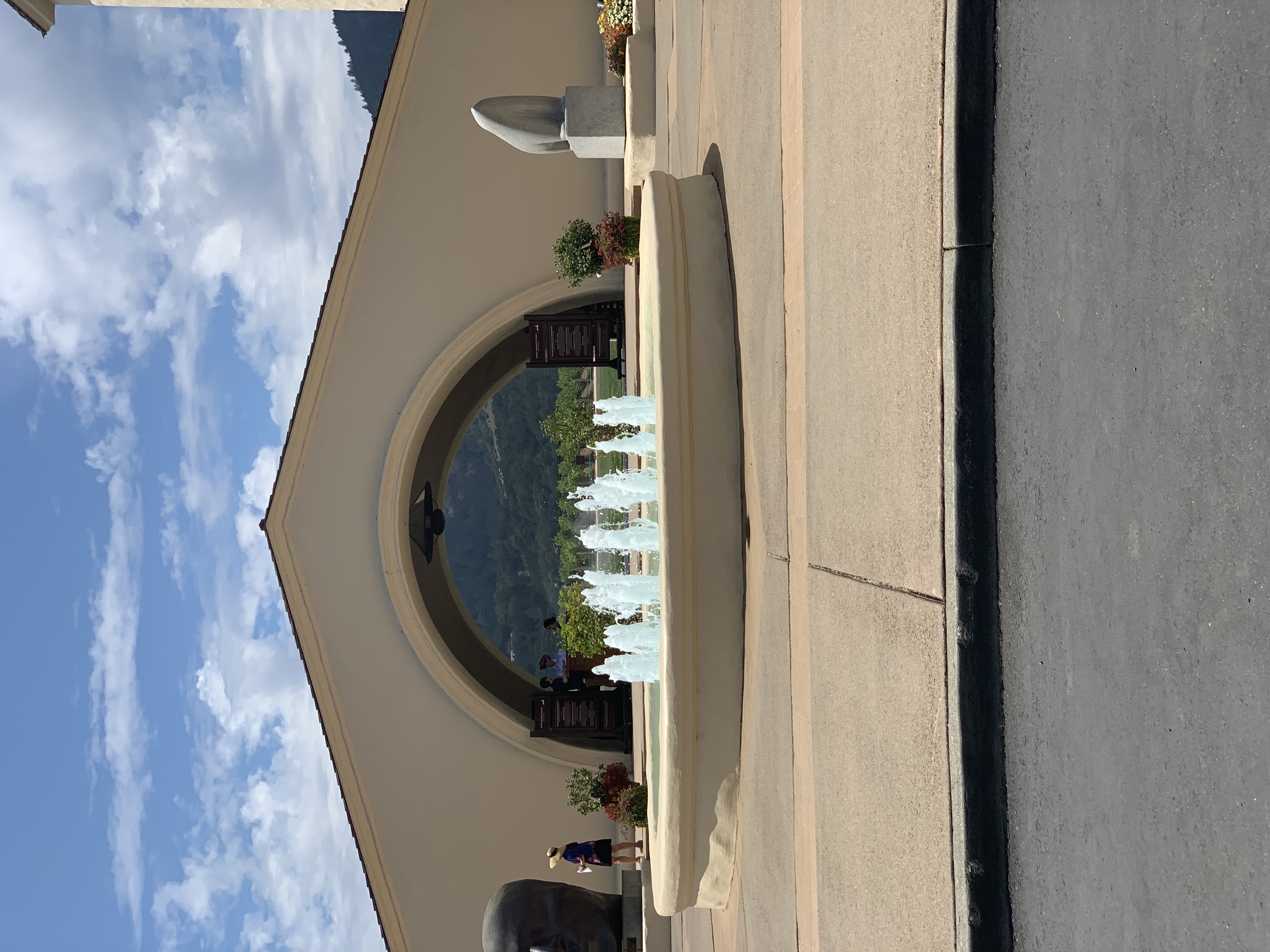 Well this place was pretty impressive upon arrival…I can see people having weddings here in the open middle area
The setup was a little different. The tasting was outside in the courtyard with plenty of tables and umbrellas. We had to go to the outside bar area and order our tastings. The wine tender poured our wines, spoke briefly about them, and put them on the mat for us to walk the tray over to any table. Hang on, wait what? I have to walk 6 glasses of wine to a table myself? This should be interesting, but I did it…I didn't breathe the entire walk while balancing 6 glasses, but I did it!
I did the Staff Favorites for $35
Pinot Noir Clone 115 $55/bottle
BDX Warm Climate $67.50/bottle
Carneros Cabernet Sauvignon Cool Climate $65/bottle
Unoaked Chardonnay $34/bottle
Oak Knoll Cabernet Sauvignon $50/bottle
The only one I could not drink was the Oak Knoll Cabernet….I had a hard time with that one..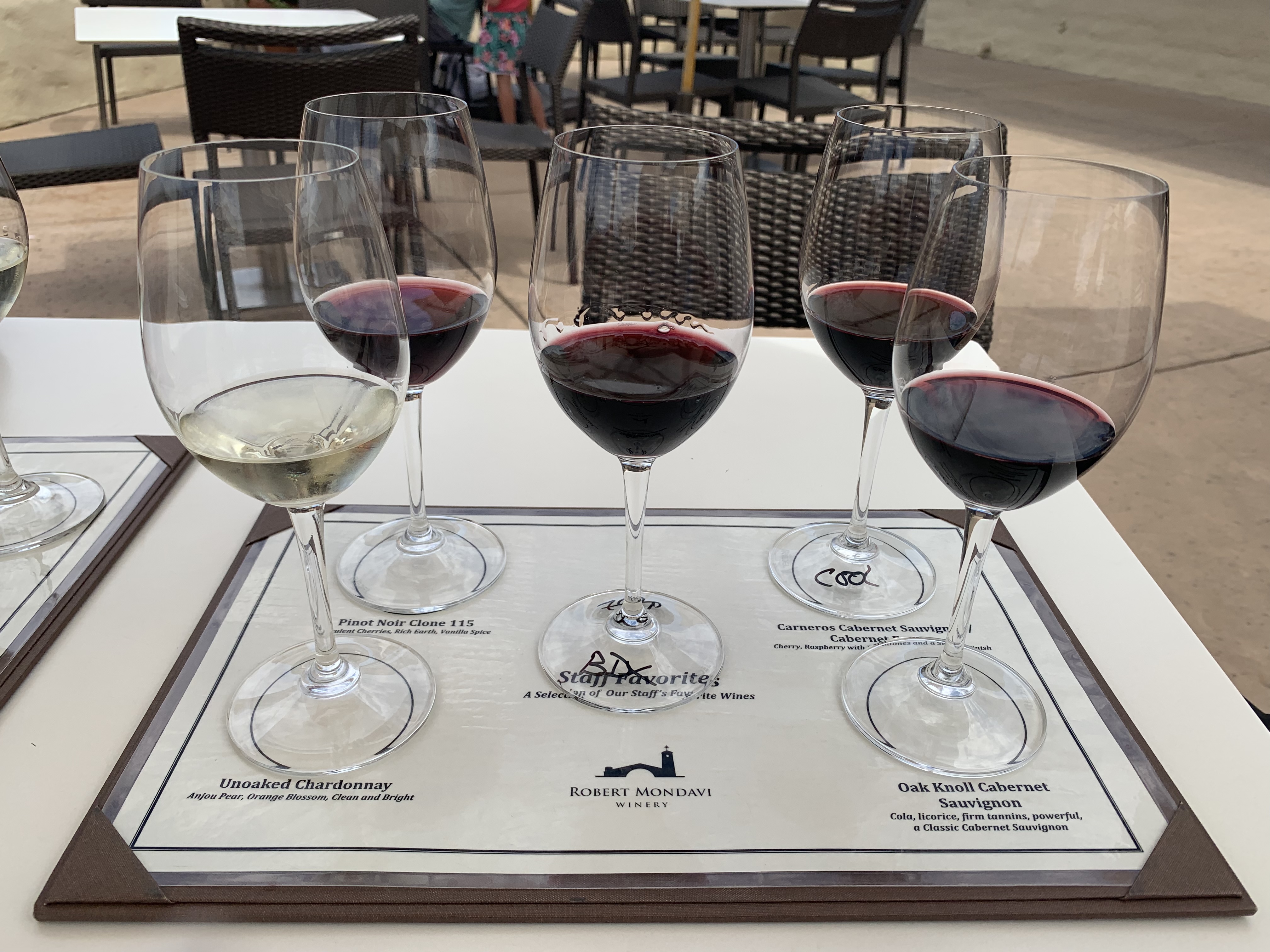 Kris did the Crisp and Refreshing for $25.
Unoaked Chardonnay $34/bottle
Napa Valley Fume Blanc $23/bottle
Stags Leap Sauvignon Blanc $34/bottle
Napa Valley Chardonnay $24/bottle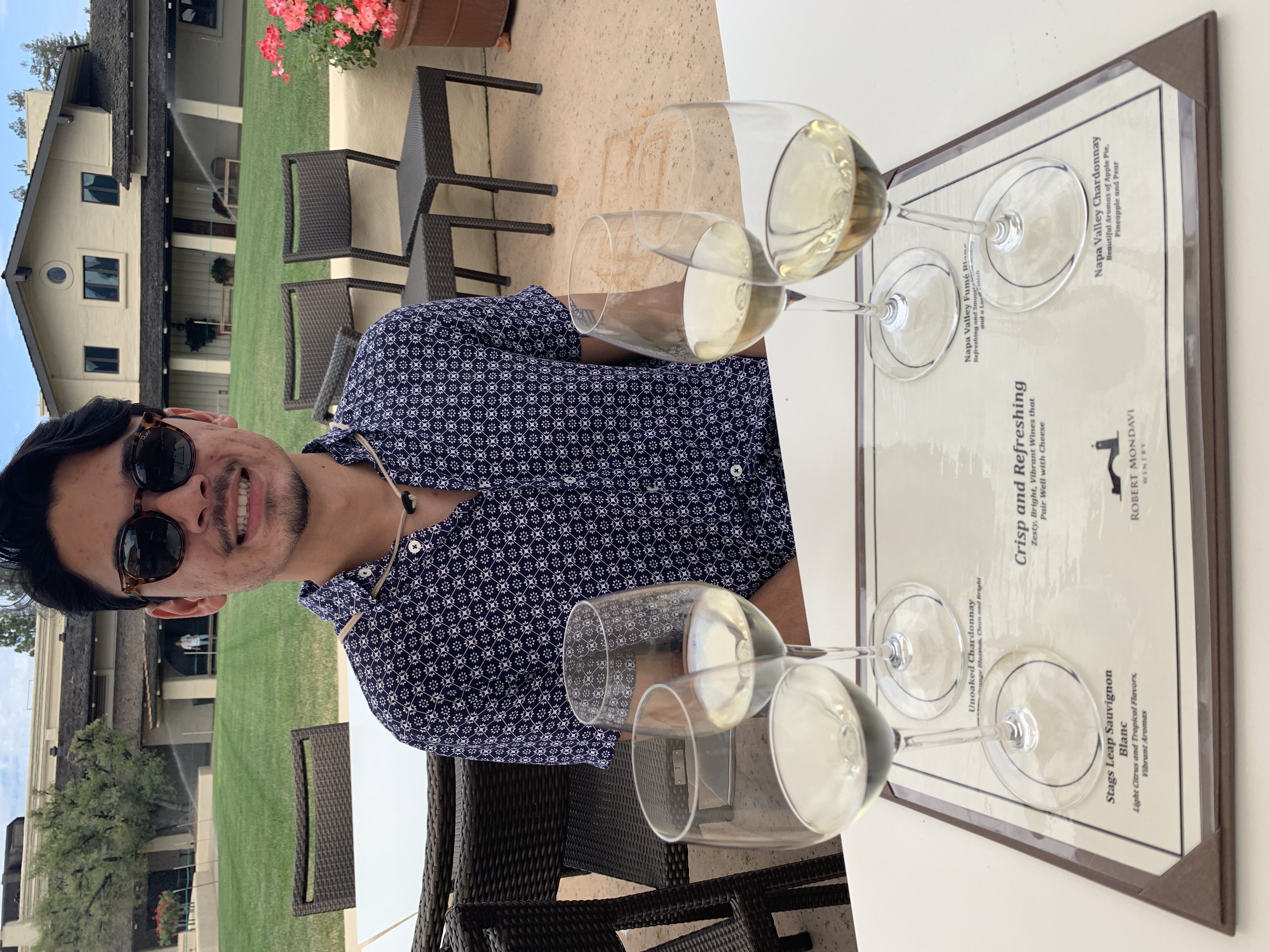 None were worth buying, but the ambience was gorgeous!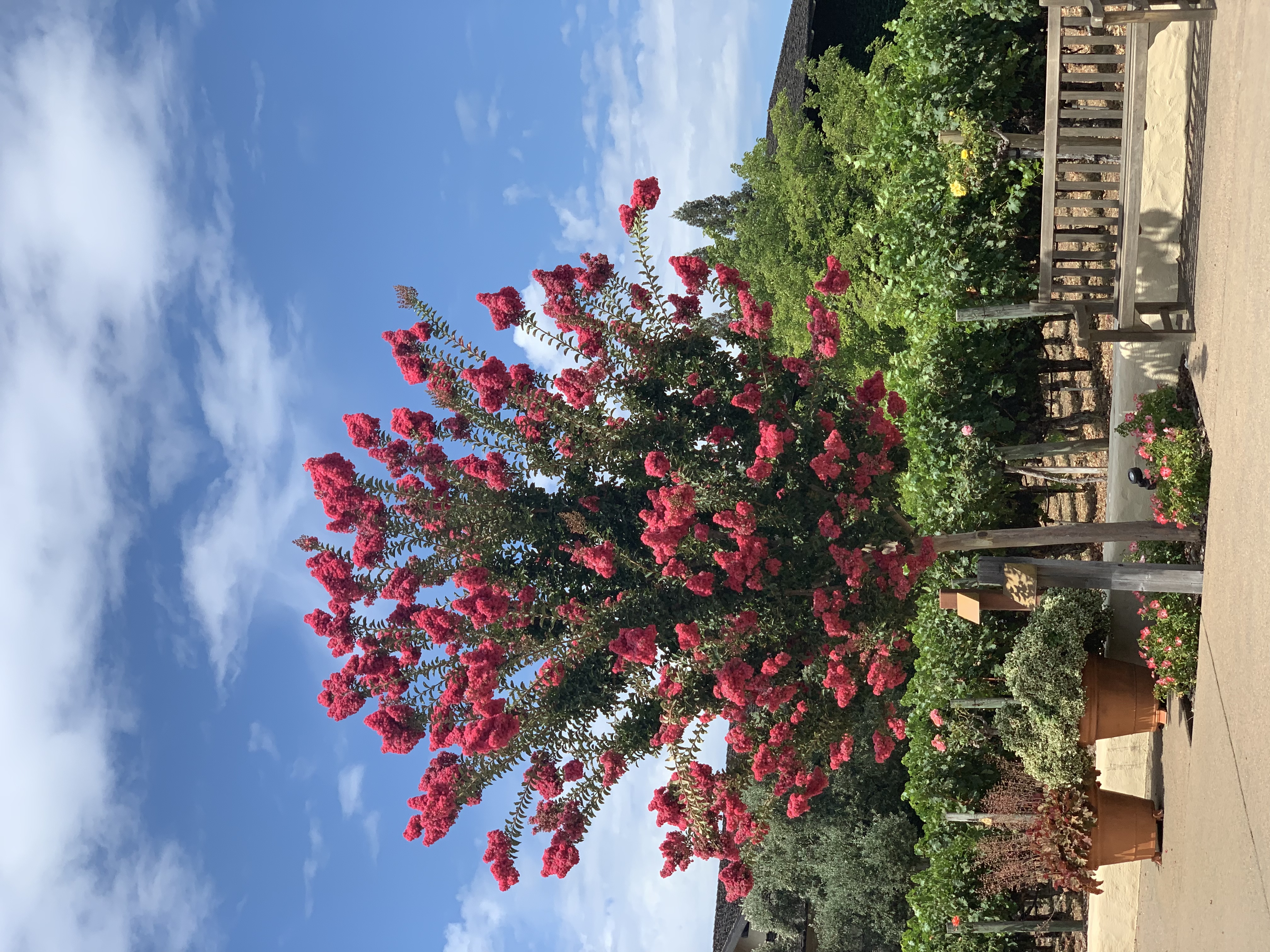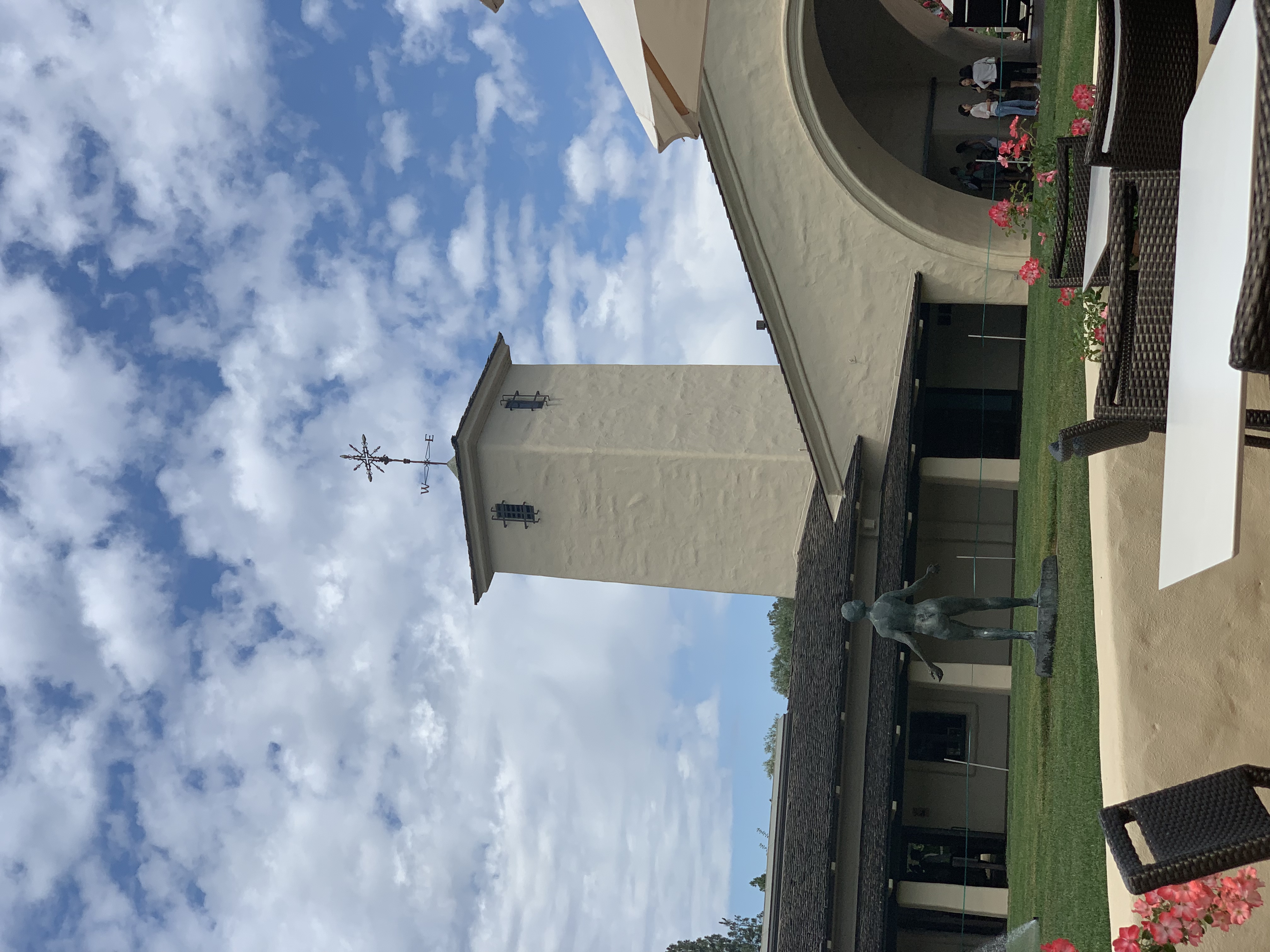 We were here for about an hour-ish, got in our Lyft and off to V. Sattui for our 7 minute $11.64 ride.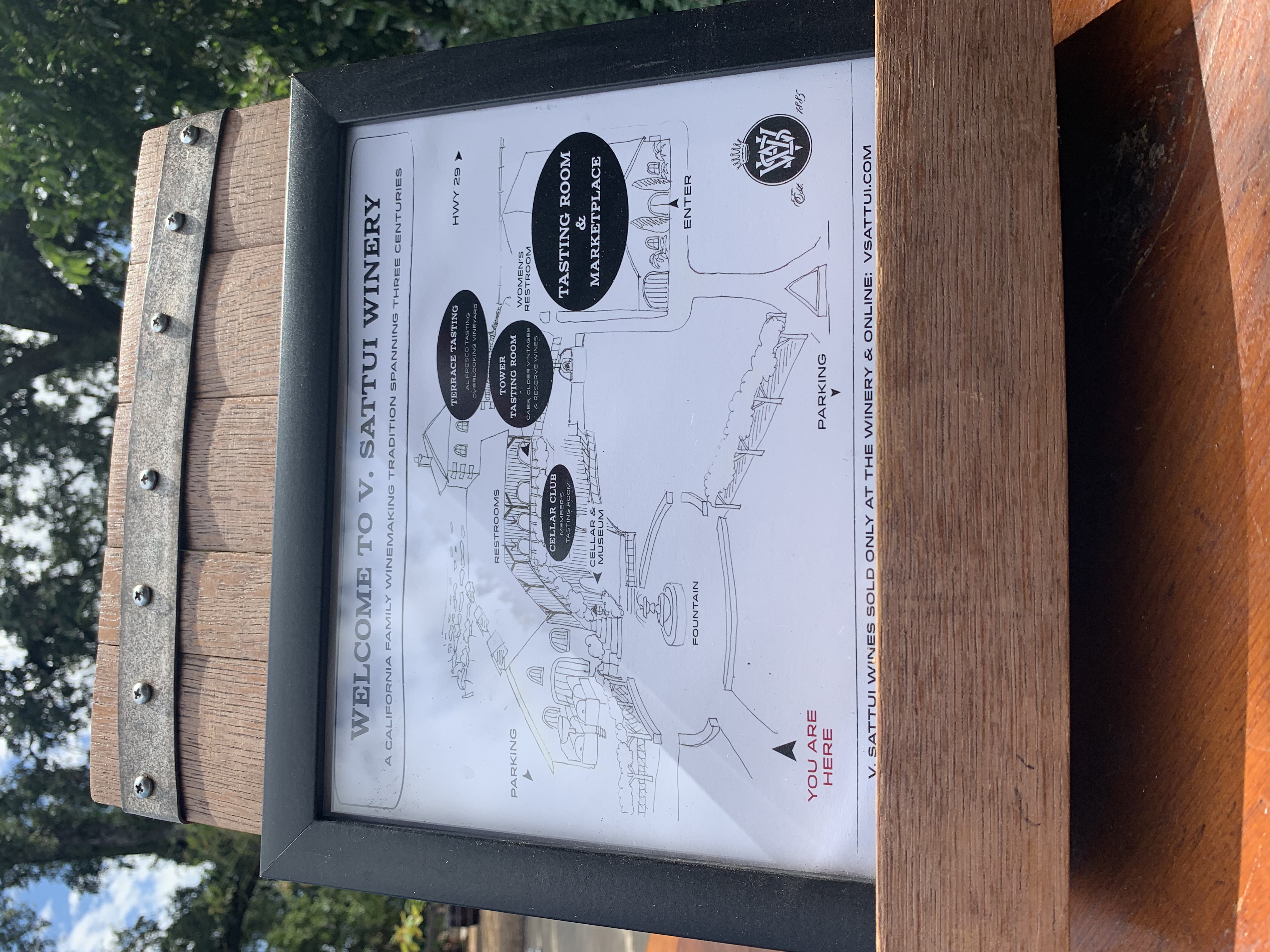 Busy and cute place with a large deli and tasting room. There were a lot of people and a lot of kids…like A LOT running around a lot…
We were starving, so got here in perfect timing! I felt like we ordered more food than we could handle, but we barely had any leftovers…We ordered Thai noodle salad $7.58, beet salad $4.06, rigatoni with meatball $4.51, prosciutto sandwich $9.50, spicy Italian sandwich $12.50, and a water totaling $41.65…
After enjoying a nice picnic outside and our tummy's are happy, we were ready for the inside tasting.
The tasting was $20 per person, and got 5 tastings each. There wasnt a set tasting menu, but could choose from the menu. Kris did white, I did reds. Here's a pic of the wines we tried, unfortunately I didn't get a pic of all of them, but I had the first 5 on the menu, Kristefer had the sweeter whites on the menu.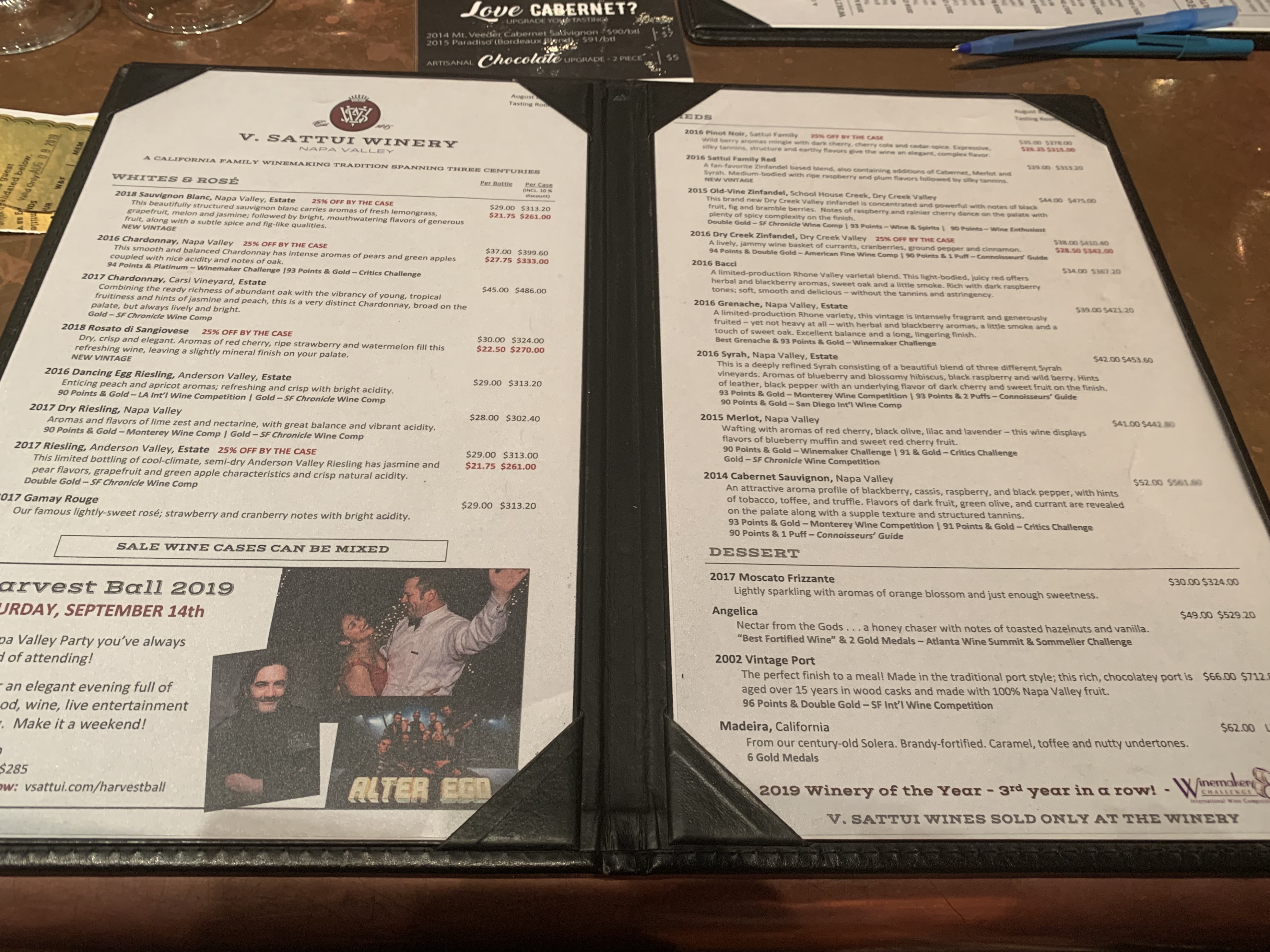 Our server did this rolly thing against the counter because it coated the entire glass and did something for better aeration. Idk, I may have made that up, but thats how I understood it
Nothing quite stood out for us to buy, so we finished up.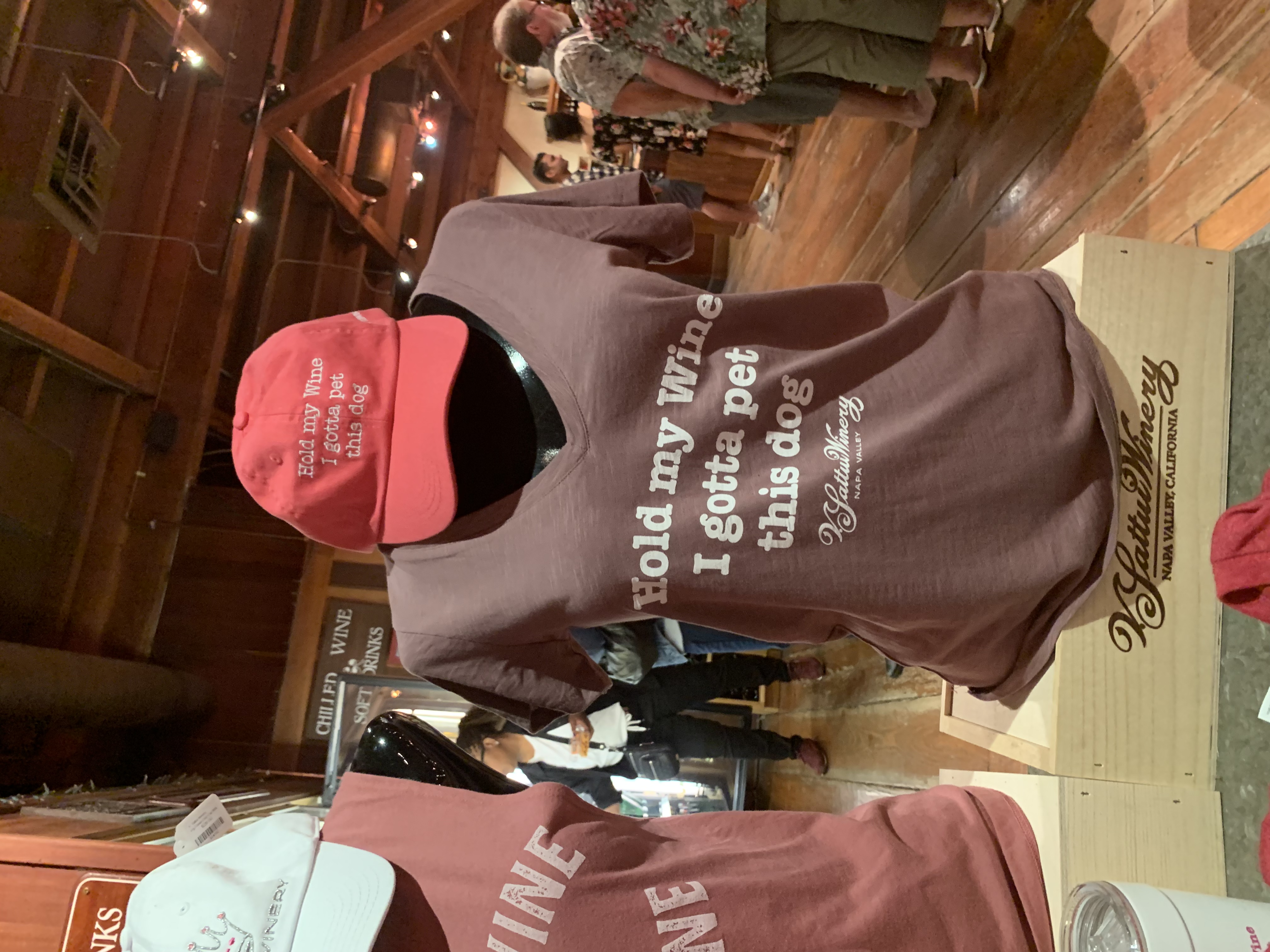 Conveniently a gelato cart was outside, so I grabbed a pistachio and chocolate gelato since it was on the way out (: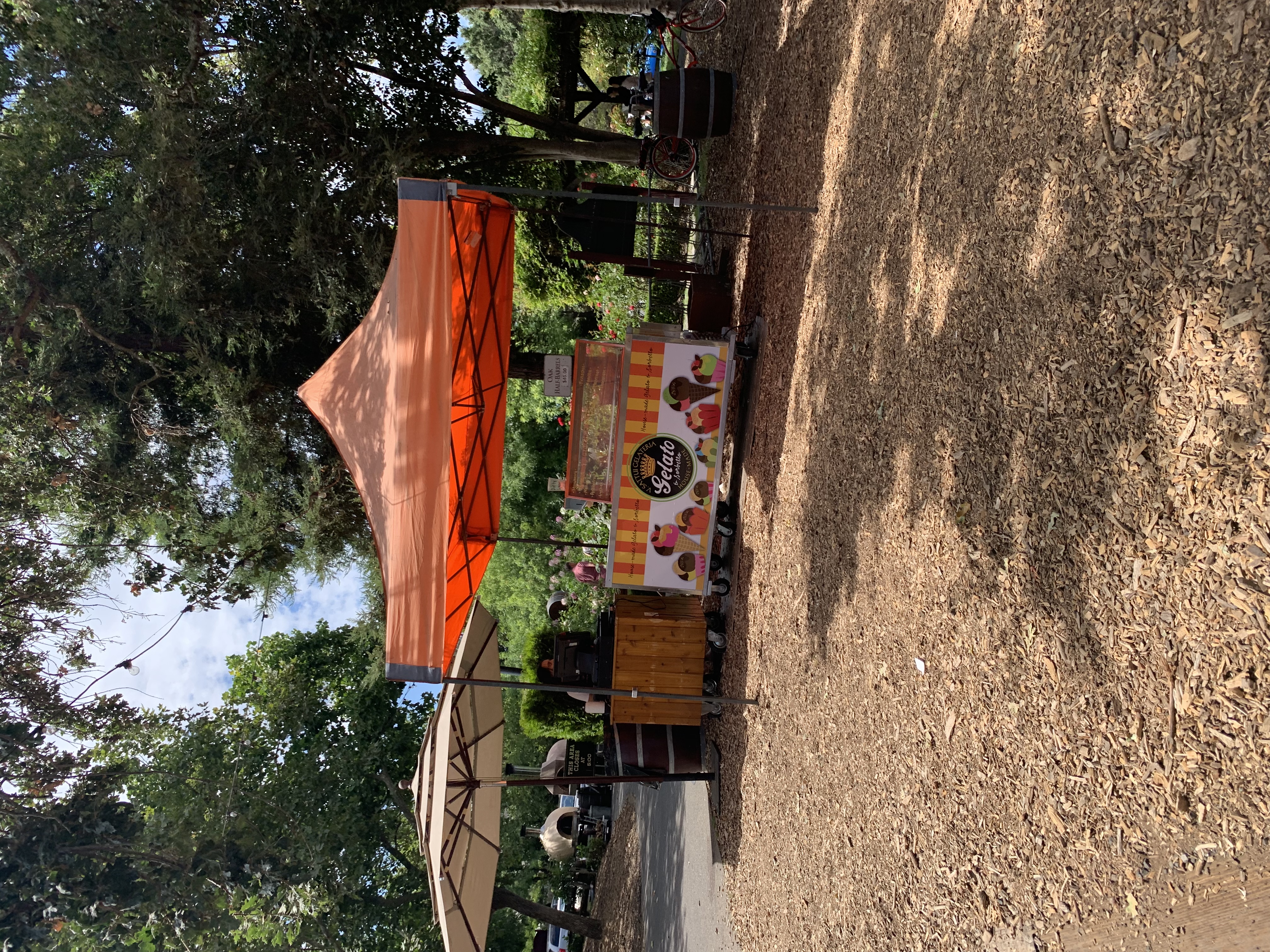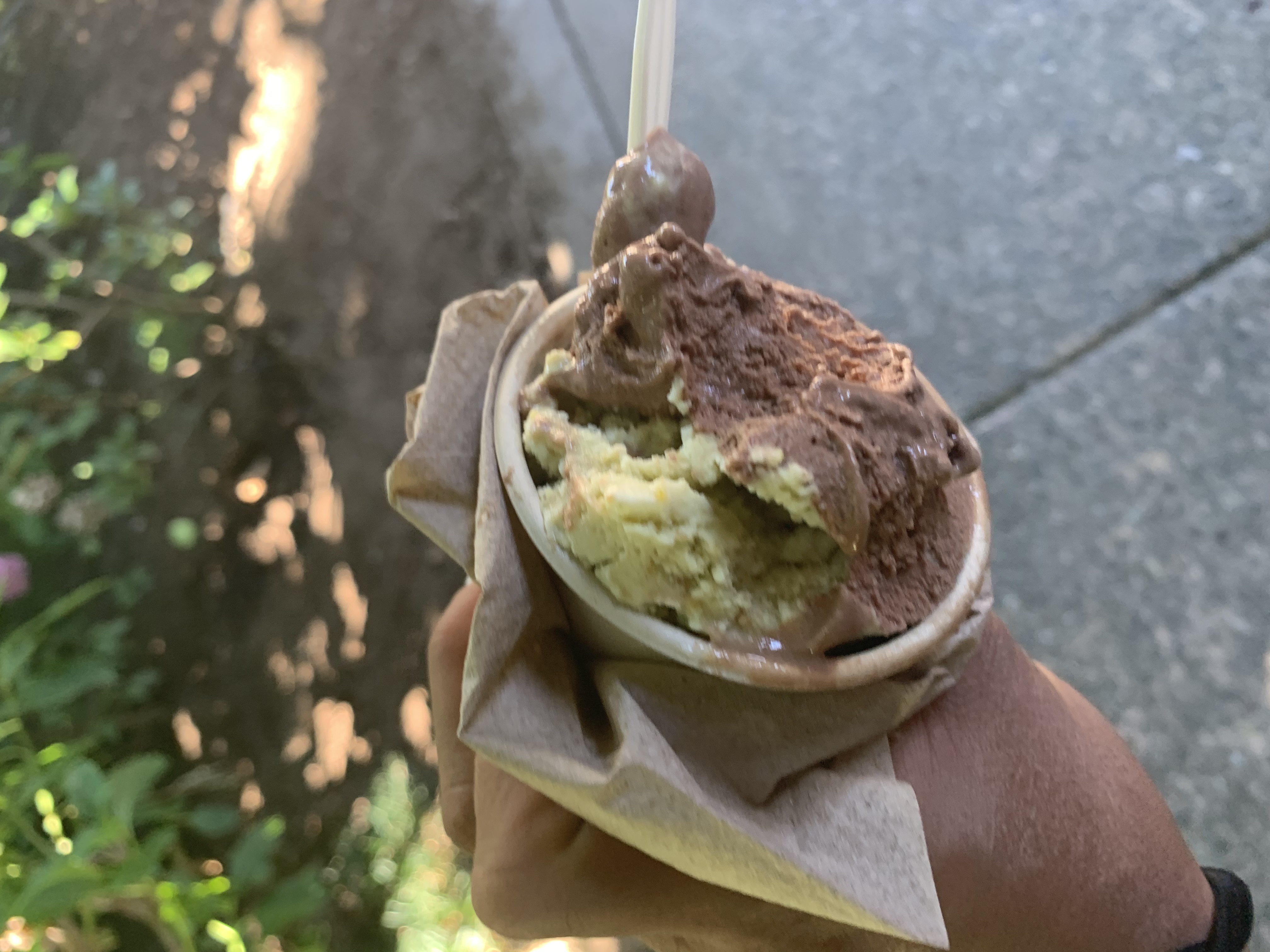 Next stop is Castello di Amorosa. It was a 19 minute drive and $19.72. So this place is a castle!! HOW CUTE!!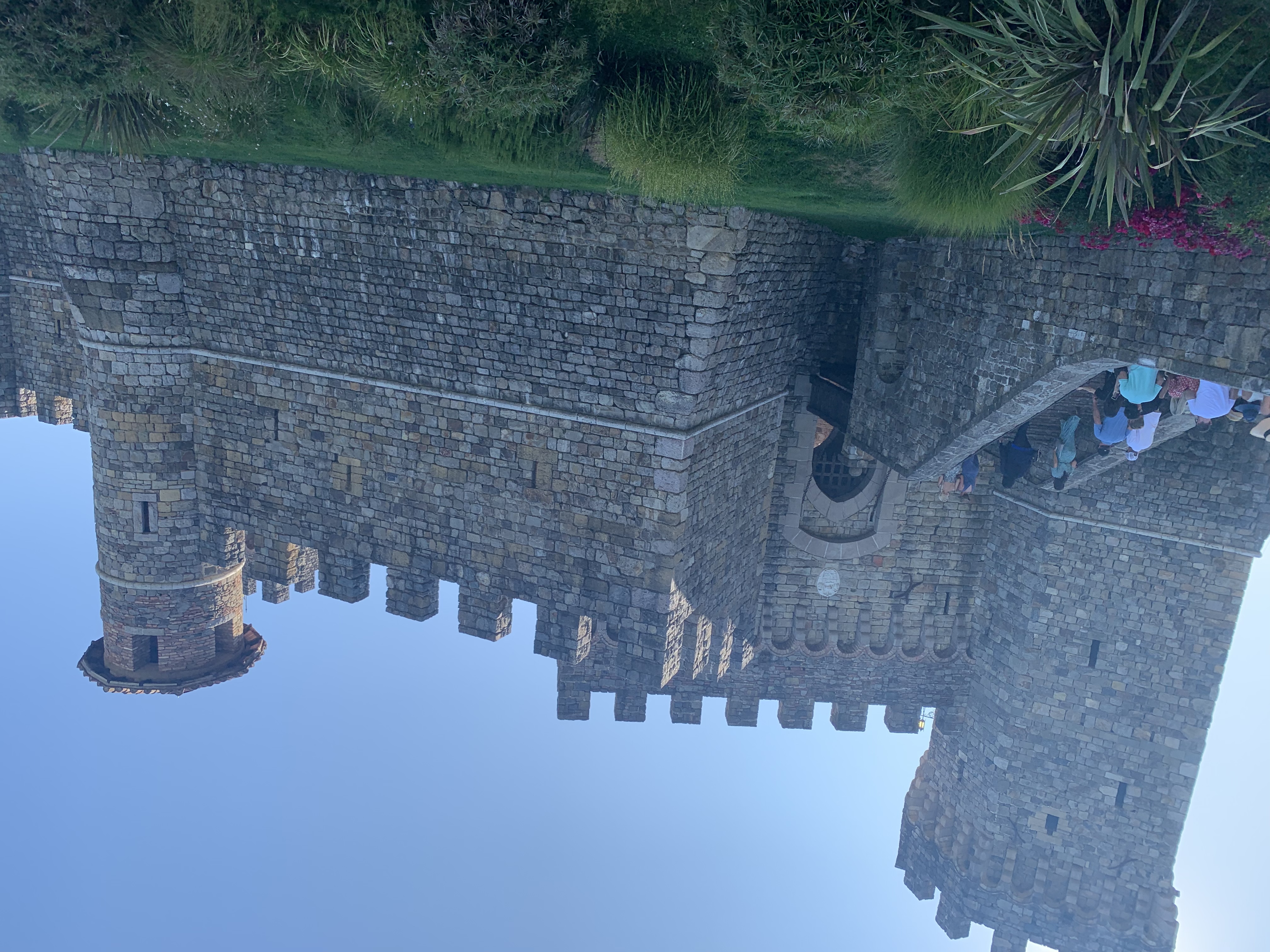 The tastings were $30 per person, and we did one chocolate upgrade for $6.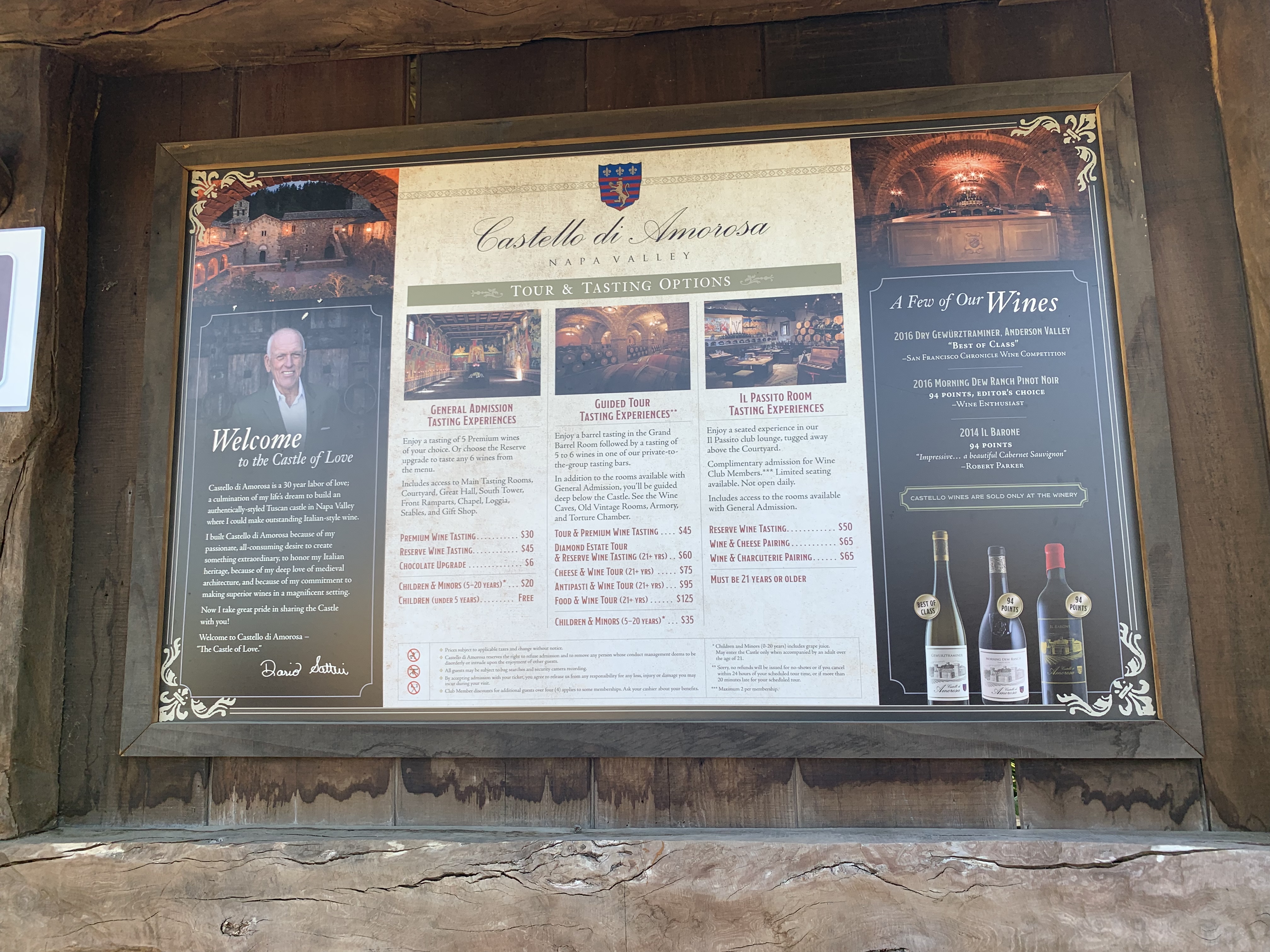 After we paid, we went past the courtyard and headed downstairs to the tasting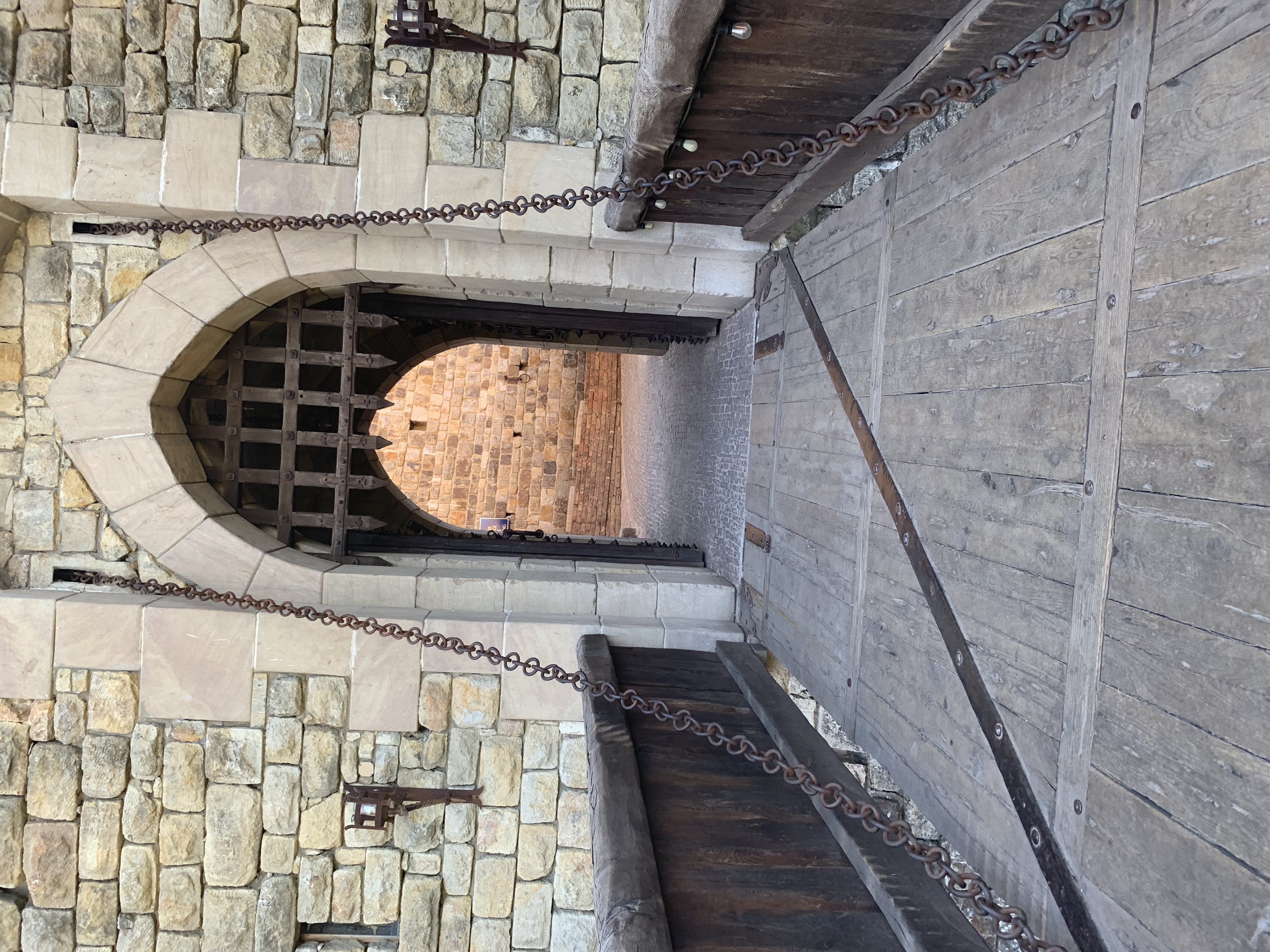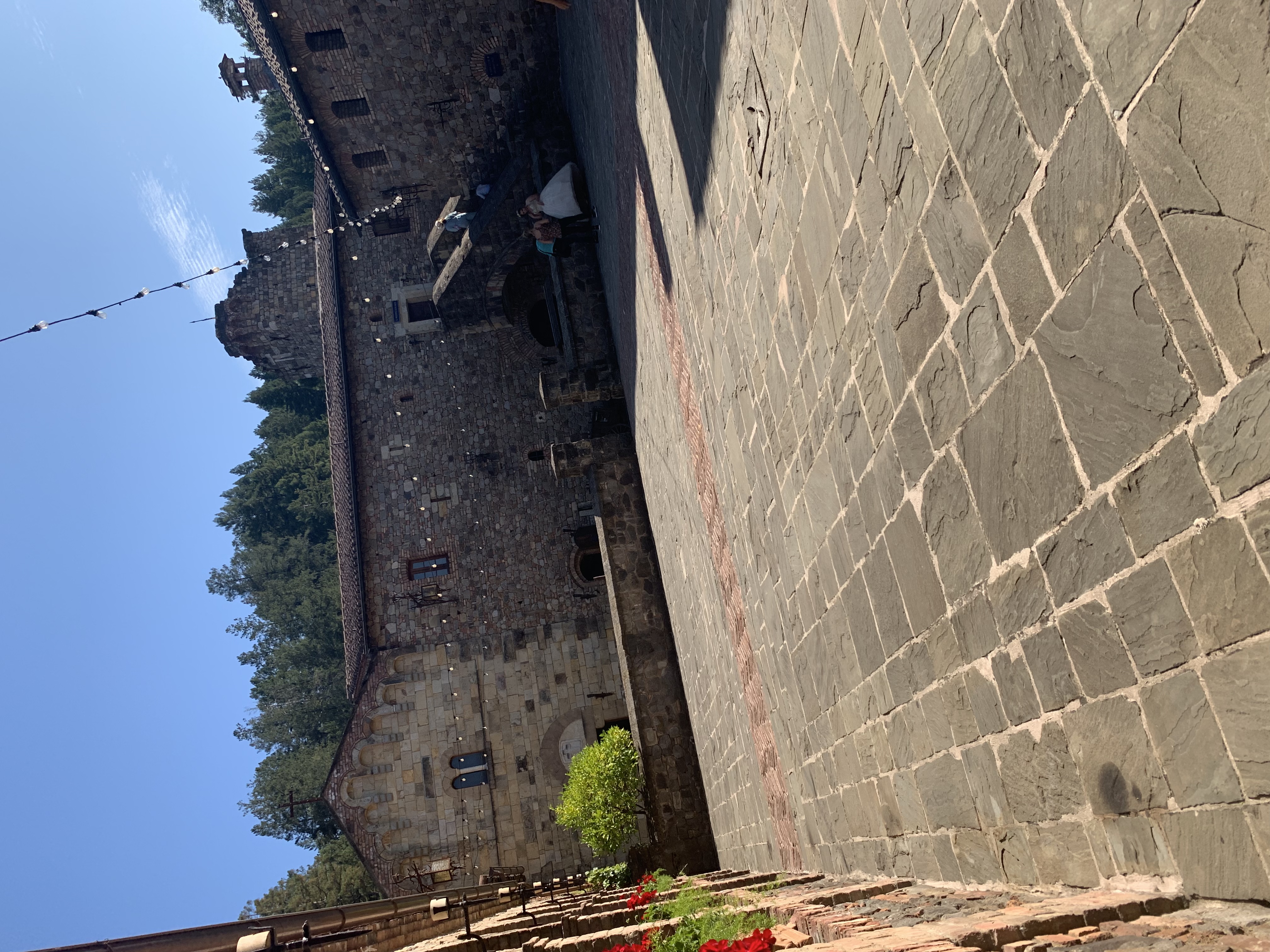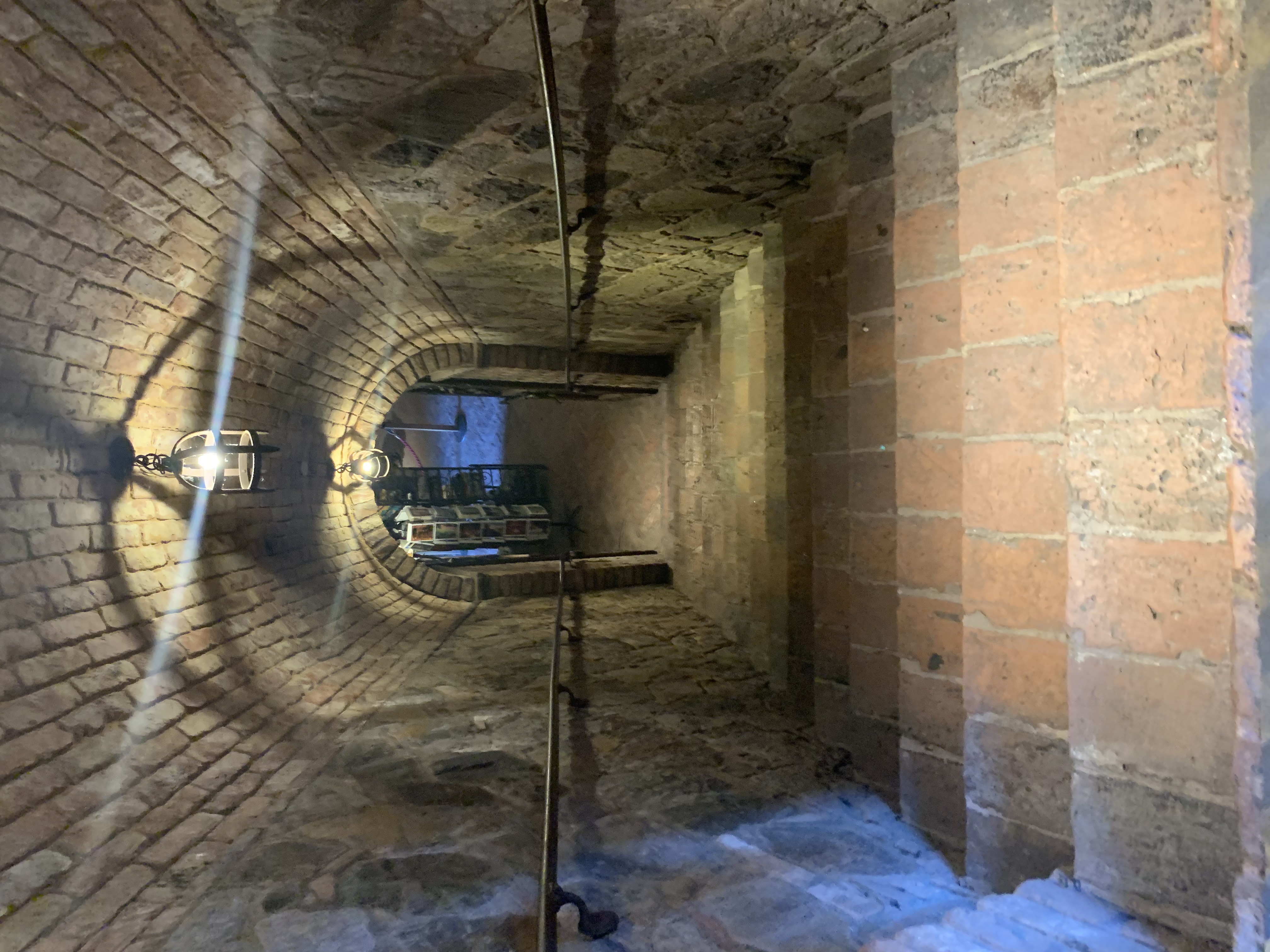 The basement area was packed with people, and plenty of different bar areas for tastings.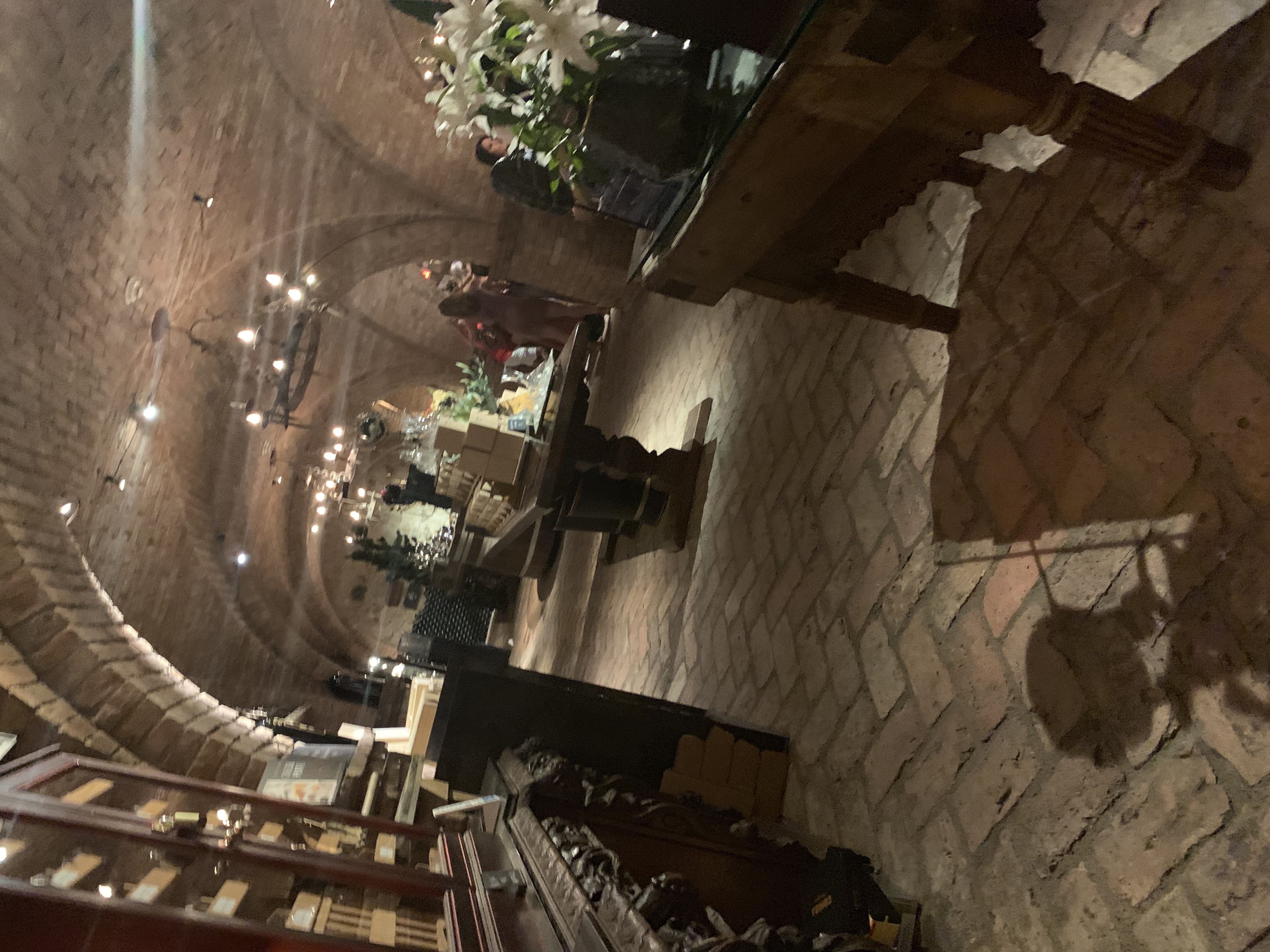 I did a terrible job keeping track of the wines we had, but they were ok…I did end up pitching a few glasses though…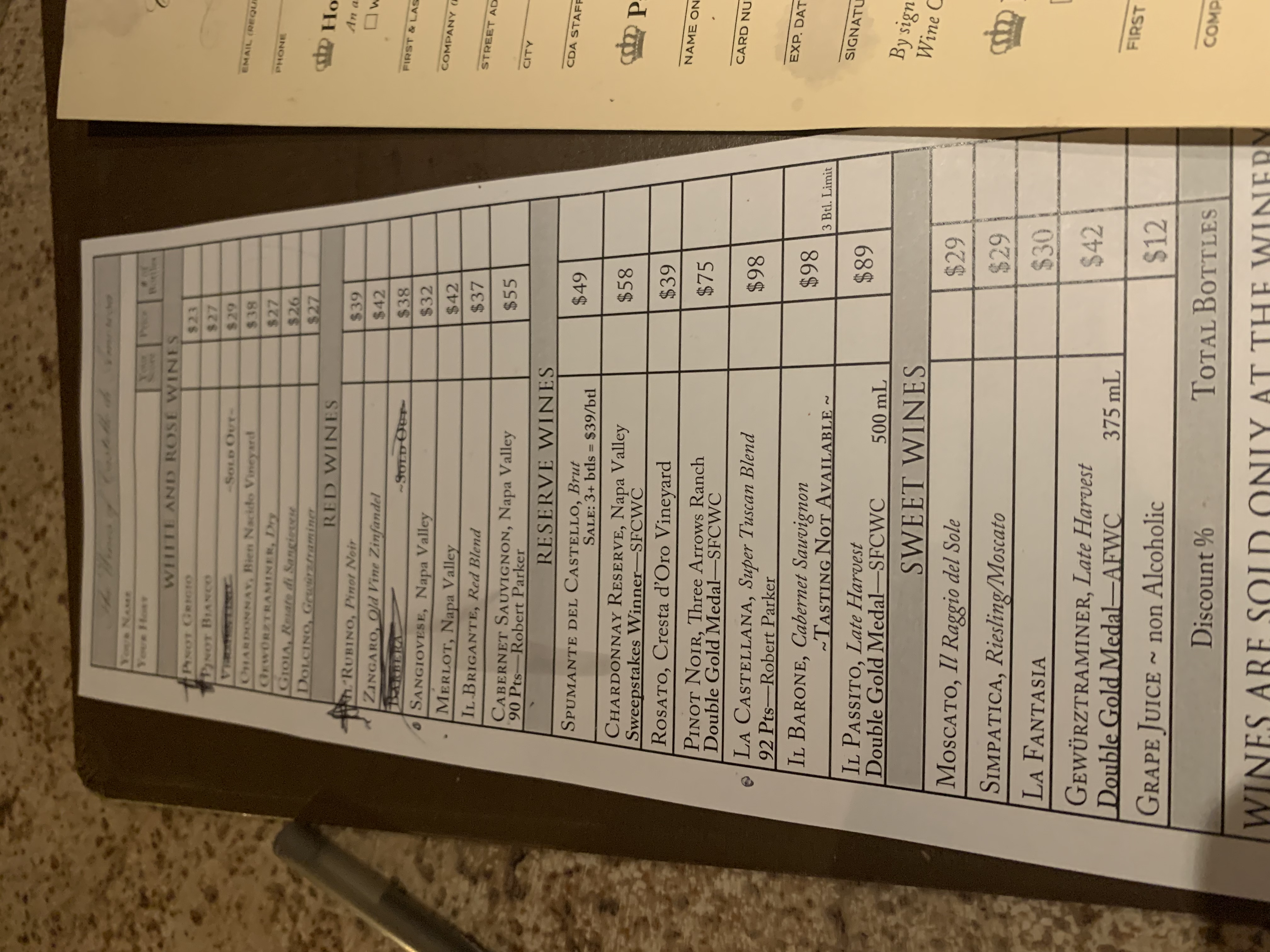 Well, it was time to leave since they close at 6pm. The Lyft ride back to hotel was 26 miles, 42 minutes, and $38.68. Kristefer and I both passed out on the way back, and I'm pretty sure my mouth was wide open snoring…I was tipsy and BEAT!! I was hungry, but not hungry. We went to Target across the parking lot and got a cup of ramen noodles..Can't tell you when the last time I had that was lol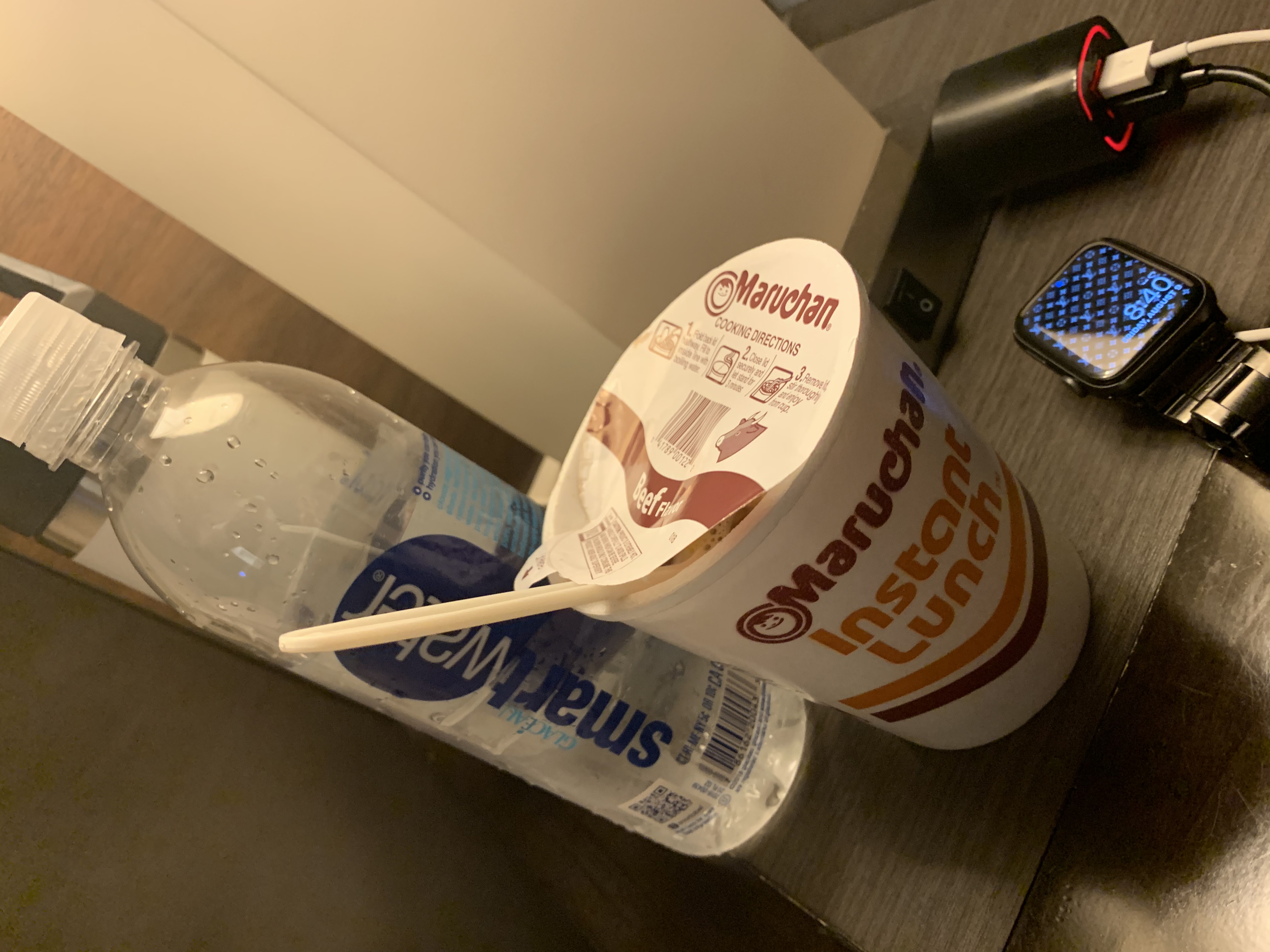 840pm and we are in bed eating ramen noodles…..
xox~j